Richard Nesto, MD (CMO, BILH) discussed the rollout of vaccines to BILH staff.
Boston 25 News – December 29, 2020
Hospitals vaccine rollout starts out rough, but picks up steam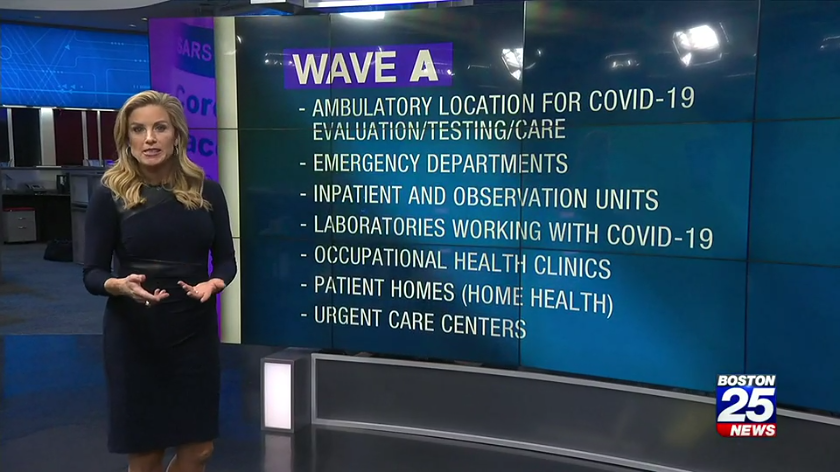 BOSTON — A lot has changed for Mass General Brigham since the vaccines started coming in. Two weeks ago, the hospital was notifying 80,000 employees about technical difficulties after an influx of doctors crashed the sign-up system. Now the hospital is celebrating moving on to a second wave of vaccinations ahead of schedule.
Mass General Brigham has now moved on to its second wave for COVID-19 vaccinations.
The first wave included several departments like ER, urgent care, and laboratories working with COVID-19.
The hospital began vaccinating people in Wave B including other home and primary care physicians on Tuesday.
But rolling out the vaccine to hospital staff has not been easy.
There was a lot of excitement when the COVID-19 vaccine gained approval and began showing up at hospitals around the country. So much excitement, once Mass General staff could self-schedule an appointment, they crashed their system for several hours.
"It was unbelievably frustrating," said Dr. Paul Biddinger, medical director for Emergency Preparedness at Mass General Brigham. "They didn't know when they would be able to schedule their appointment."
One of its doctors even tweeting out this photo of the failed attempt, with the website saying there was an error with scheduling.
That led to staff members reaching out to us wondering if some people were skipping the line.
"We did hear some of the concerns," said Biddinger. "We haven't found any evidence of any executive that got vaccinated out of line. Our system has no provision that allows people to skip ahead in line outside of their clinical role."
When asked if he has any advice for other hospitals or companies that will soon be doing their rollout, Biddinger said: "I think both letting people know what to expect. So they're not so frustrated in that kind of an experience and making sure that systems are set up in a way that they can handle a high volume of traffic at the initial rollout."
Once the system was back up, the challenge became getting 100 percent of staff excited to take it.
When asked how he handles hesitant employees, Biddinger said: "I think what we want to do is make sure we've answered their questions about safety or efficacy or for some, it's related to pregnancy or breastfeeding or some for allergies. My strong goal would be that we're up, you know, 80 percent, 90 percent-plus and we'll keep doing everything we can to reach out to groups and answer their questions until we get there."
At Beth Israel Lahey Health, the initial response has been that 70 percent of those who have been contacted have been vaccinated or scheduled an appointment to be vaccinated; they're awaiting the remaining 30 percent to make an appointment. Approximately five percent of its staff has declined the vaccine, in part because it may be inconvenient or they are waiting to see how their colleagues or neighbors react.
"What we've done is we've identified sort of vaccine champions across our workforce," said Dr. Richard Nesto, Chief Medical Officer and Incident Commander at Beth Israel Lahey Health.
People "who can stand up to the safety of the vaccine to hopefully reassure people that someone I work with gets the vaccine [and] it's safe for me to get the vaccine," Nesto said.
This is not an FDA-approved vaccine, explained Nesto. "It's approved under emergency use so you can't mandate it," he said.
Both hospitals are hoping to have all health care workers vaccinated by February.
"In just about a week's time, some people will start needing second doses," said Biddinger. "So we're going to have to make sure that we can handle the volume of new first dose employees, as well as employees, have to come back and get their second.
The other piece of advice, being transparent about the vaccine and its side effects while educating all employees about the benefits.
"We've had just a handful of reactions," said Nesto. "None of them have required really serious medical care. Most of them have been very mild reactions."
MGB says it's doing a couple of thousand vaccinations a day and is now a week ahead of schedule, which may come just in time for the new year.
"We're unfortunately all looking at a potential surge of patients in January," said Biddinger. "Some people who are in Wave C may actually end up moving into Wave A or B if we have to pull them back to help staff the inpatient areas of the hospital."
The staff knows if they are vaccinated and contract COVID-19, they will have a milder illness or maybe no illness at all, but research still needs to be done on if the vaccine prevents transmission. That means just because they get the vaccine, it doesn't mean they can stop hand-washing, practicing social distancing, or wearing masks.