Nhi Vo (Radiology, BIDMC) looks over a carpet of daffodils left for medical workers at BIDMC by Boston-based floral company Cityscapes. Editor's note: Photo is featured April 10.
WBUR – December 23, 2020
The photos that helped us tell the stories of 2020
It feels like an understatement to express that 2020 was a year like no other — and yet, a review of the photographs that best helped us tell stories of the raging pandemic, protests for racial justice and an extraordinary presidential election makes the singularity of 2020 clear.
Our photographers, Jesse Costa and Robin Lubbock, captured a year rich in devastating loss and anxiety, but also showed us moments of solidarity — even levity — in Massachusetts.
The pair got as close — arguably closer — than most to many of the scenes that define the last 12 months. These are the images that will stay with us beyond this year.
---
January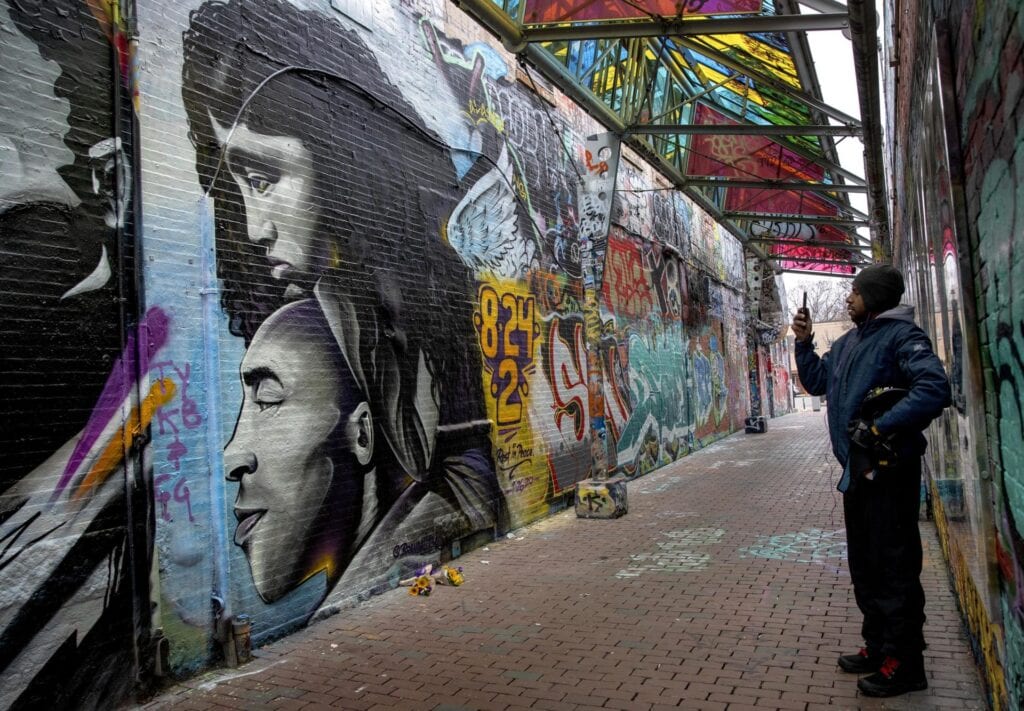 Jan. 28 | Milo Andrews, from Charlestown, took a photo of a mural of Kobe Bryant and his daughter, Gianna, in Central Square. The two died in a helicopter crash in January. "He was a great man," said Andrews. "He deserved to grow old."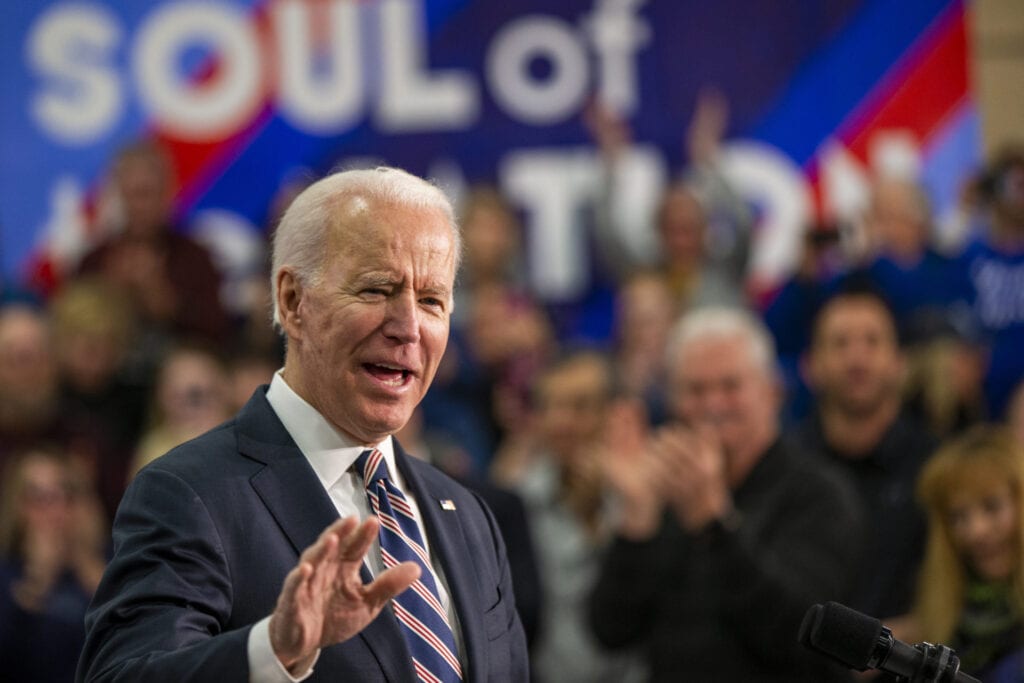 Jan. 30 | Supporters cheered as then-presidential candidate Joe Biden stepped up to the podium before a speech at the Vince Meyer Learning Center in Waukee, Iowa, as part of his "Soul of the Nation" election tour.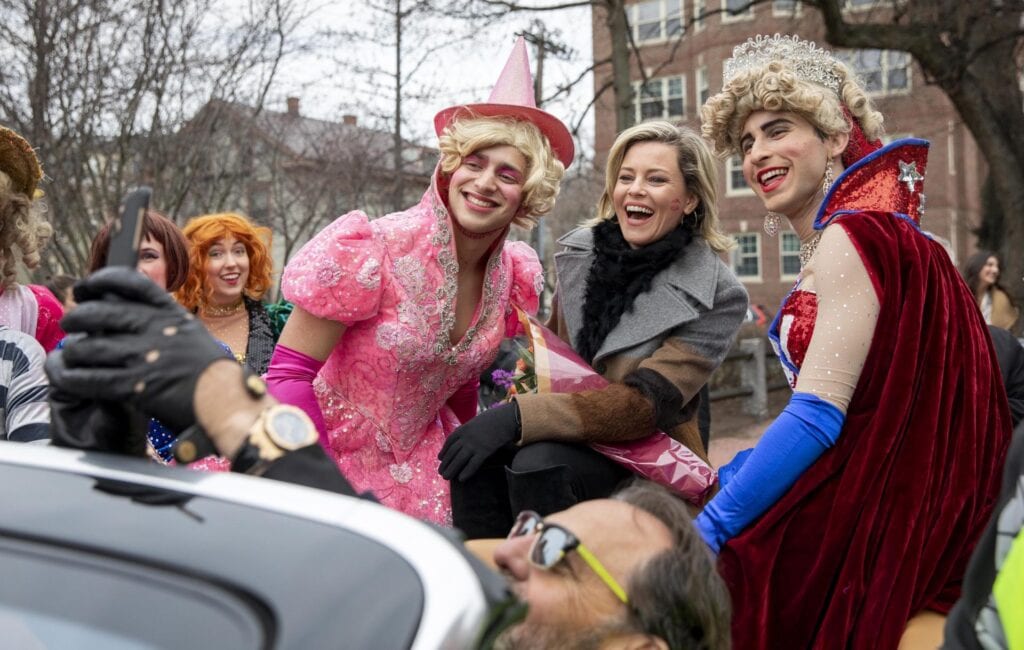 Jan. 31 | Elizabeth Banks, Hasty Pudding Theatricals' 2020 Woman of the Year, pauses for a photo with Hasty Pudding actors.
---
February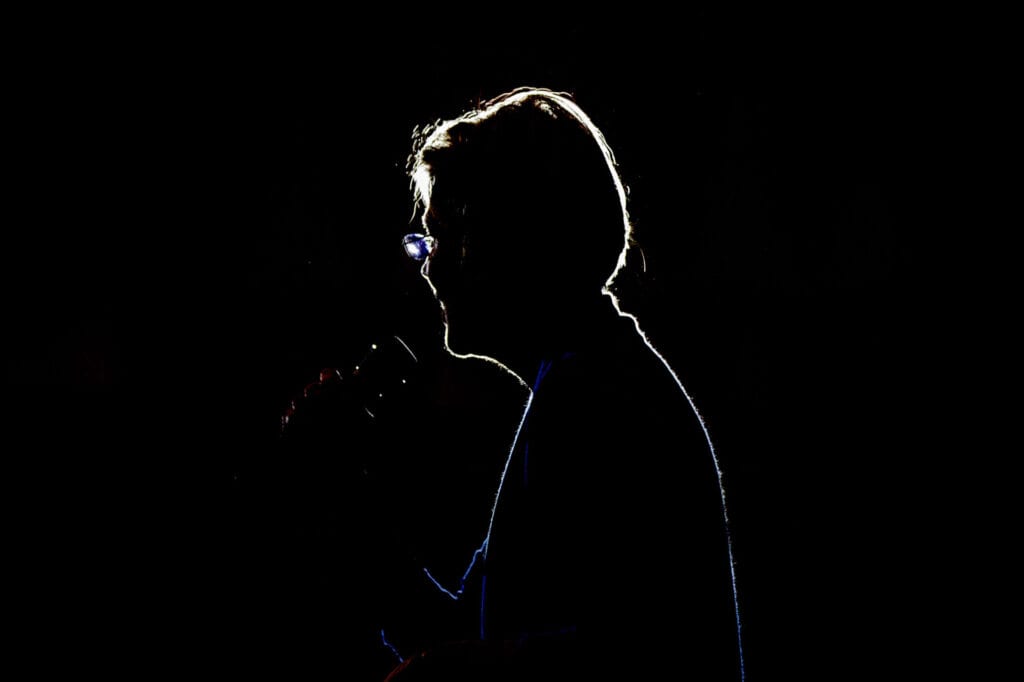 Feb. 1 | Then-presidential candidate Elizabeth Warren spoke to supporters during an Iowa caucus campaign event at West High School in Iowa City.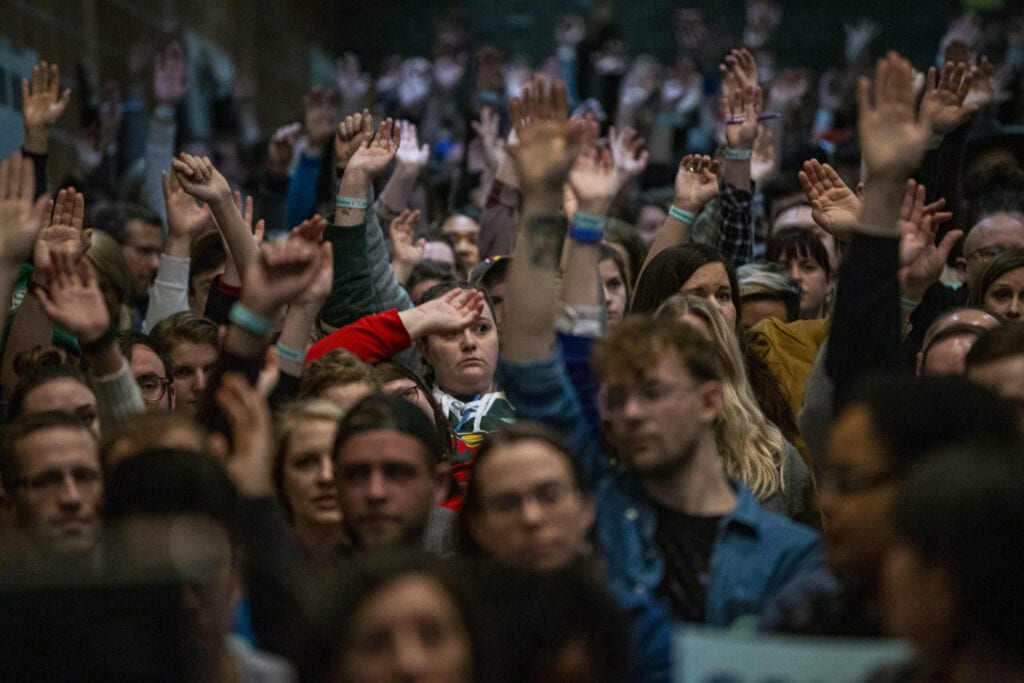 Feb. 3 | Iowa caucus participants at Central Campus High School in Des Moines raised their hands to be counted.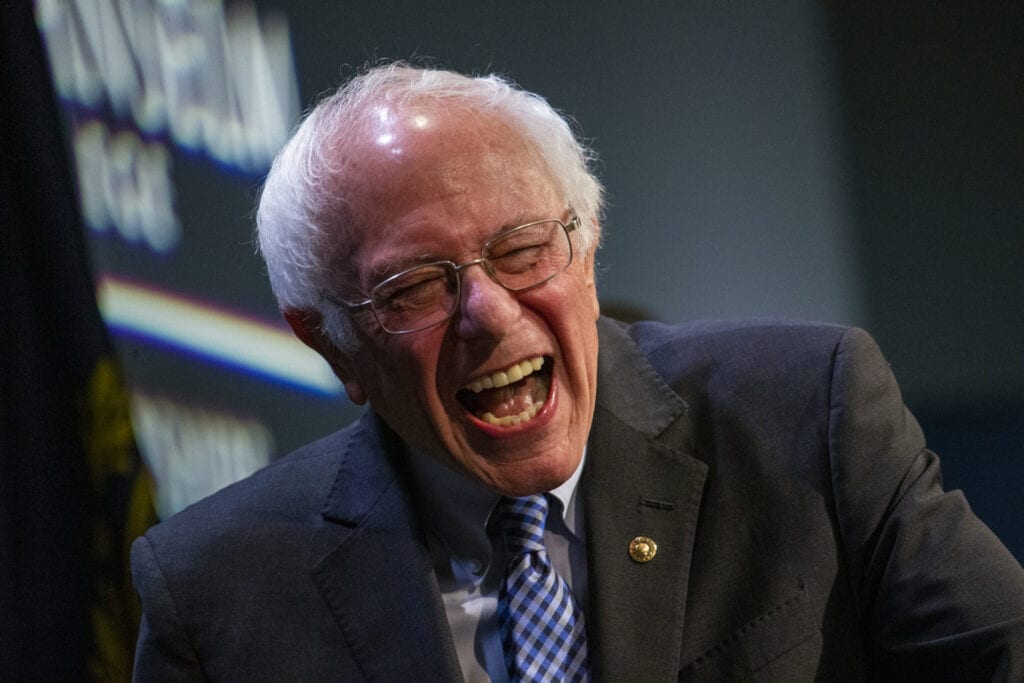 Feb 7 | Then-presidential candidate Bernie Sanders laughed at a question posed to him during a Q&A session after his speech at St. Anselm's College in Manchester, New Hampshire.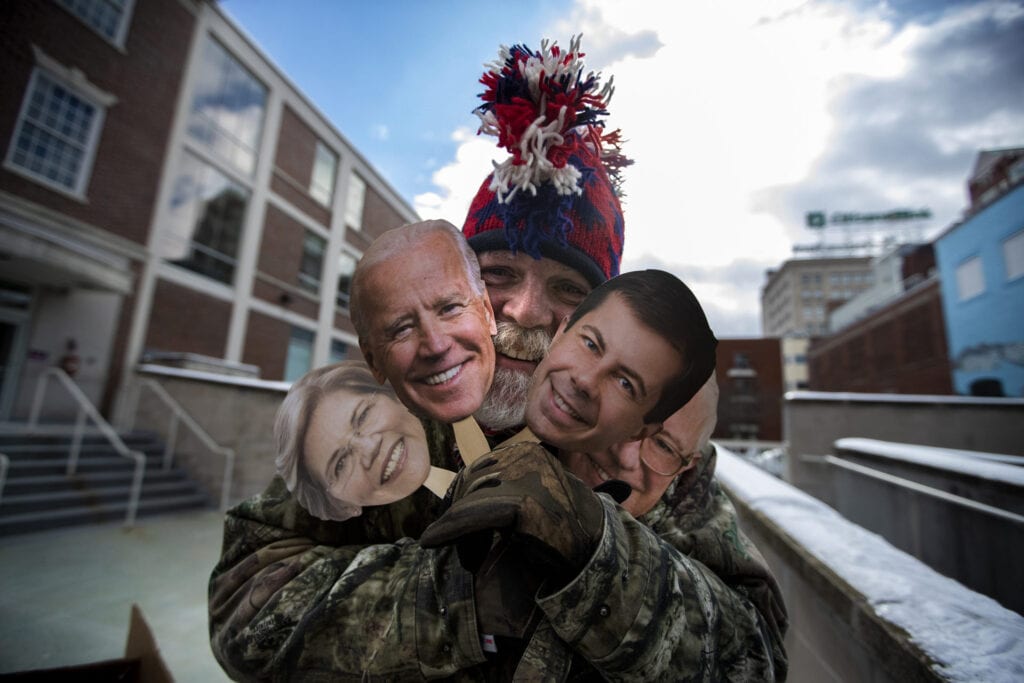 Feb. 8 | Mike Kruneir was selling the "Faces of the Democratic Party" outside the Rex Theater in Manchester, New Hampshire, before a Joe Biden rally.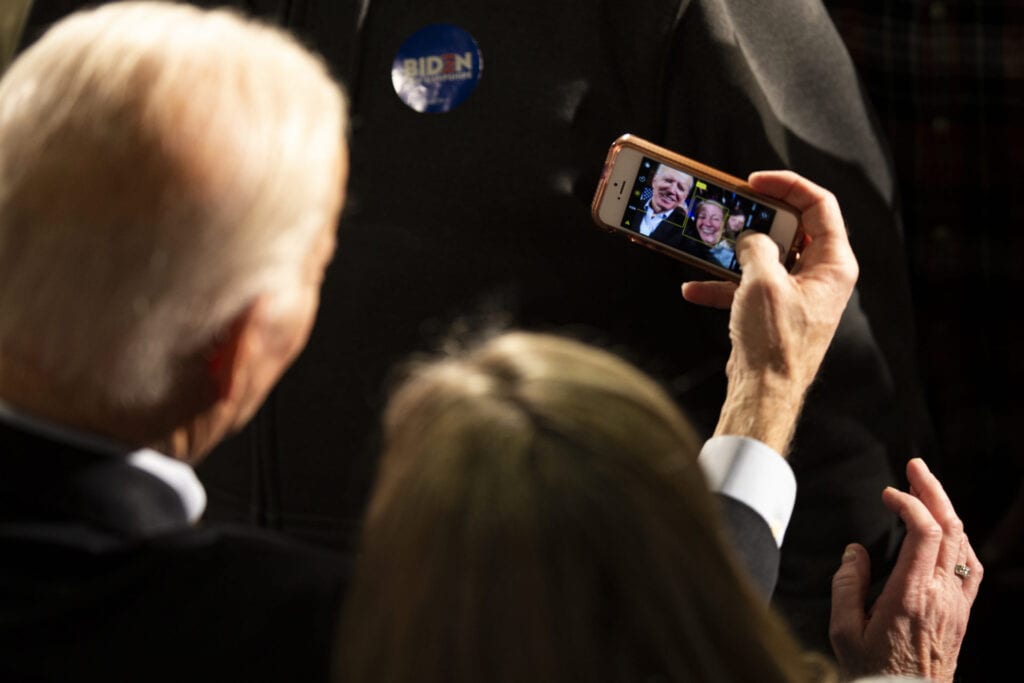 Feb. 8 | Biden took a selfie with a supporter at a campaign rally at the Rex Theater in Manchester, New Hampshire.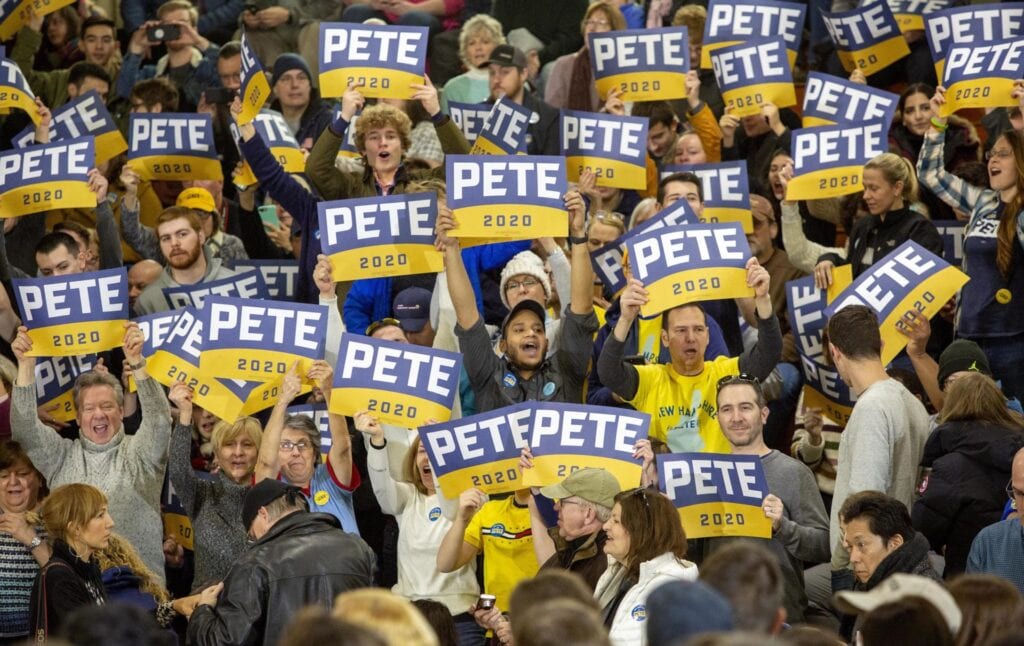 Feb. 9 | A crowd at Elm Street Middle School in Nashua, New Hampshire, gathered to see then-presidential candidate Pete Buttigeig.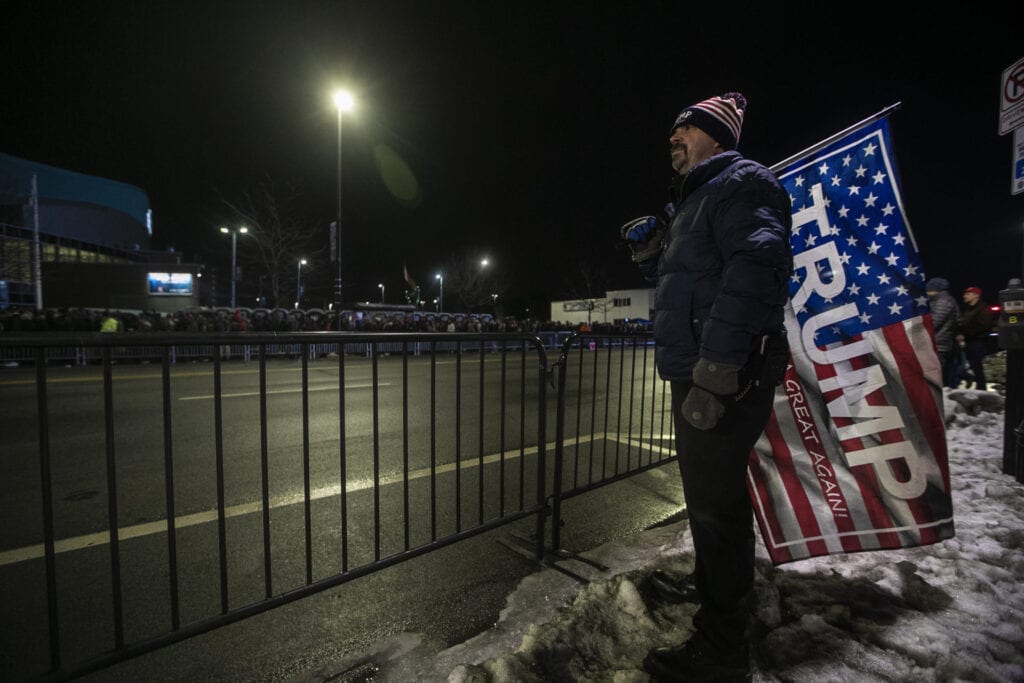 Feb. 10 | Nathan Legacy of Manchester, New Hampshire, watched a screen before President Trump spoke at Southern New Hampshire University Arena.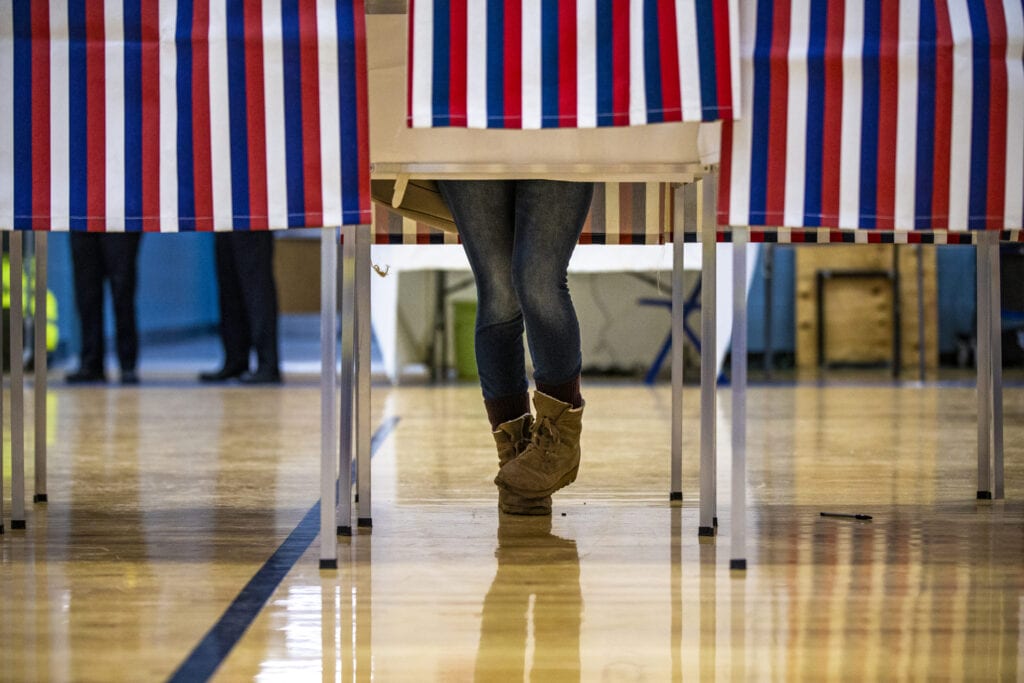 Feb. 11 | A University of New Hampshire student voted at the polls at Oyster River High School in Durham, New Hampshire. Feb. 11 was the date of the New Hampshire primary, the first in the nation.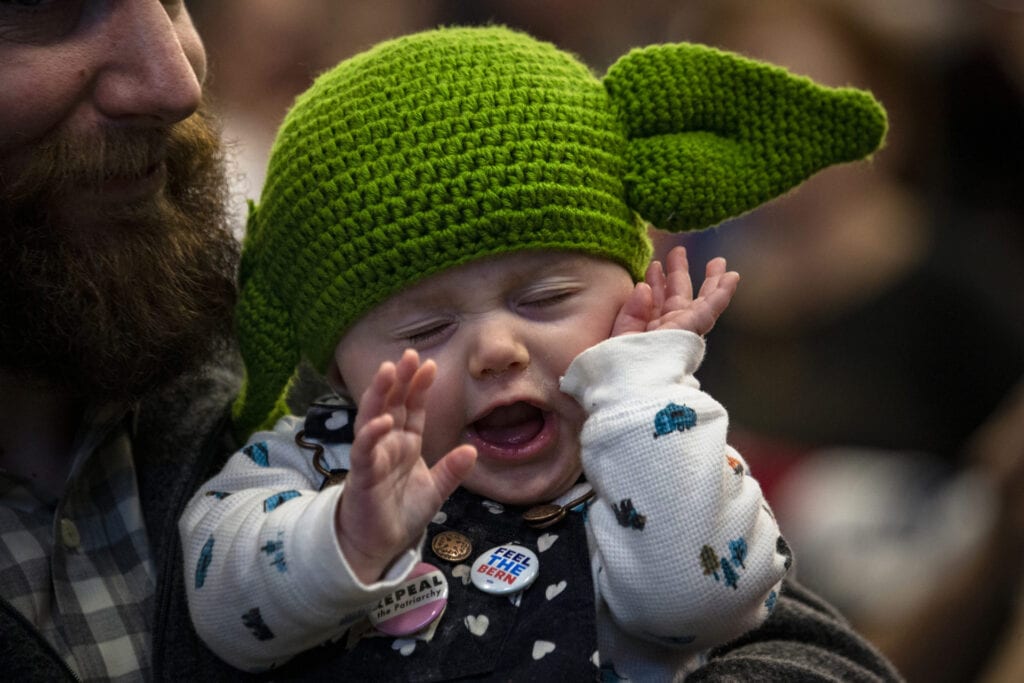 Feb. 11 | The tiredness is strong with this one: a young baby wearing a Baby Yoda hat got a little cranky at the Bernie Sanders election night celebration at Southern New Hampshire University.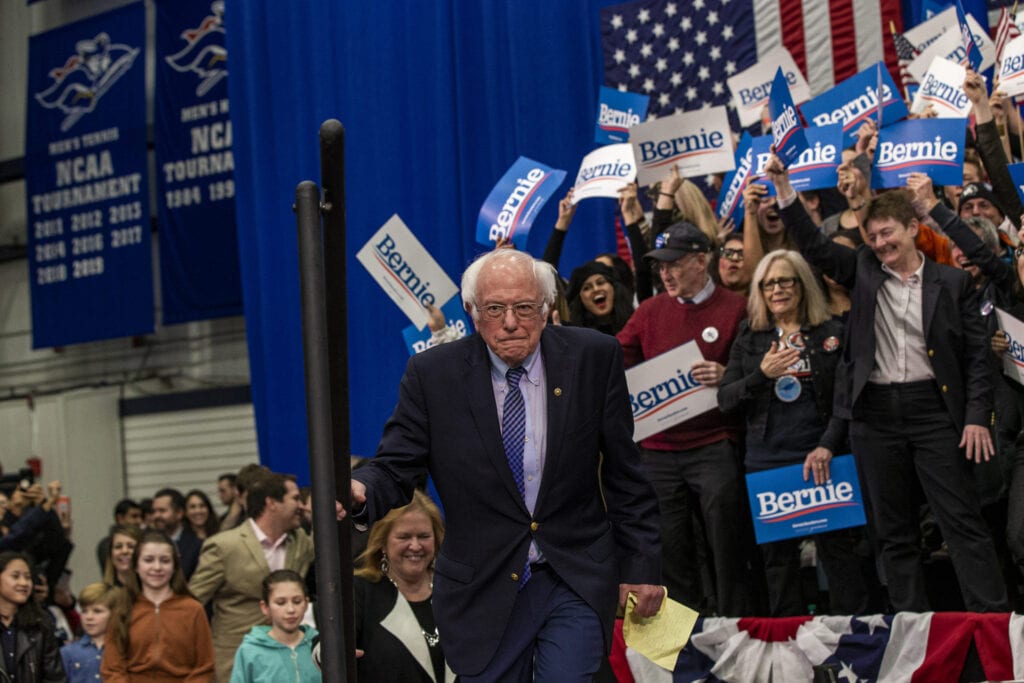 Feb. 11 | Sanders climbed the steps to the podium to greet supporters after his primary victory at Southern New Hampshire University.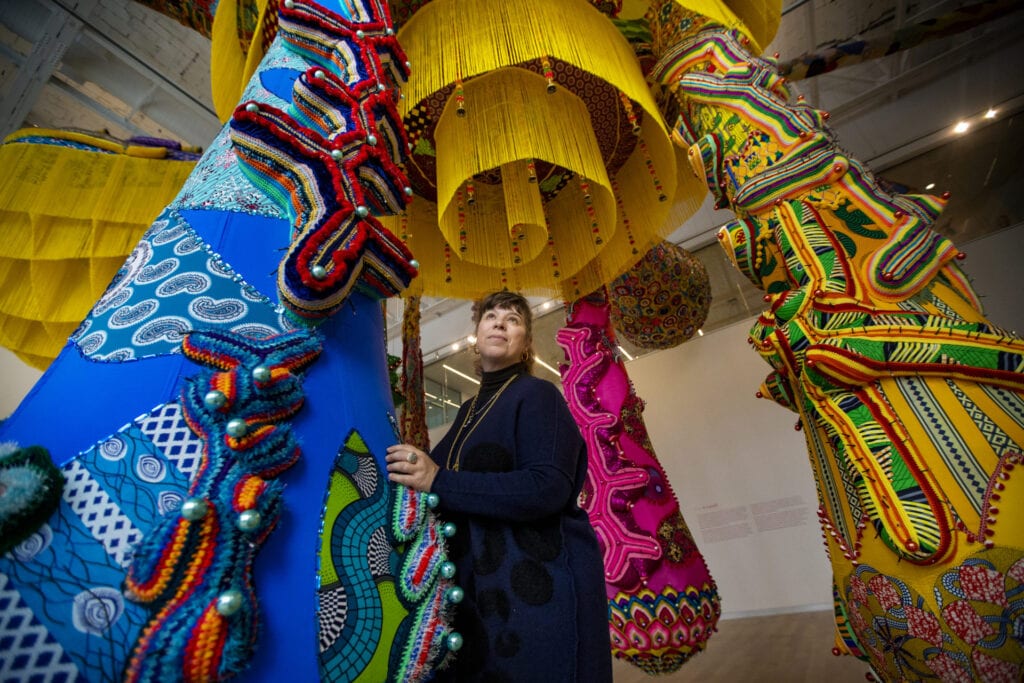 Feb. 21 | Portuguese artist Joana Vasconcelos showed her art for the first time in Boston with her piece, "Valkyrie Mumbet" at the MassArt Art Museum.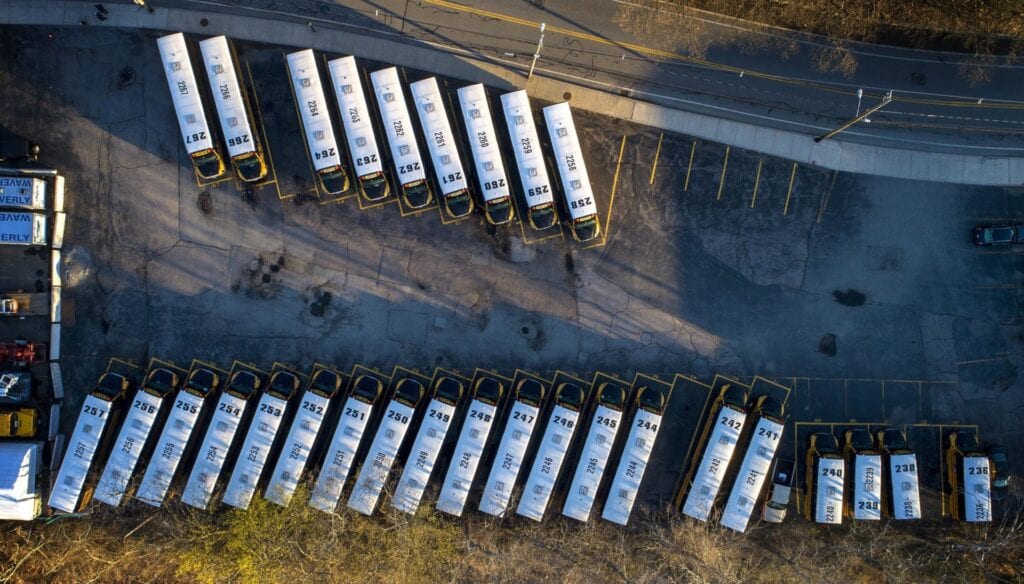 Feb. 23 | School buses parked on Pleasant Street in Belmont.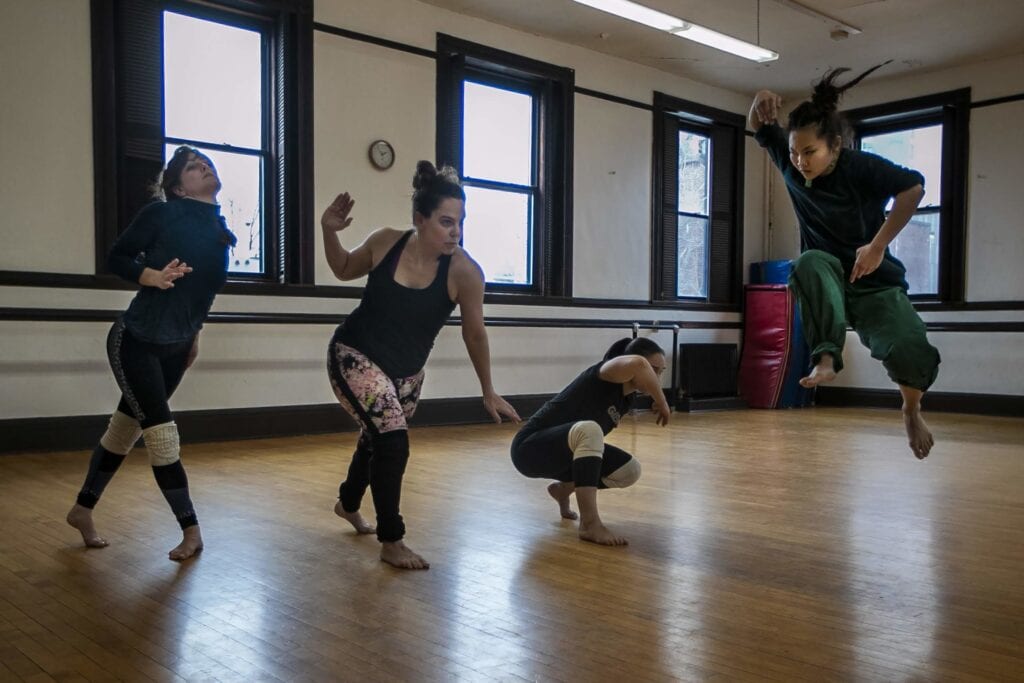 Feb. 26 | I.J. Chan (far right) leaps in the air as (from left to right) Kristen Wagner, DeAnna Pellecchia and Angelina Benitez of the Kairos Dance Theater move in tandem as the music gets louder during a rehearsal at the Dance Complex in Cambridge.
---
March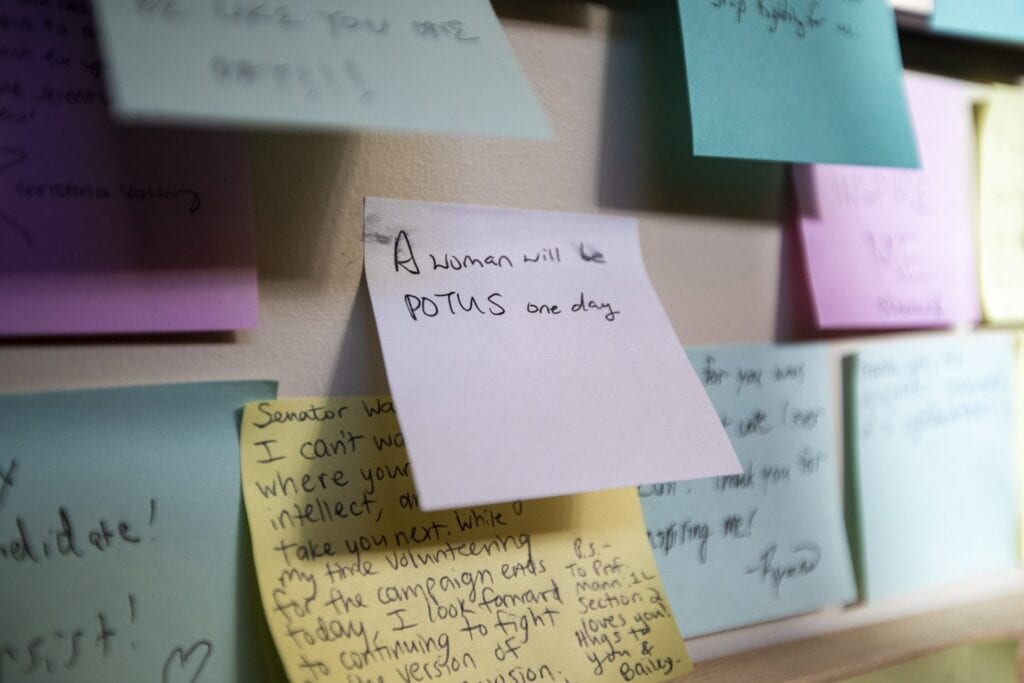 March 6 | After Elizabeth Warren announced she was dropping out of the Democratic primary, people placed sticky notes around her portrait, located in Wasserstein Hall at Harvard Law School, to show their gratitude for her run for president.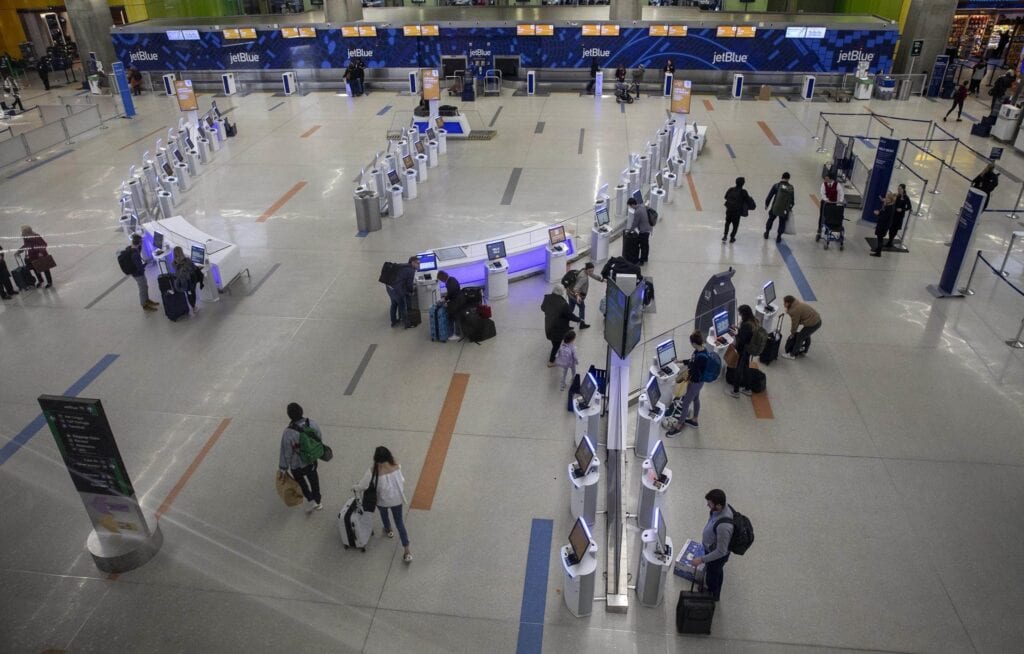 March 12 | Light passenger traffic through the JetBlue check-in area at Logan Airport. Travel lagged as businesses and schools began to shut down amid growing fears of the coronavirus.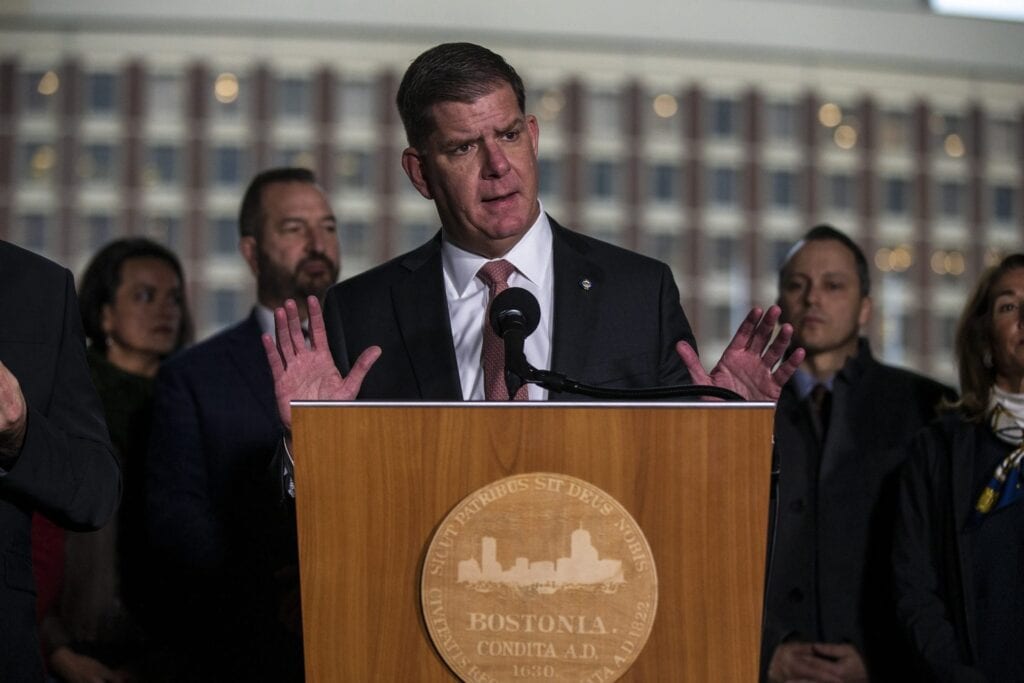 March 13 | Boston Mayor Marty Walsh announced the postponement of the Boston Marathon, which was originally pushed back to September because of the pandemic. The 2020 race was later canceled. The BAA said in October that 2021's race is also postponed to at least next fall.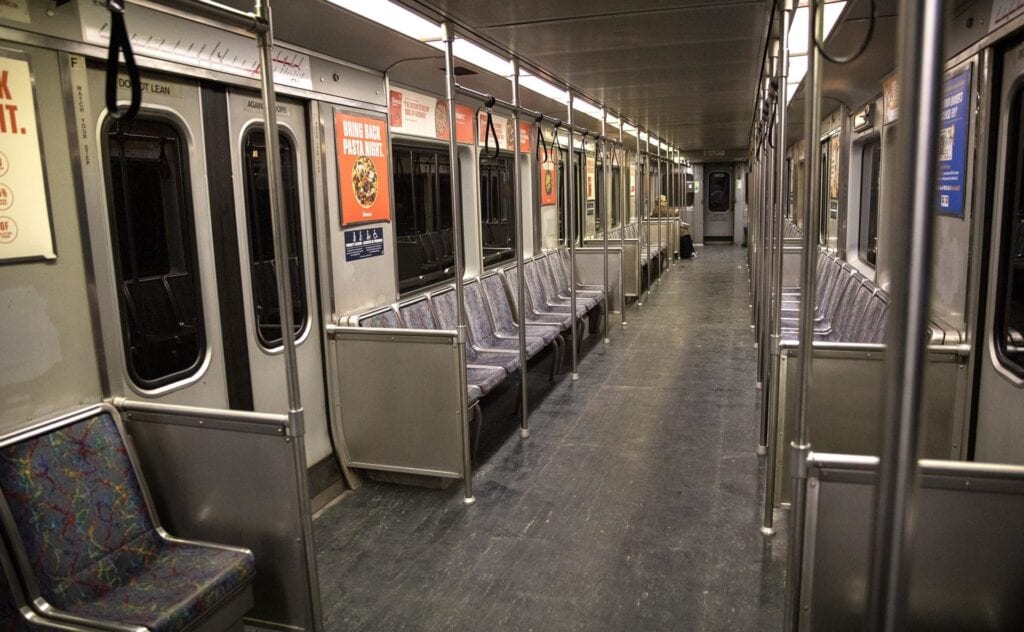 March 16 | Empty seats on an MBTA Red Line train near Central Square at lunchtime. Public transportation saw a huge drop in usage as the state began to shut down.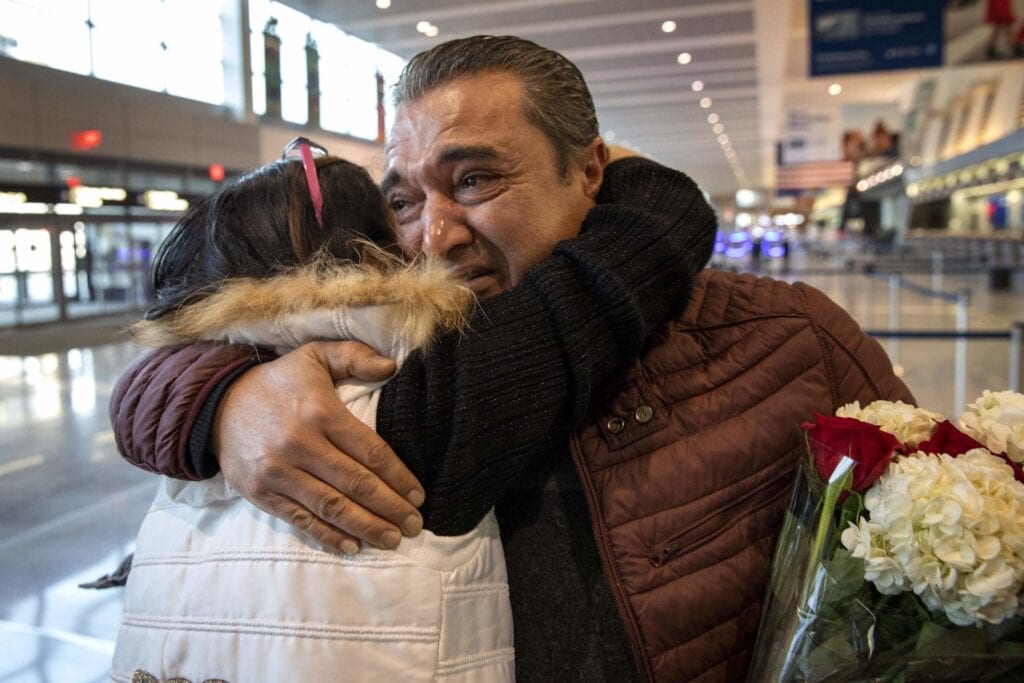 March 18 | Alaa Issa hugs his sister Lina, as she and her family arrive at Logan Airport. They were among the last refugees to be resettled in Massachusetts after the United Nations indefinitely suspended resettlement travel for refugees due to the pandemic.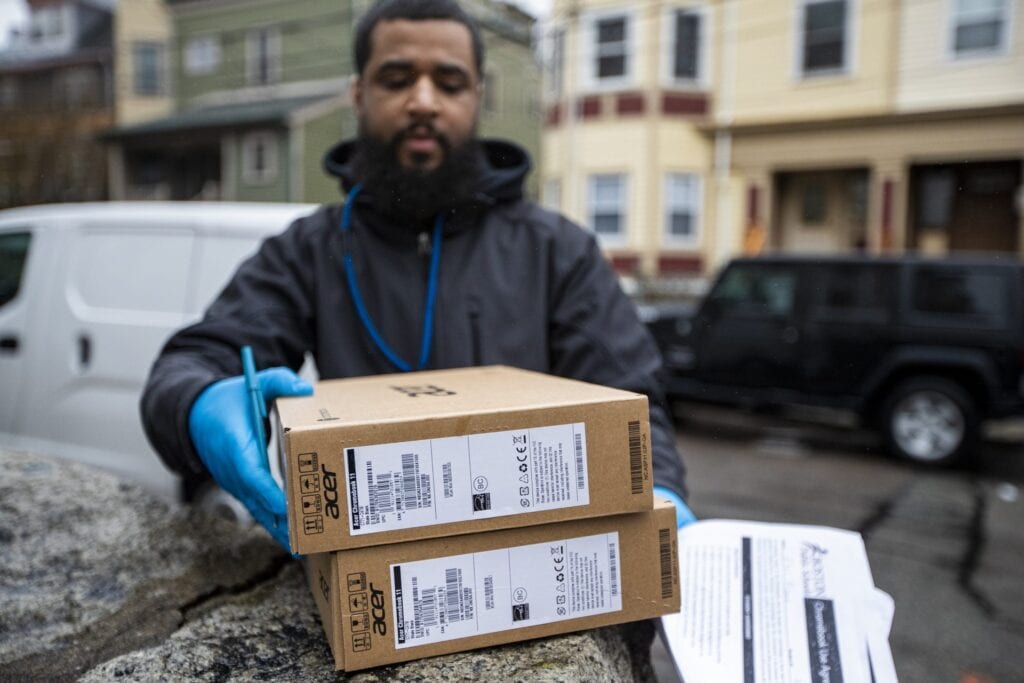 March 19 | Giscar Centeio prepares to deliver two Chromebooks to students living in Roxbury. Boston and other school districts were working to get pupils the technology needed for remote learning.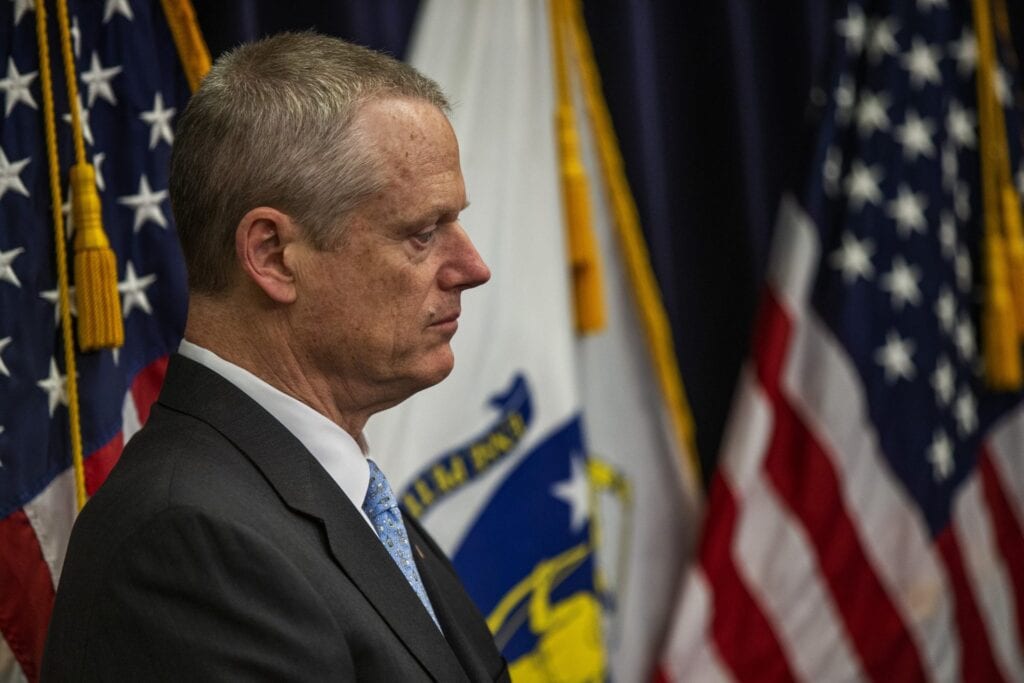 March 20 | Gov. Charlie Baker stood and listened as Lt. Gov. Karyn Polito spoke to the news media during a daily coronavirus briefing. On this date, state health officials announced the first death in Massachusetts linked to COVID-19.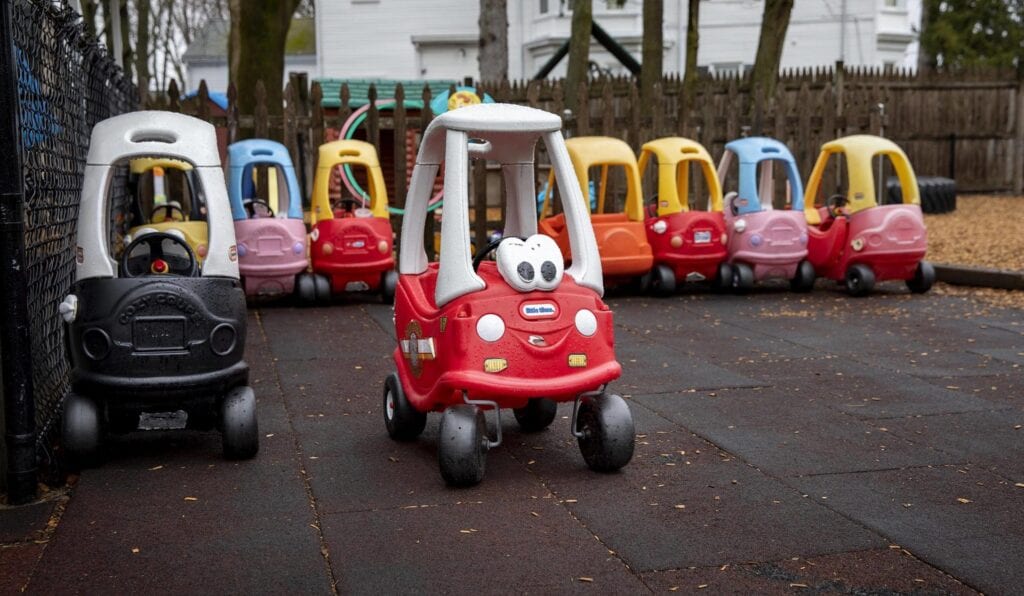 March 20 | All vehicles remain parked at the Waltham Day Care Center. The center, like nearly all day cares in the state, was forced to close as a precaution to prevent the spread of COVID-19.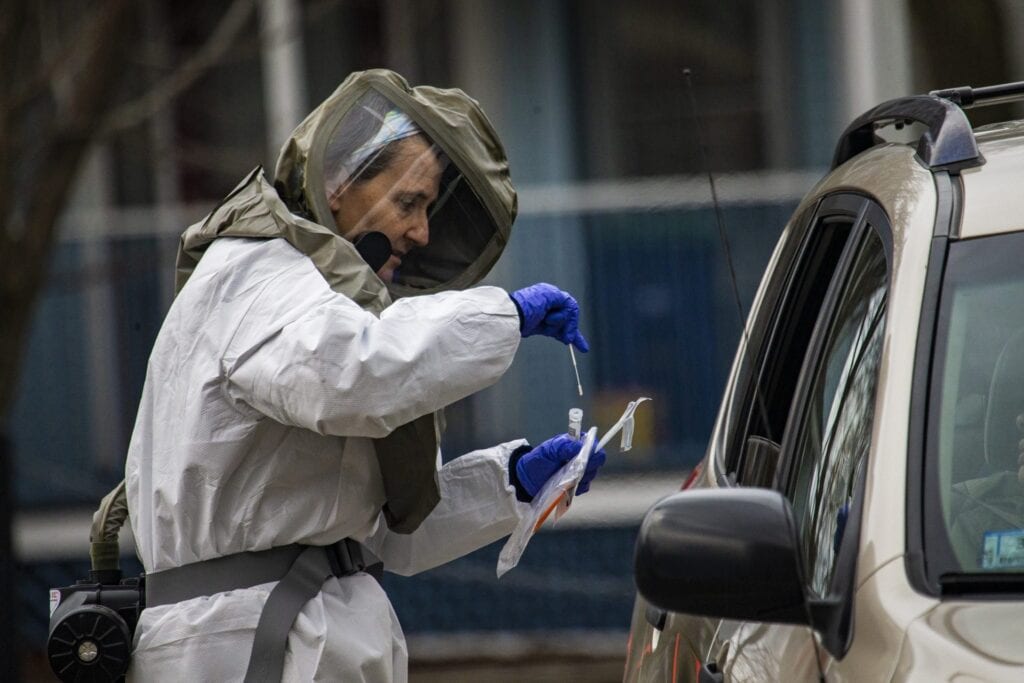 March 22 | A health care worker in a hazmat suit put a cotton swab into a vial after taking the sample from someone being tested for COVID-19 at a drive-thru testing area at Somerville Hospital.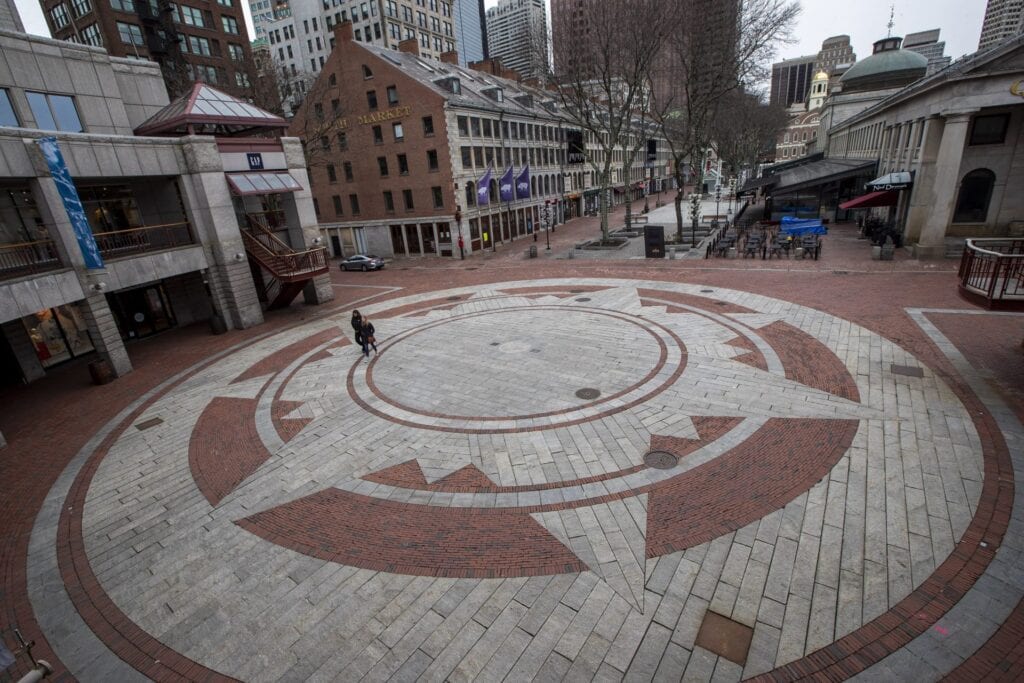 March 23 | With not many stores open, Quincy Marketplace was deserted.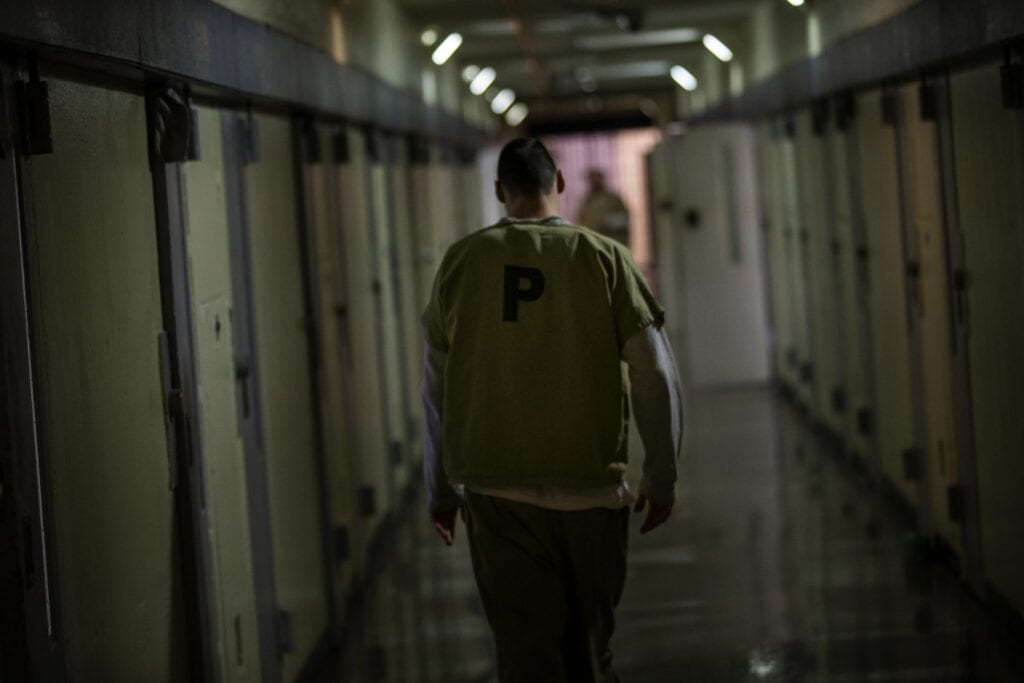 March 23 | An inmate walked down the hallway of a cell unit at Worcester County House of Corrections. This was from a WBUR investigative series called "Dying on the Sheriff's Watch," which looked at inmate deaths in Massachusetts county jails.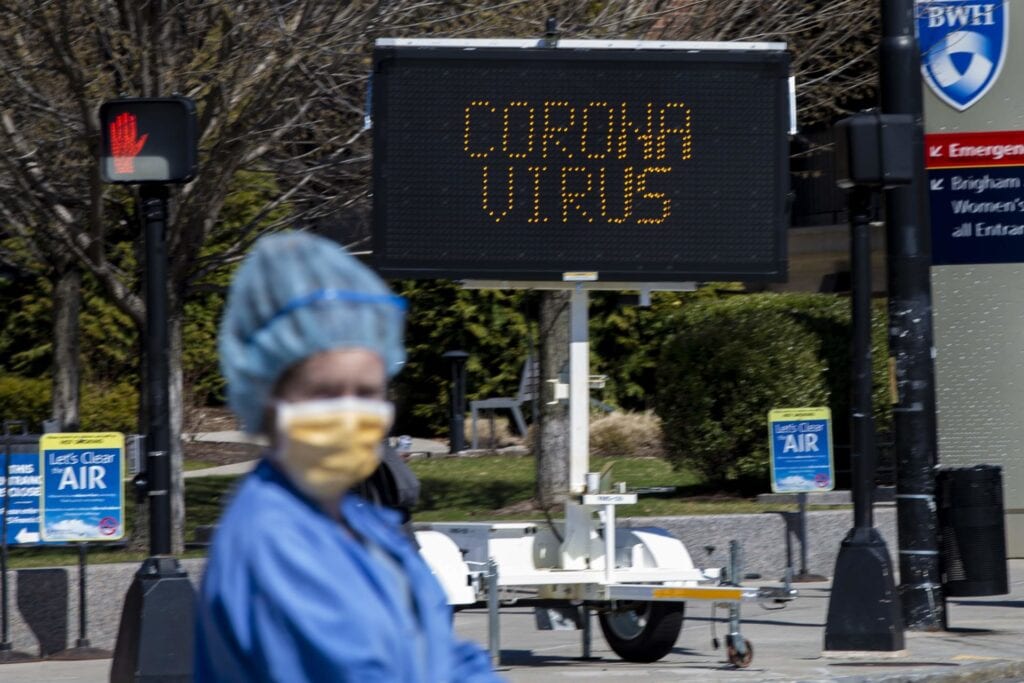 March 27 | A health care worker on Huntington Avenue in Boston.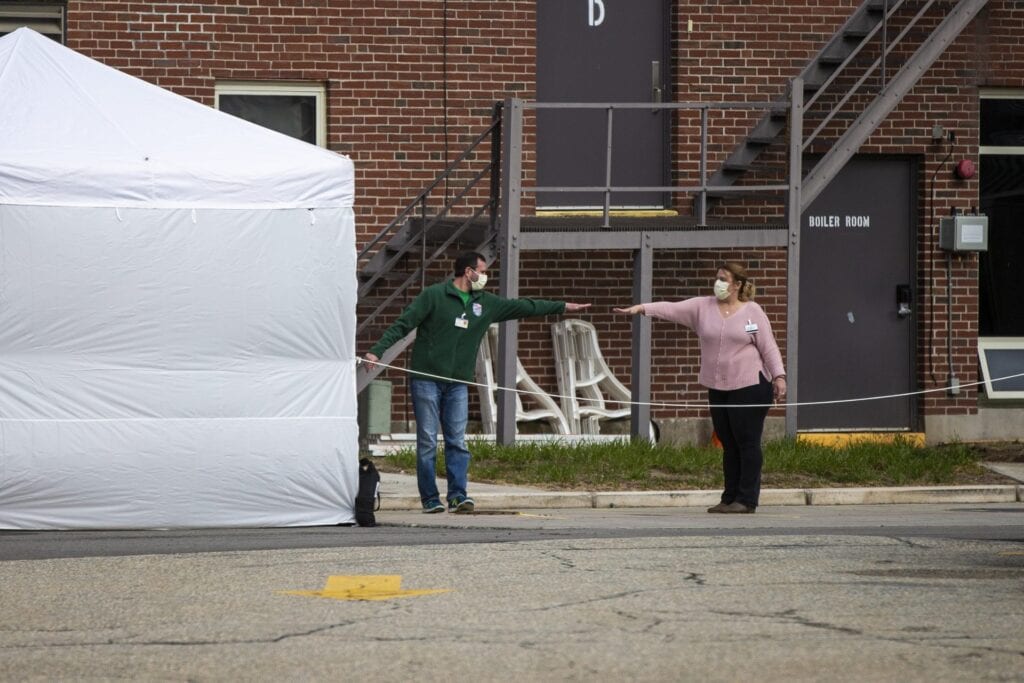 March 31 | Two employees of the Soldiers' Home in Holyoke reached out to each other to say goodbye without touching. The long-term care facility, which exclusively housed veterans, was the center of a COVID-19 outbreak that eventually killed 76 residents.
---
April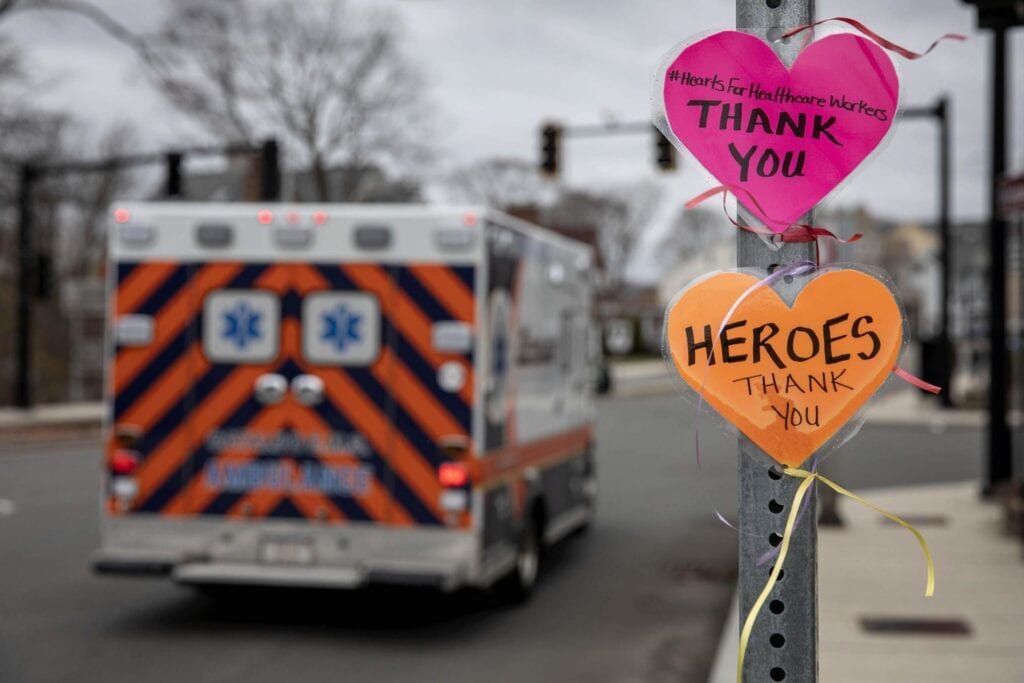 April 2 | A message left on a street signpost by the Melrose Wakefield Hospital.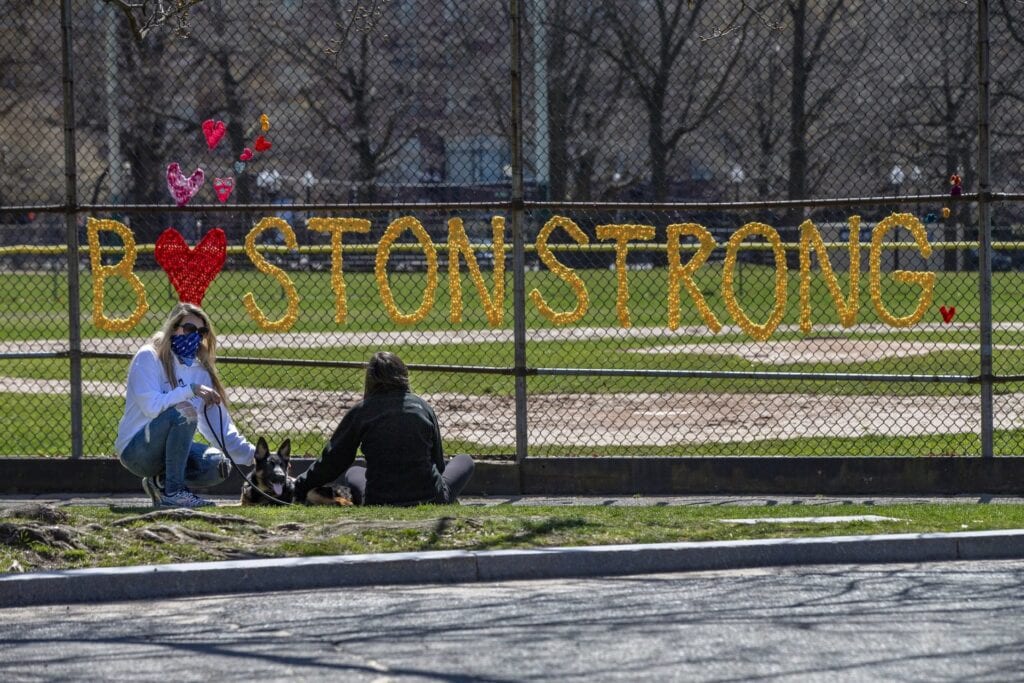 April 5 | Bex and Vanessa Kennedy sat with their German Shepherd Niko in front of a yarn sculpture on the fence on Boston Common.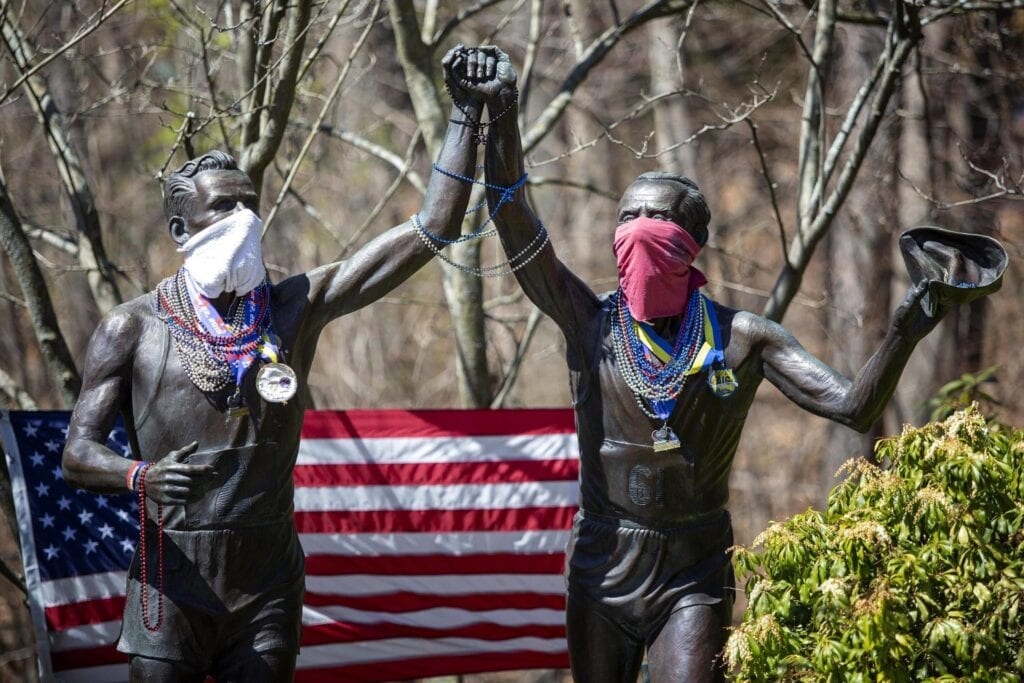 April 6 | The two versions of Boston Marathon runner Johnny Kelley, ages 27 and 84, wore masks at the "Young at Heart" sculpture on Commonwealth Avenue in Newtonville.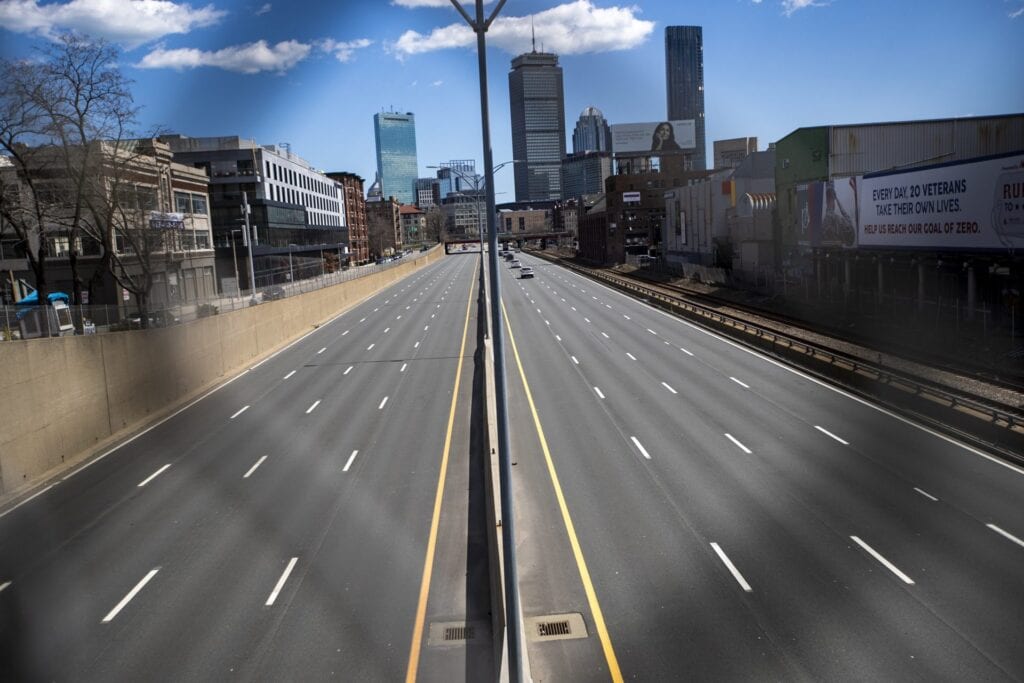 April 7 | Traffic was very minimal midday on the Mass. Pike due to the coronavirus outbreak.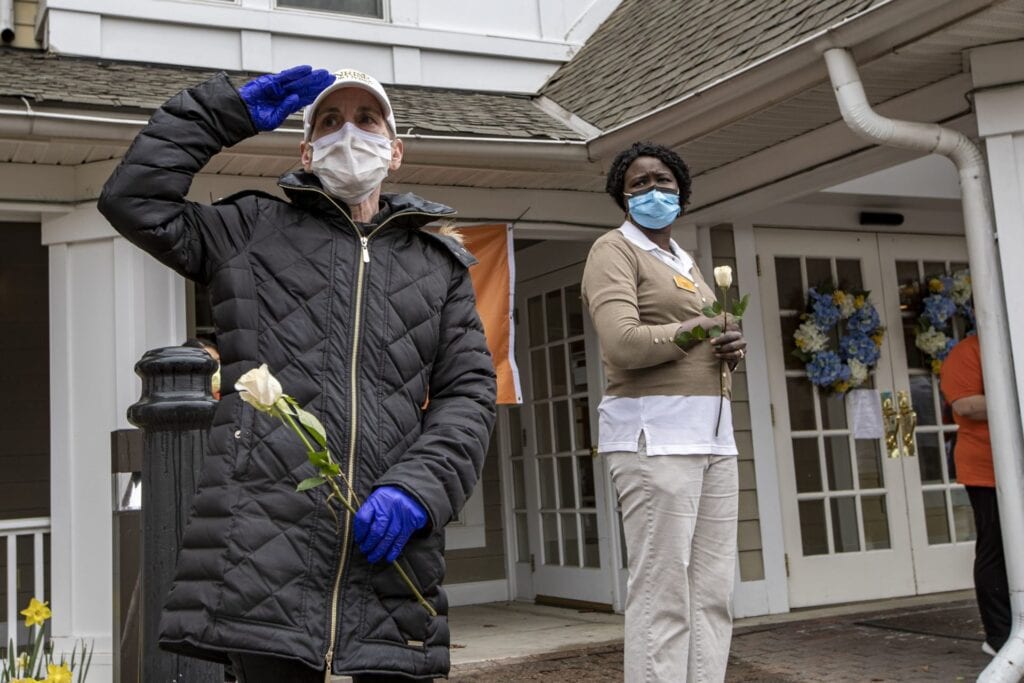 April 8 | Cheryl Bento saluted as the hearse carrying her longtime friend Mary Foley's body passed by Sunrise Senior Living in Arlington, where Foley used to live.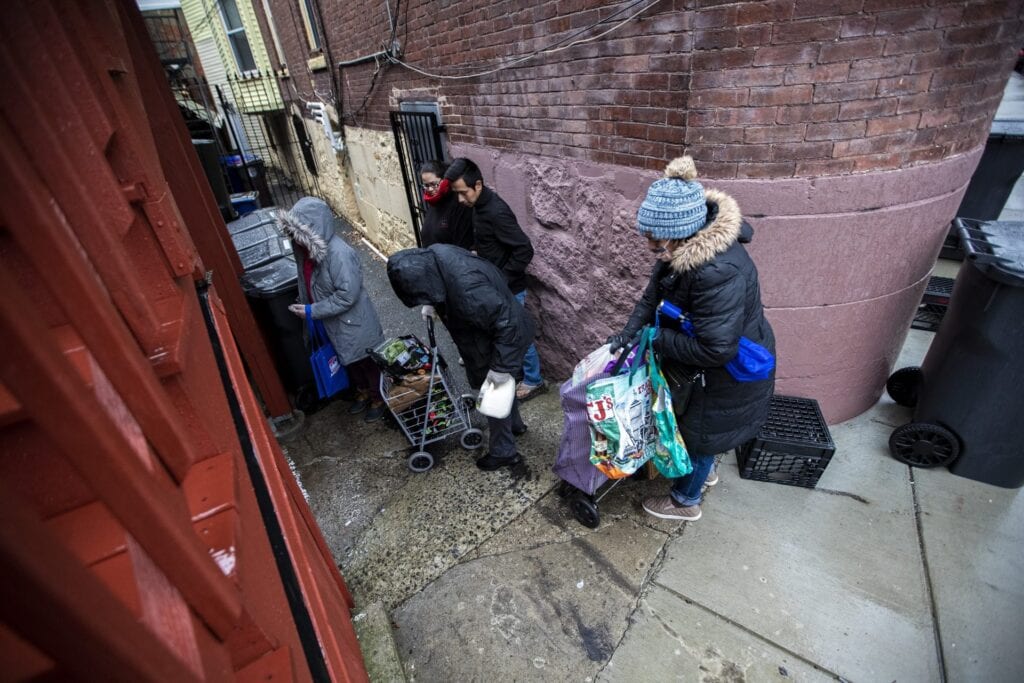 April 9 | Chelsea residents left the back entrance of Pan Y Cafe with their carts full of groceries, where the Chelsea Collaborative distributed food for families that needed it. The city emerged as a hotspot for the virus early on in the pandemic here, with many of the city's workers considered "essential" under state rules.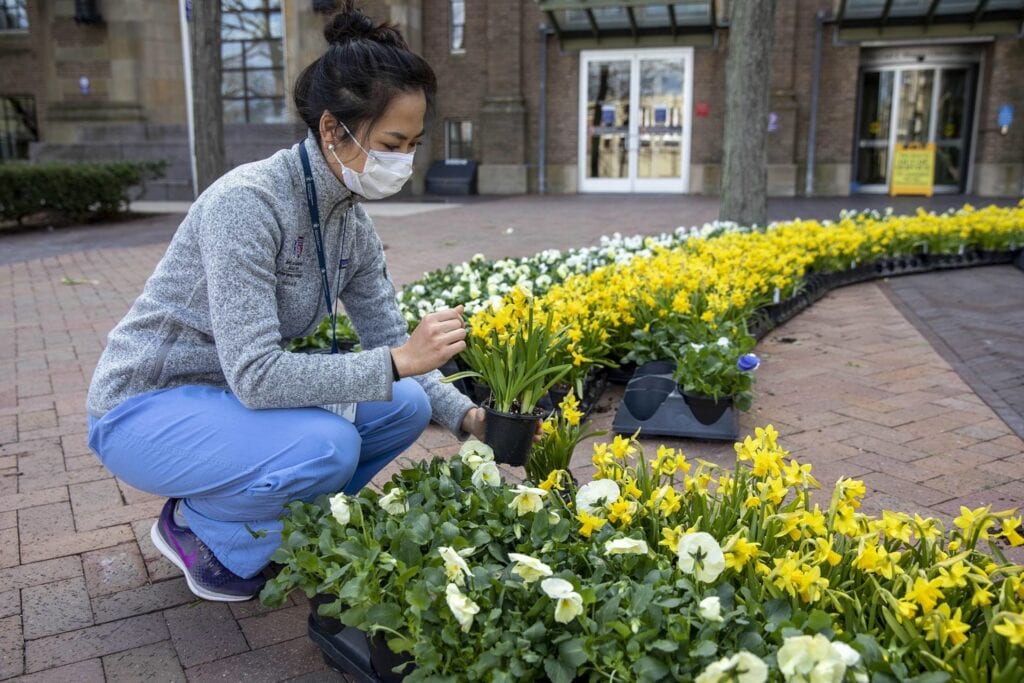 April 10 | Radiology resident Nhi Vo looked over a carpet of daffodils left for medical workers at the Beth Israel Deaconess Medical Center by Boston-based floral company Cityscapes.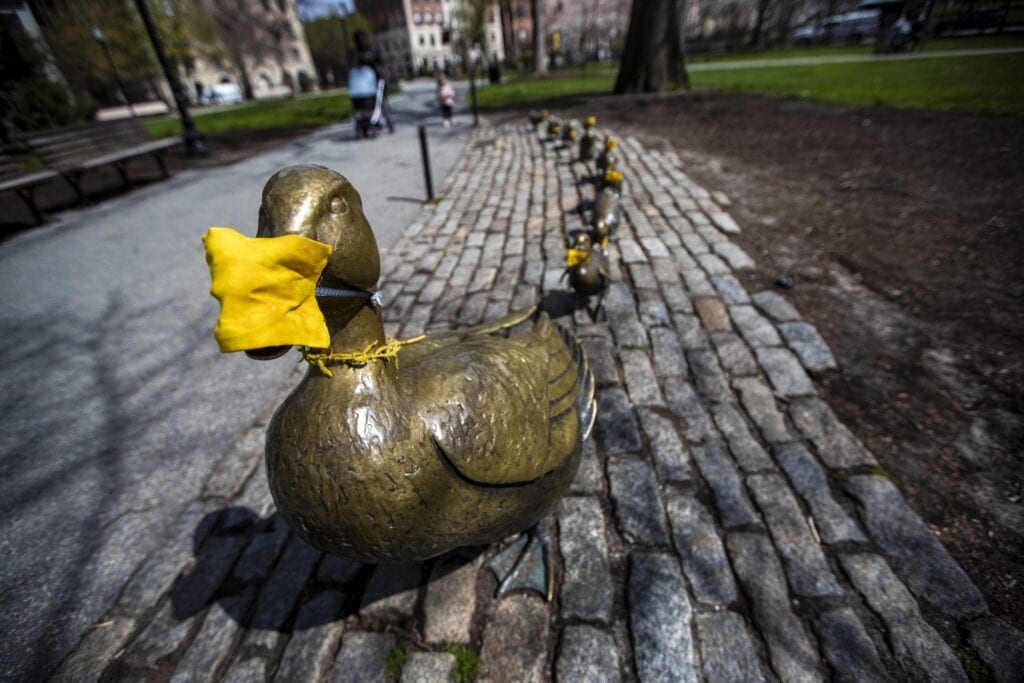 April 10 | All of the ducks of the "Make Way For Ducklings" sculpture in the Boston Public Garden donned yellow masks on an April day.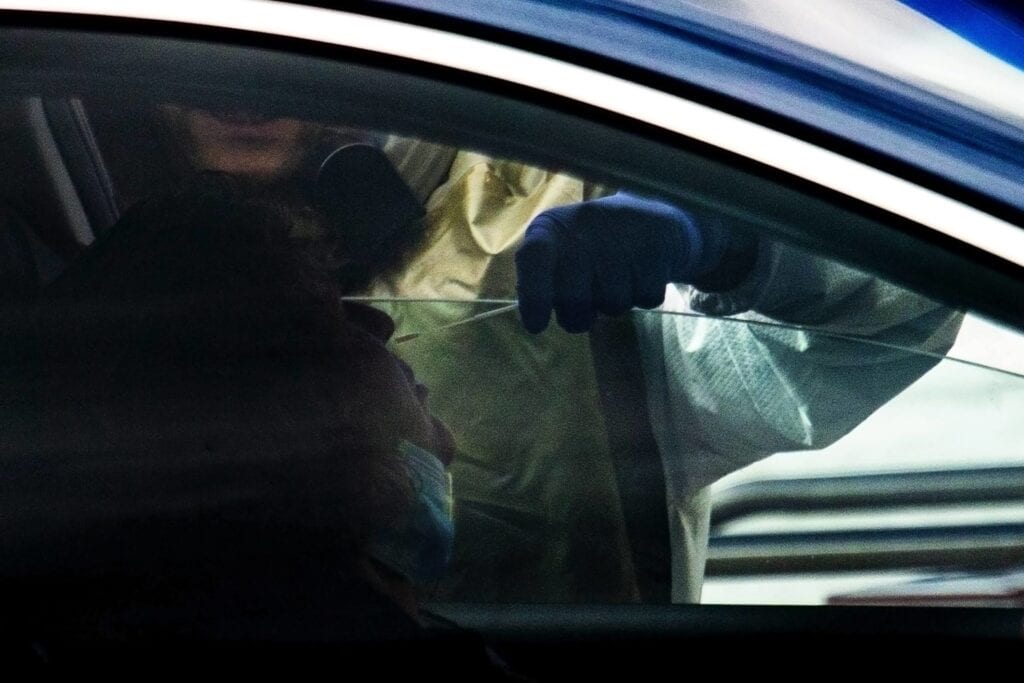 April 10 | A health care worker performed a nasopharyngeal specimen collection at the drive-thru COVID-19 testing site at Somerville Hospital. At that point in the crisis, securing enough testing swabs was a greater challenge.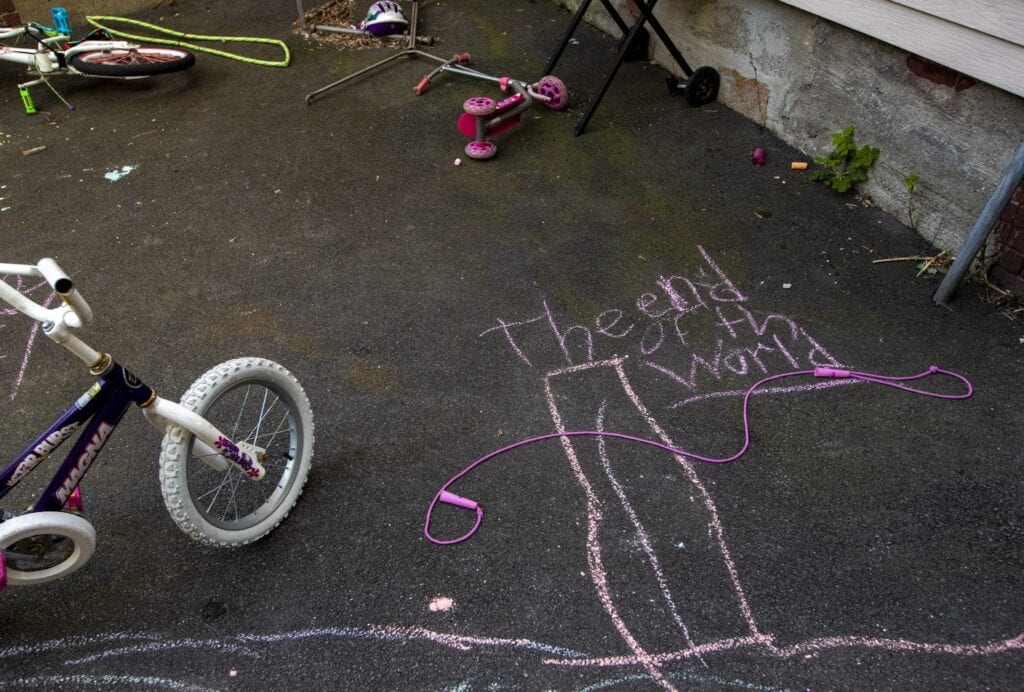 April 12 | A children's chalk drawing in the backyard of a Somerville apartment house on Easter Sunday.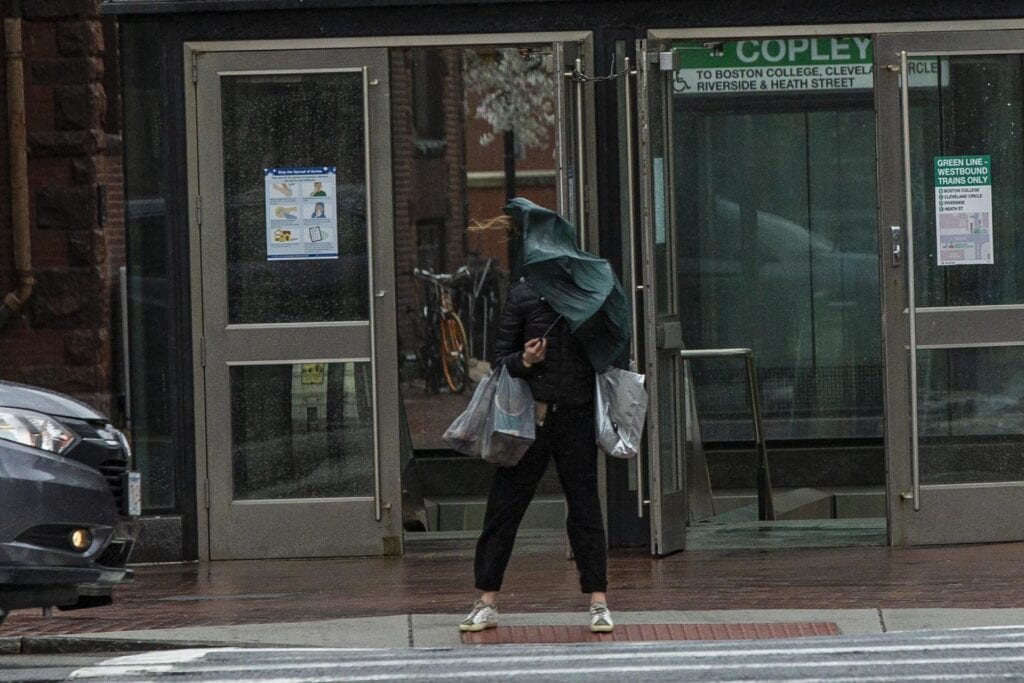 April 13 | A woman leaving the Copley MBTA station battled the wind whipping down Boylston Street.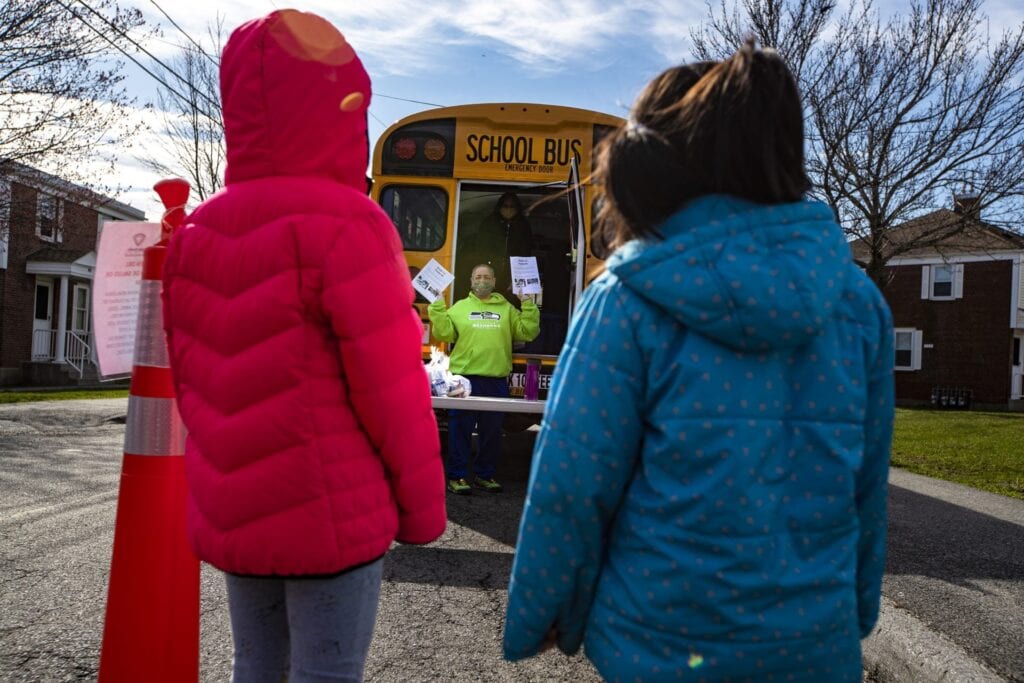 April 14 | In Salem, two students wait as physical education teacher Evelyn Oquendo held up learning packets, asking how many they needed. Oquendo was there to hand out the packets for online school work. The city at the time was also handing out breakfasts and lunches for all children under 18 at designated areas around the city.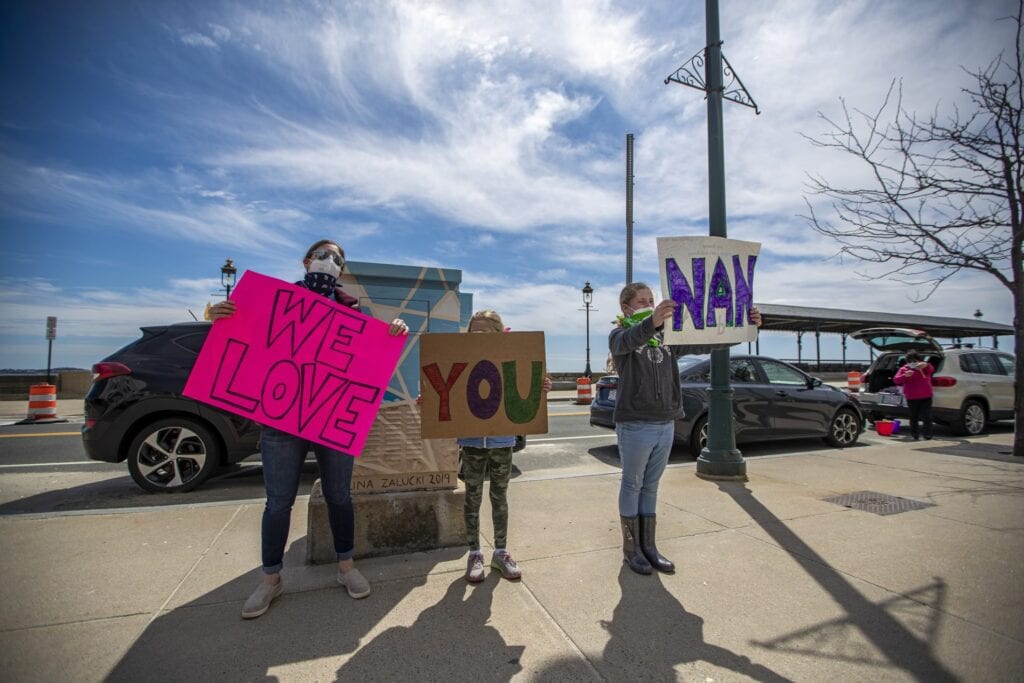 April 14 | Jess, Gabby and Frankie Iovanna of Duxbury waved signs to their grandmother, Nancy Iovanna, as she looked out the window of her room at the Jack Satter House in Revere.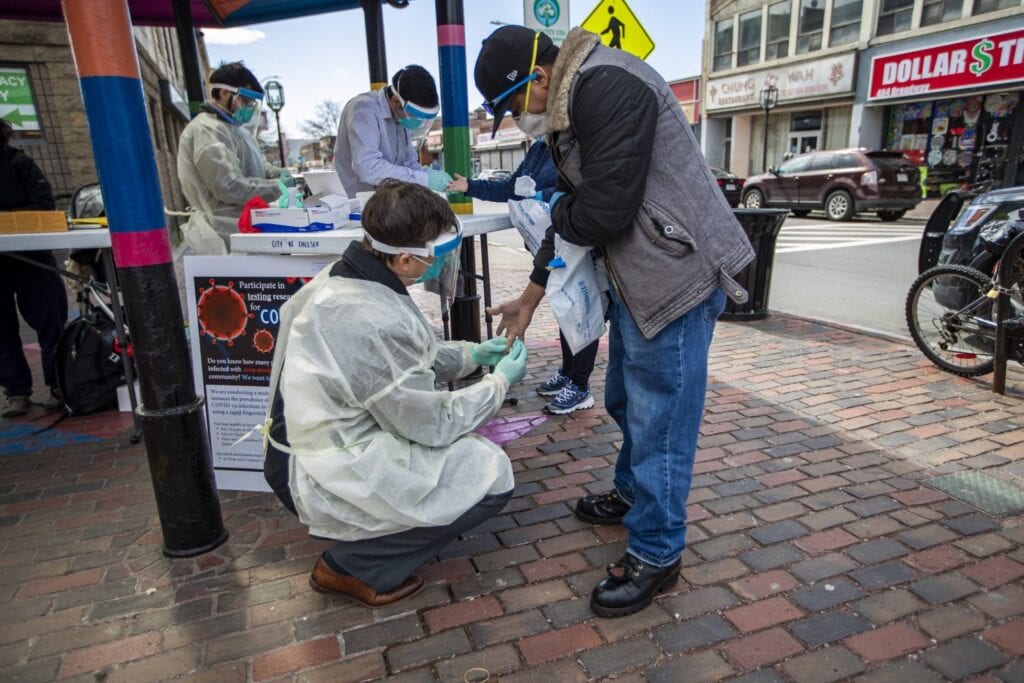 April 14 | Dr. John Iafrate, a pathologist at Massachusetts General Hospital, took a blood sample from a Chelsea resident at a pop-up testing facility in Bellingham Square. MGH was conducting a study by collecting the antibodies of Chelsea residents who had not tested positive for COVID-19, with the hope they would be able to measure the prevalence of infections in the community.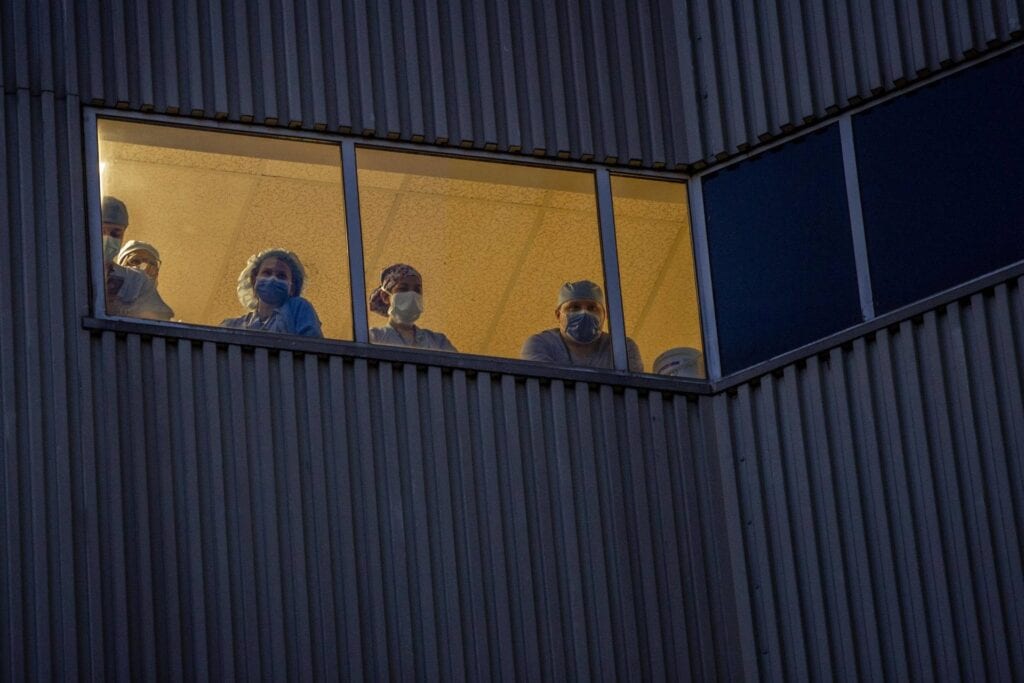 April 15 | Medical staff watched from an upper floor window of Tufts Medical Center as a line of Boston emergency vehicles with lights flashing and horns blaring in support of health care workers drove by.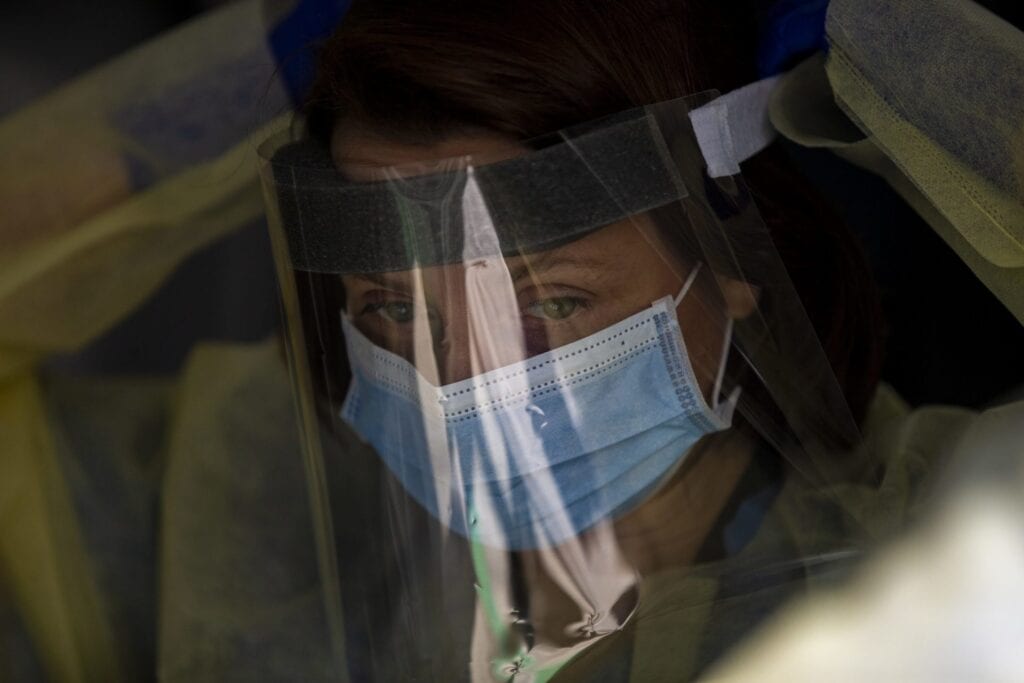 April 16 | Dr. Melissa Nass of BMC prepared for an examination by fitting on a face shield. Boston Medical Center pediatricians were doing home visits using an ambulance as their examination room to do check-ups and vaccinations.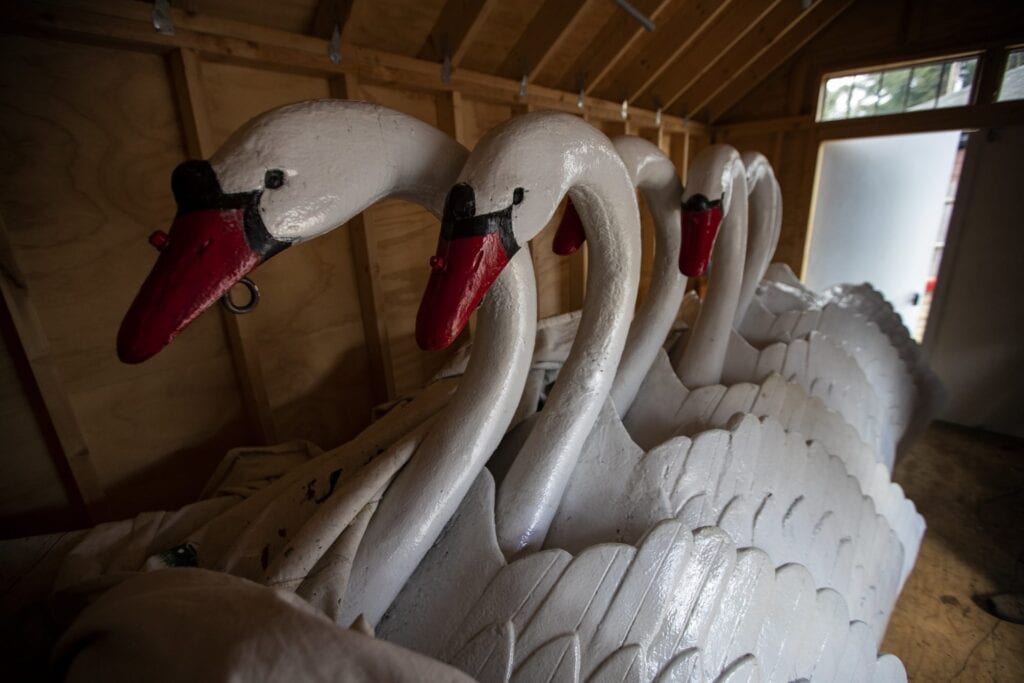 April 16 | The swans of the Swan Boats of the Boston Public Garden in storage. This year was the first time in its history the Swan Boats did not operate.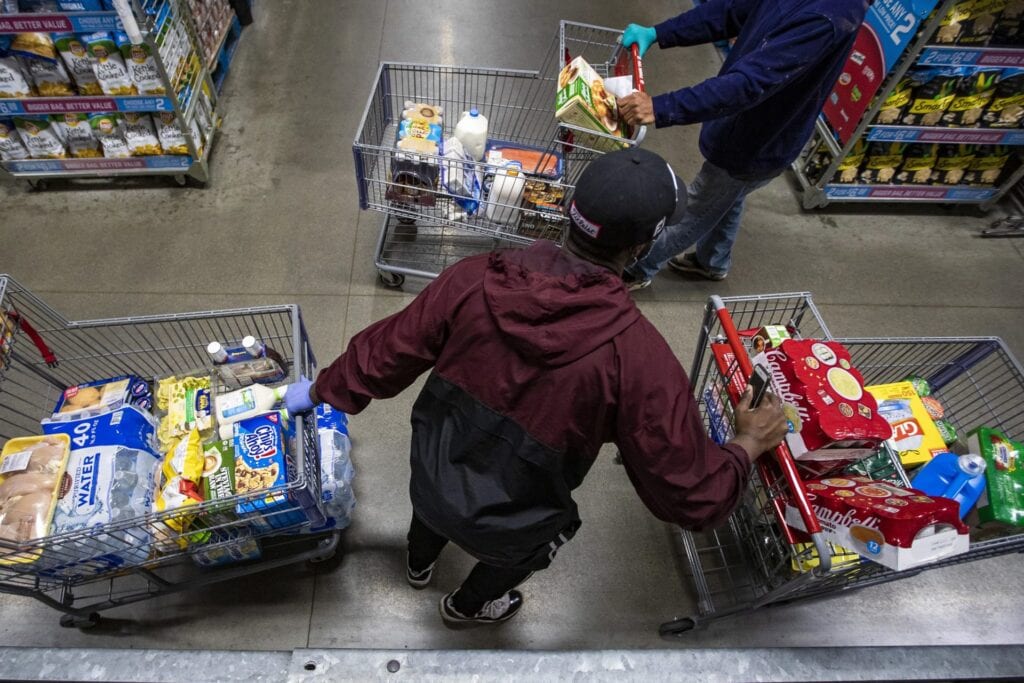 April 21 | Instacart shopper Shamar Martin wheeled two carts through an aisle at BJ's Wholesale Club in Dedham, fulfilling three orders simultaneously.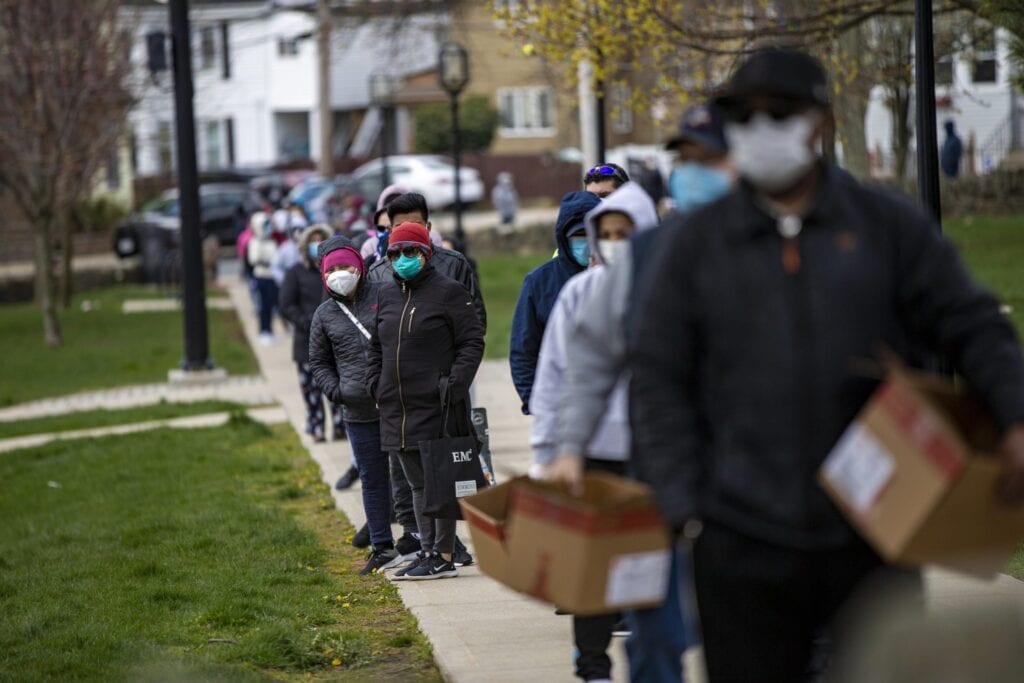 April 22 | At a pop-up food pantry at Washington Park, Chelsea residents stood in a line that extended through and around the park.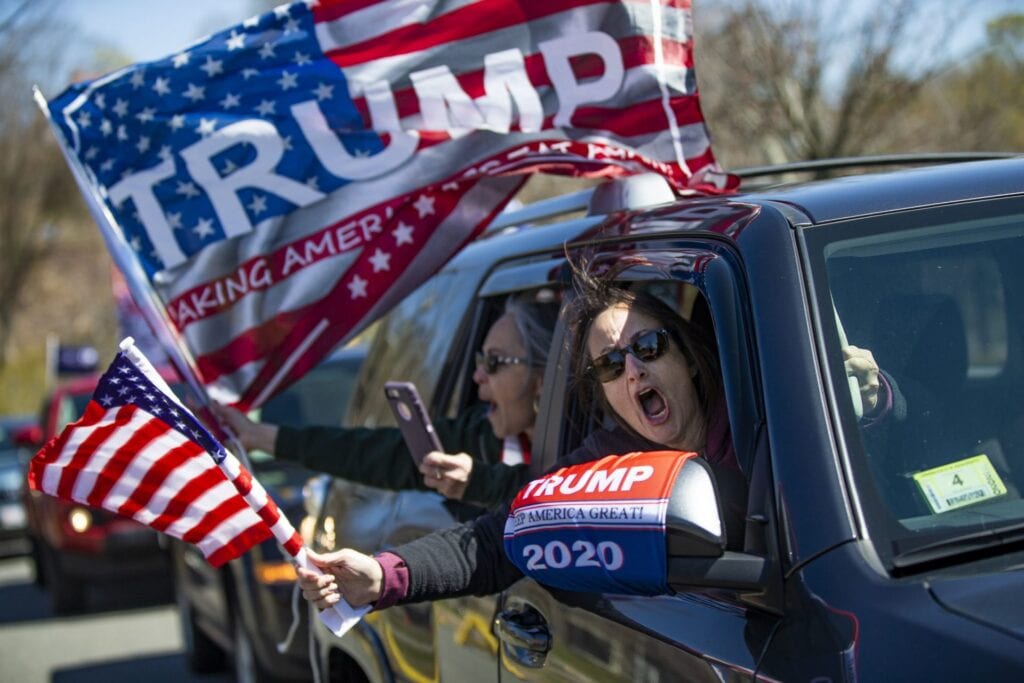 April 23 | Protesters screamed out of their windows, part of a mobile caravan driving past Baker's home in Swampscott to protest the closures in the state due to the pandemic.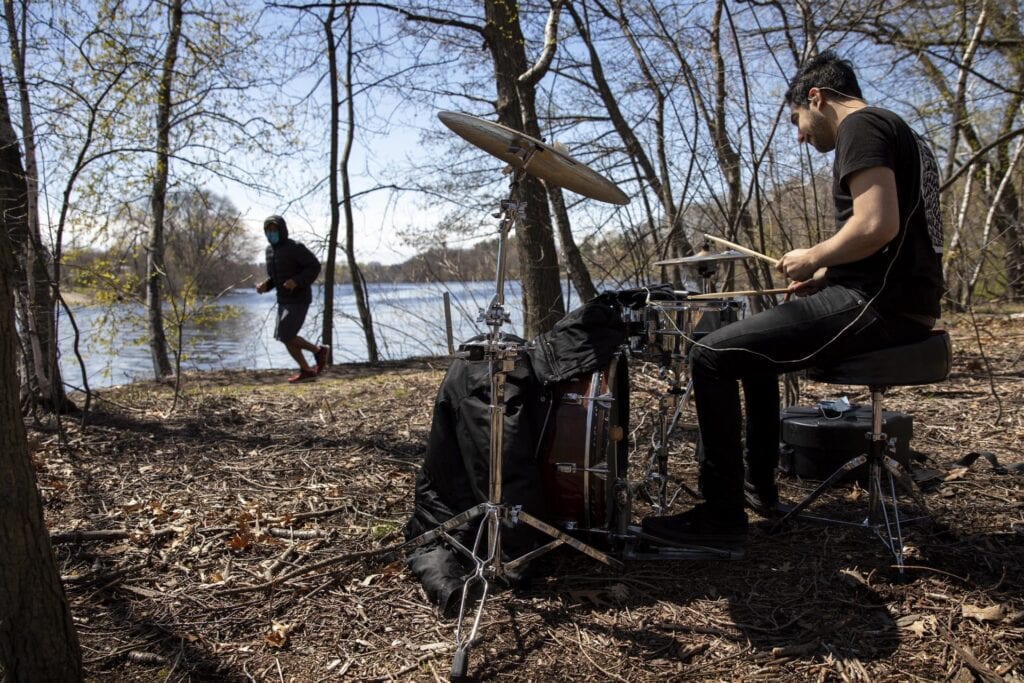 April 29 | A runner glanced up from his run along the Charles River to see Sander Bryce drumming in the woods. Bryce, 28, began drumming in the woods on nice days for his own mental health.
---
May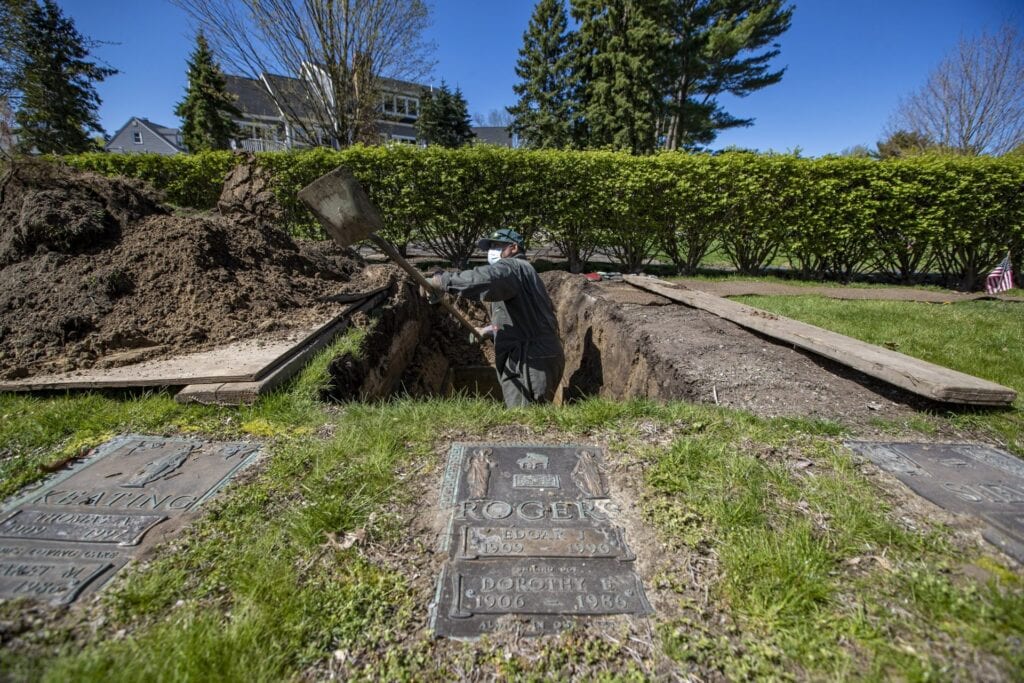 May 4 | Roberto Arias dug out a grave site at Woodlawn Cemetery in Everett, one of 10 sites being prepared that day. Workers at the time said generally they prepare five to six sites a week; in April, during the pandemic, they averaged eight to nine per day. As grave diggers adjusted, so did funeral homes.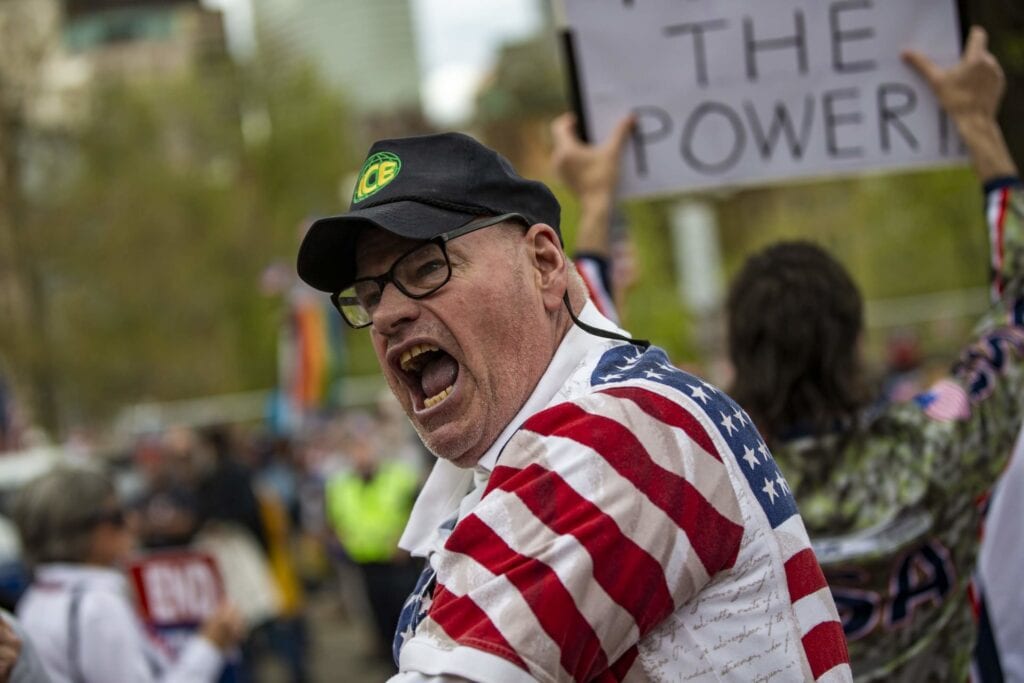 May 4 | A man screams angrily demanding the governor lift the shutdown of nonessential businesses in the state, during the "Liberty Rally" outside the State House.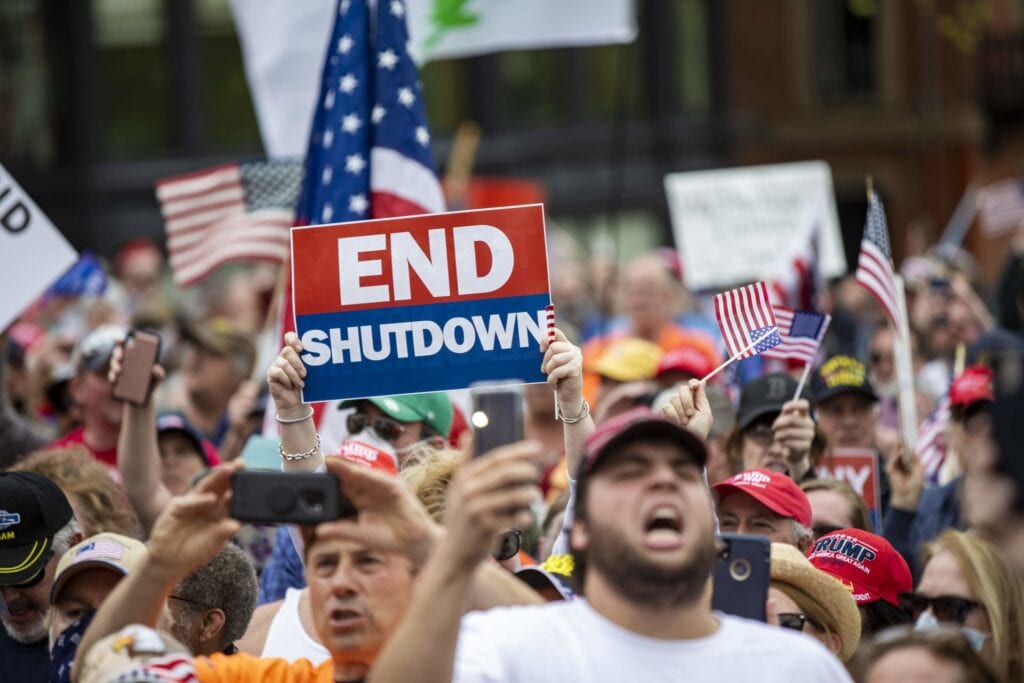 May 4 | At the "Liberty Rally," about 500 protesters gathered outside the State House, defying the ban of the gatherings of more than 10 people.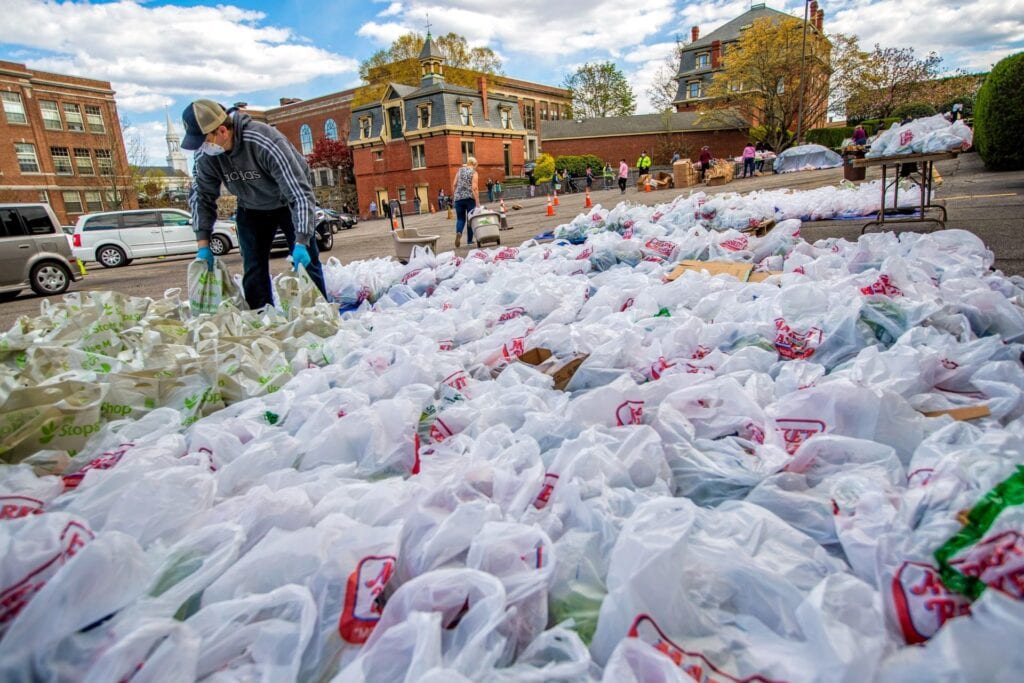 May 7 | A volunteer picked up bags of food among the prepared grocery bags at a food pantry at St. Mary Parish, in Waltham. People lined up on foot and in their vehicles, where nearly 3,000 bags of groceries were passed out to families in need. This year was harder than ever for people struggling with food insecurity.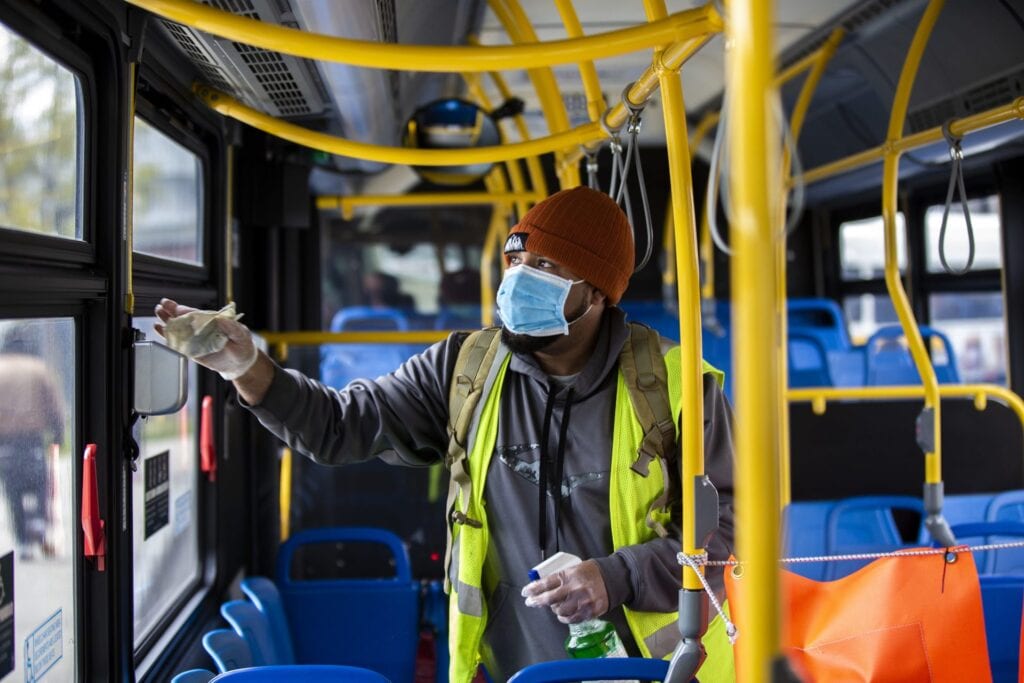 May 12 | Marino Diaz Cruz wiped down the surfaces inside an MBTA bus with disinfectant after it pulled into Ashmont Station from Jackson Square.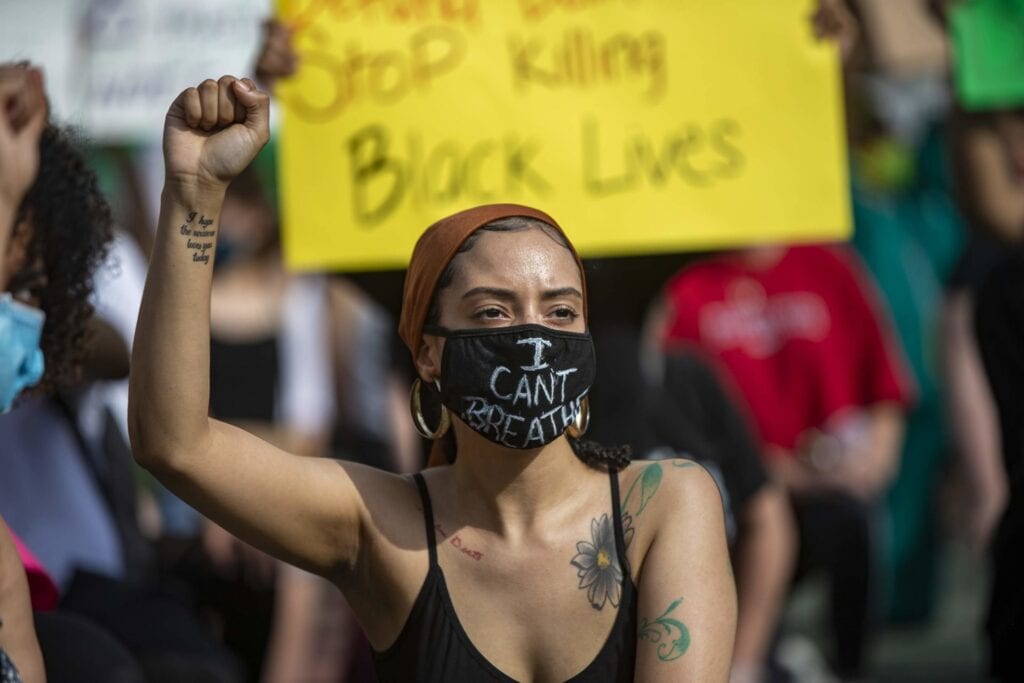 May 29 | Thousands of people gathered at Peters Park in the South End to protest police brutality and the killing of Black people by police.
---
Racial Justice Protest On May 31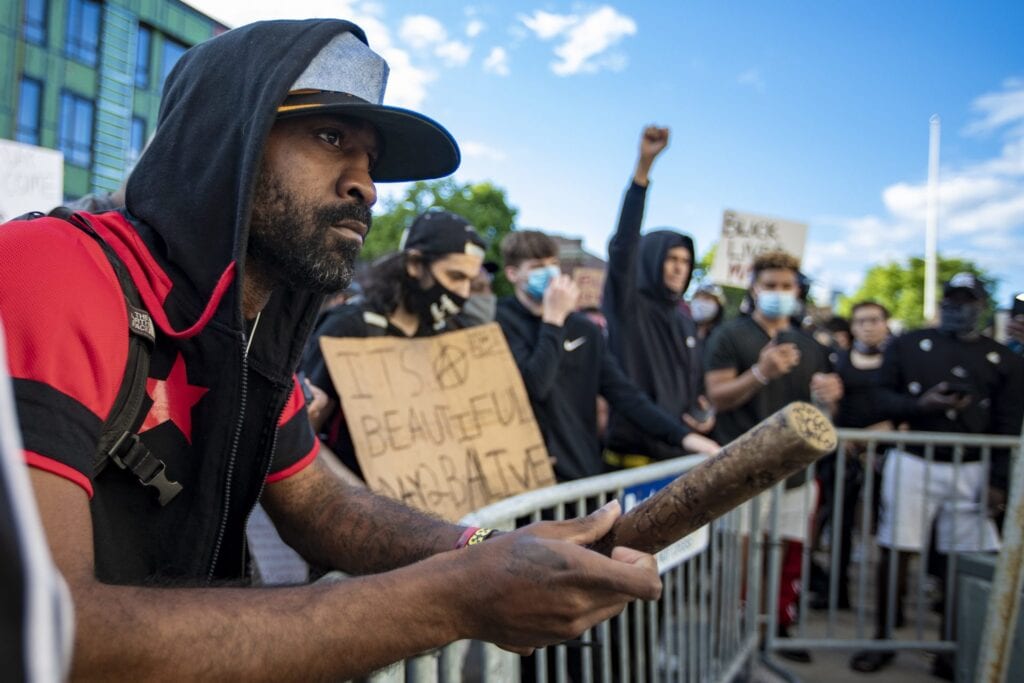 On May 31, thousands gathered at Nubian Square in Roxbury, preparing to march through the city to the State House. They were there to protest against police brutality, joining other marches around the country and the world. It had been barely a week since a Minneapolis police officer had knelt on George Floyd's neck for 8 minutes and 46 seconds, killing Floyd, who was Black.
The official event, led by Black Boston, ended peacefully at the State House as night fell. About 20 minutes after the march ended, the MBTA announced via Twitter that it was shutting down some nearby stations. And Boston police officers, who had visibly been following and monitoring the event since it began in Roxbury, began to arrive in more numbers on foot, by bike and in vehicles.
The event quickly turned sour. A few protesters threw water bottles and insults at police; and officers, in response, use batons, pepper spray and tear gas to push them back.
In December, the news site The Appeal published video footage from Boston police officers' body cameras, which appeared to show officers deliberately targeting protesters with pepper spray and batons.
The photos below are from that day and night.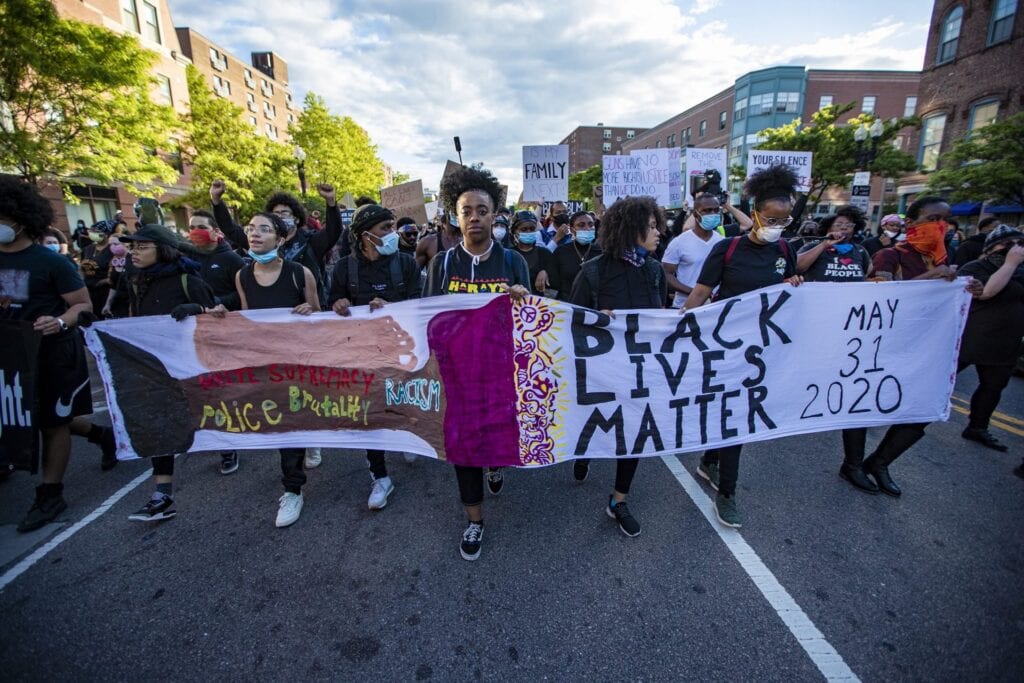 Thousands of protesters marched up Washington Street on their way to the rally at the State House.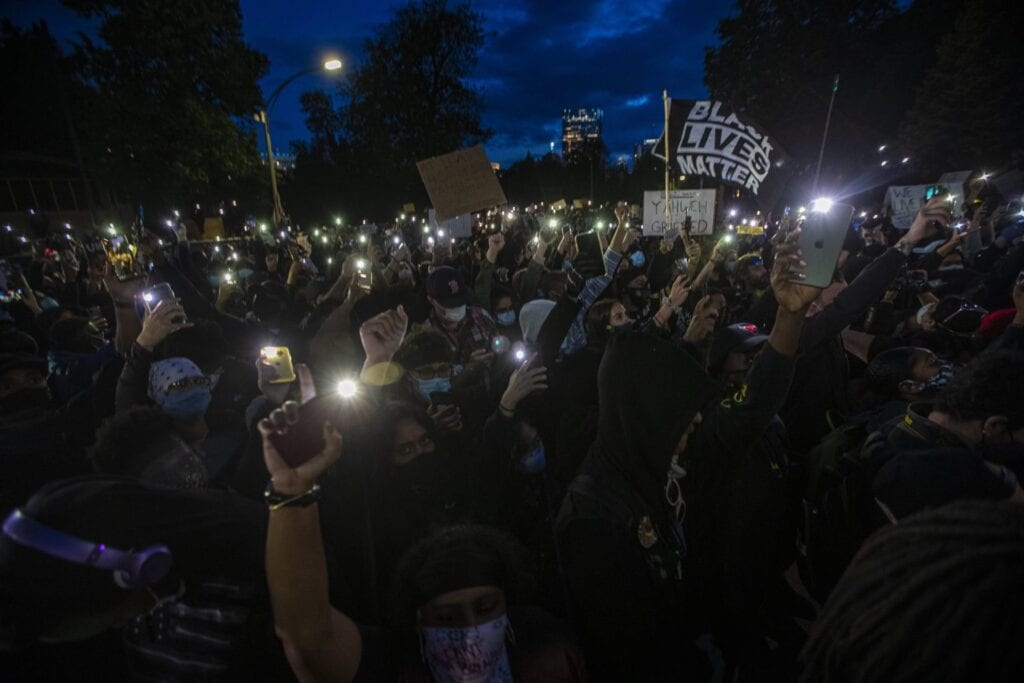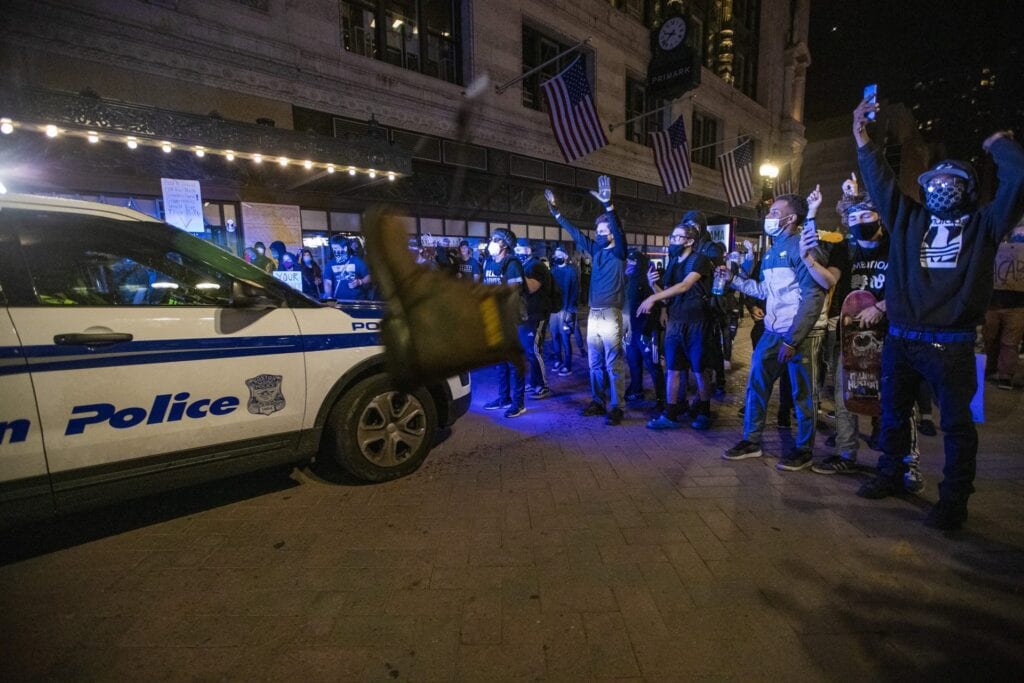 Someone threw a boot at a Boston police vehicle, as protesters confronted officers on Washington Street in Downtown Crossing.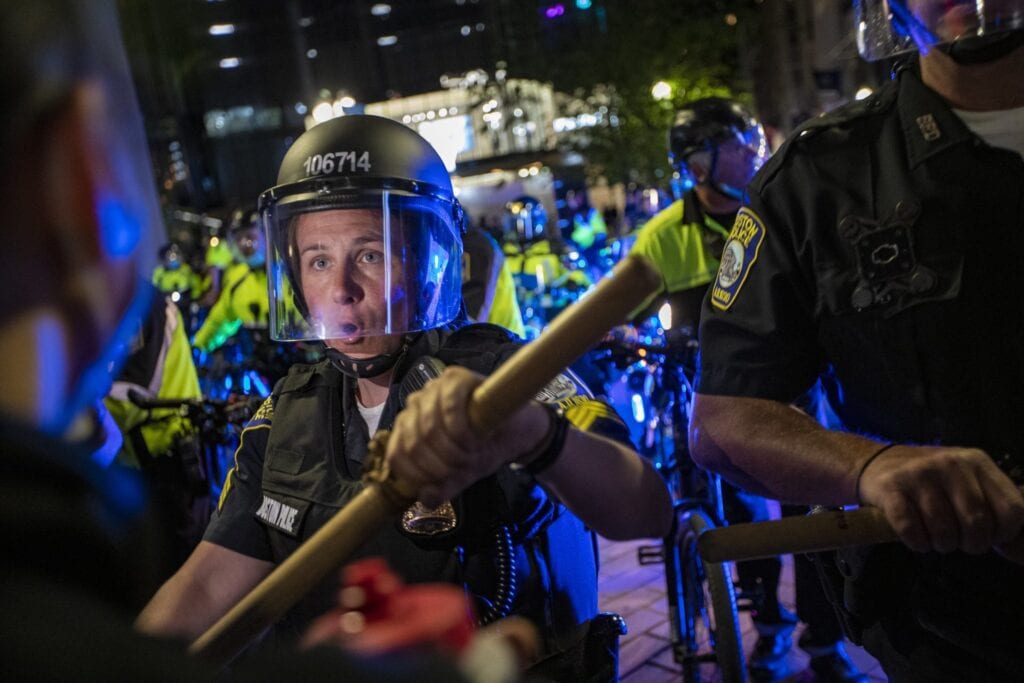 A line of Boston police officers forced protesters out of Downtown Crossing.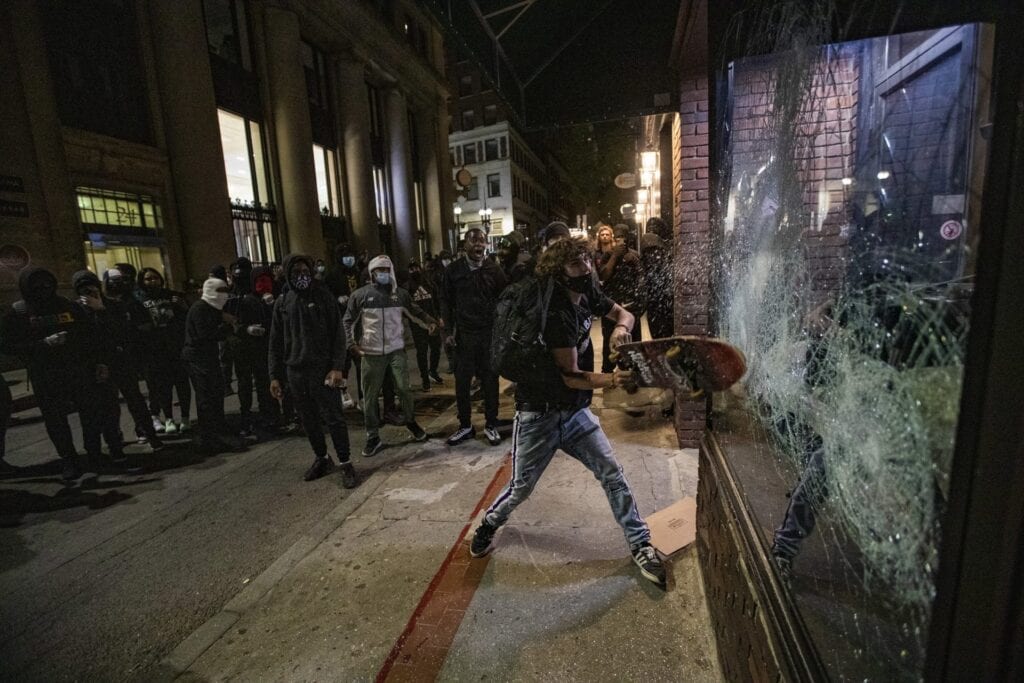 A person smashed a window of a jewelry store on School Street. Many of the people in the crowd started looting various stores in the area.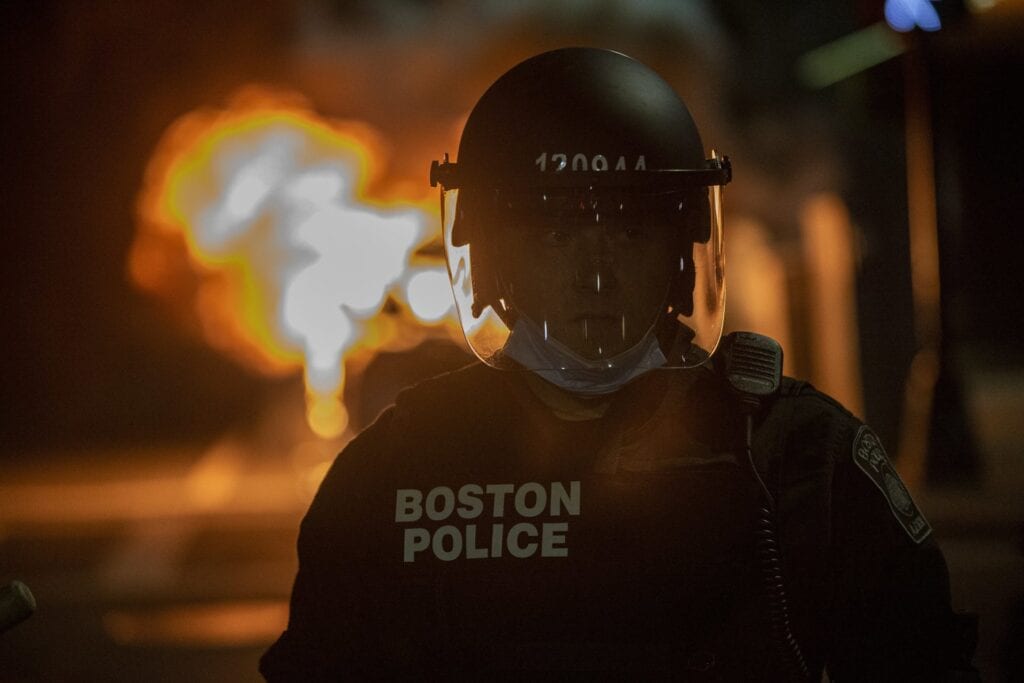 A Boston police officer looked around, with a police SUV on fire behind him on Tremont Street.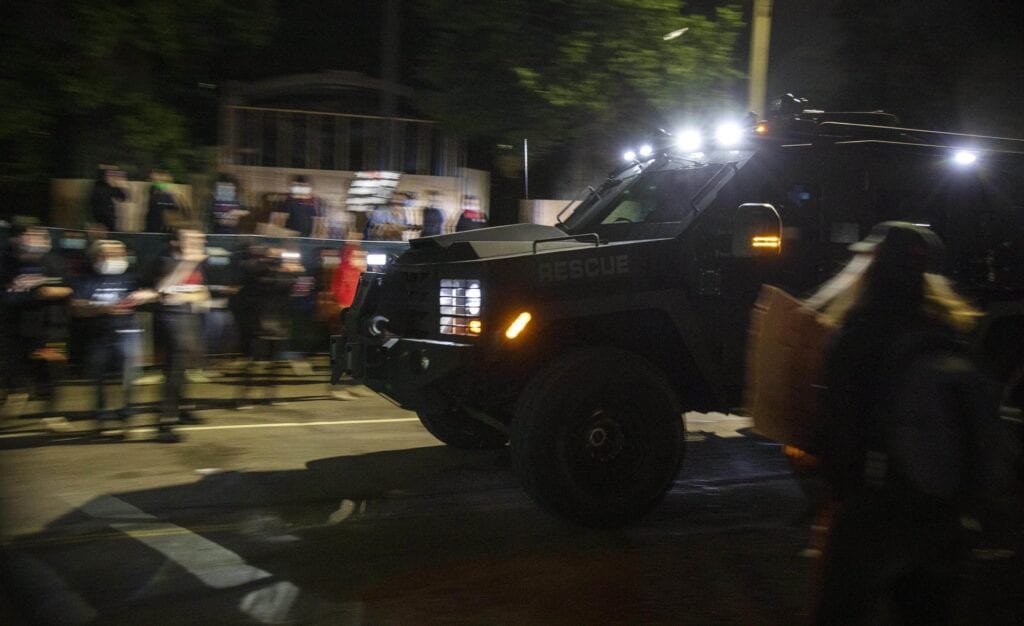 An armored vehicle drove past the State House as protesters dispersed.
A protester threw back a tear gas canister back at police in the Boston Common.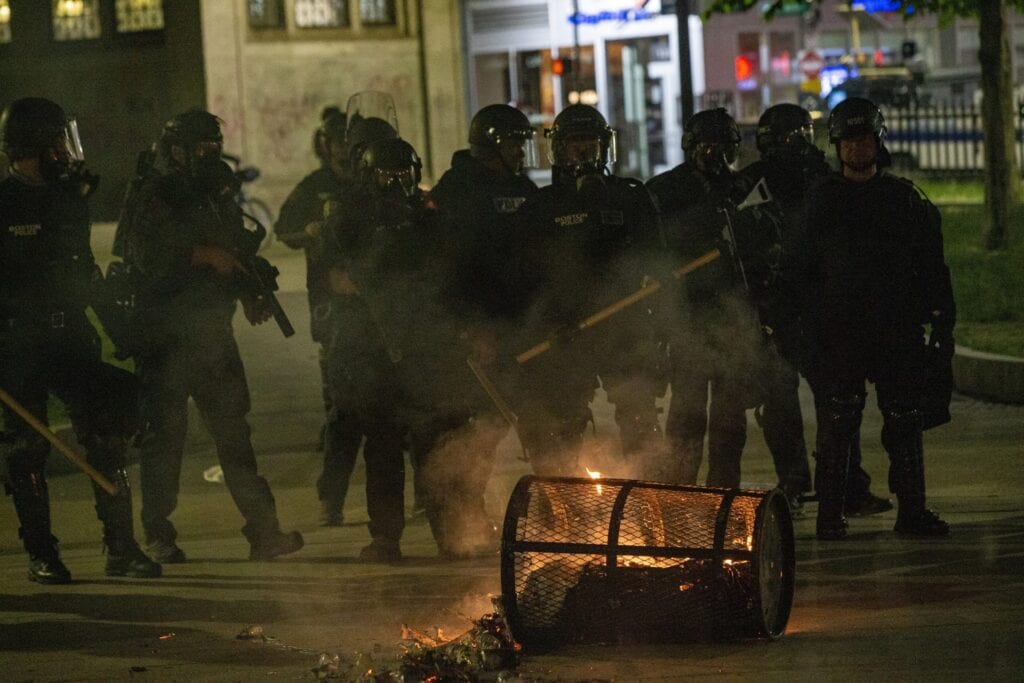 Boston police entered the Boston Common to confront protesters.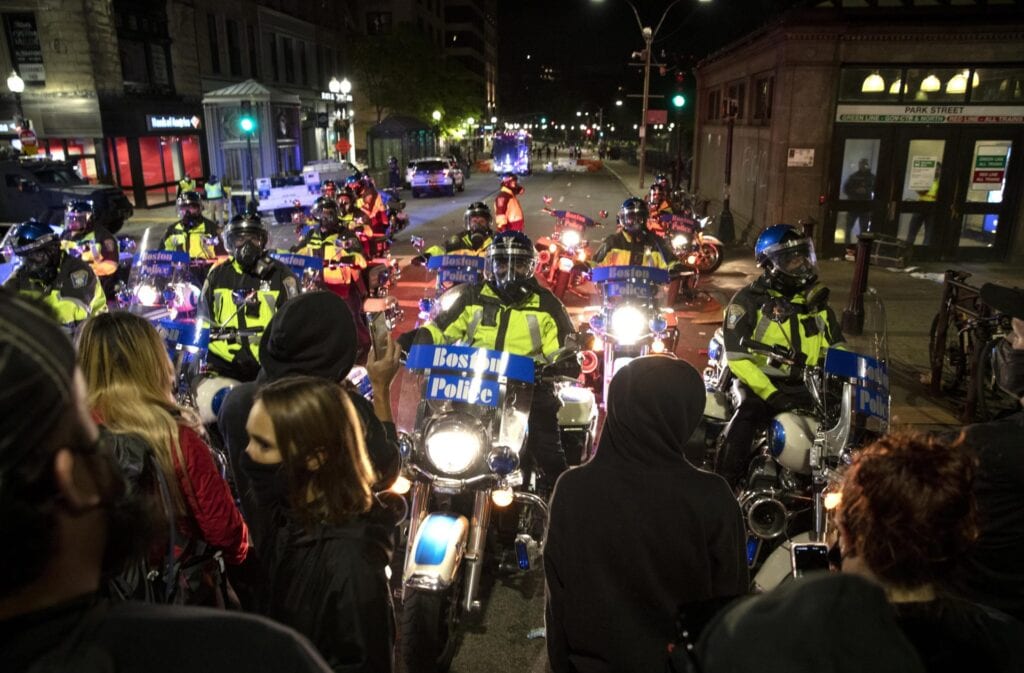 Police motorcycles blocked protesters' from walking forward on Tremont Street.
---
June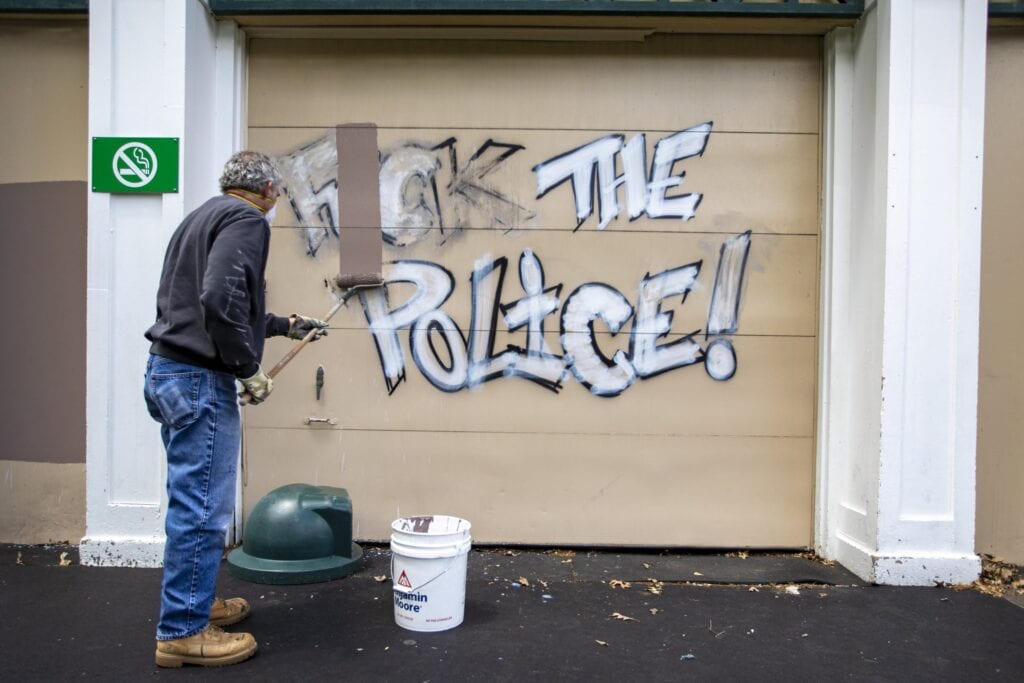 June 1 | A Boston Parks and Recreation worker painted over graffiti on a wall of the Frog Pond Pavilion in the Boston Common, the day after a Black Lives Matter rally.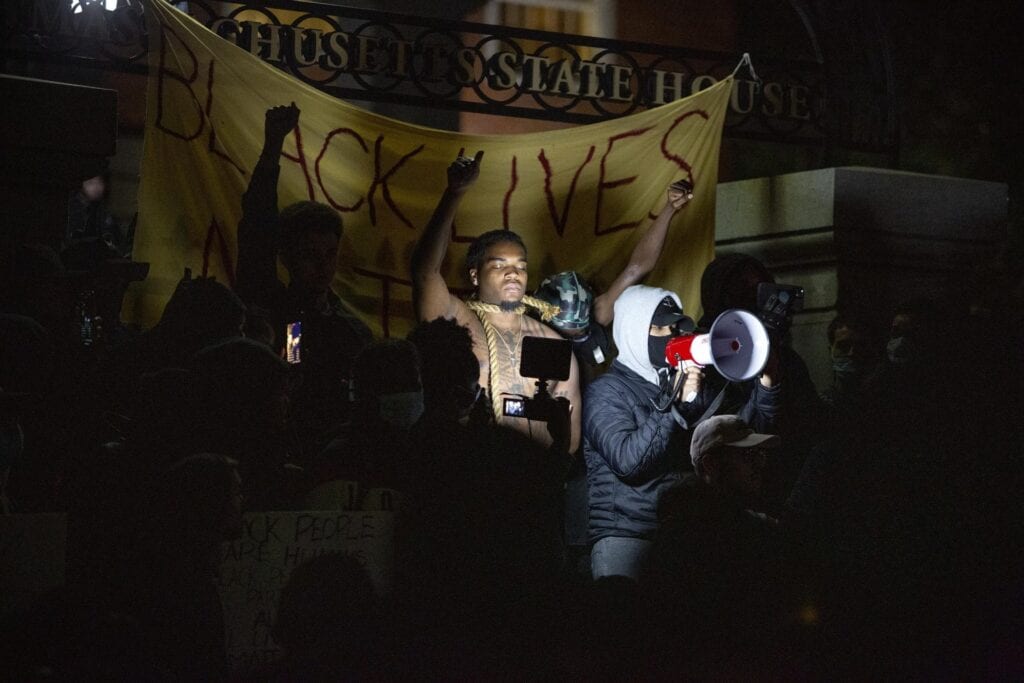 June 2 | A Black Lives Matter protest continued late into the night at the gates of the Massachusetts State House.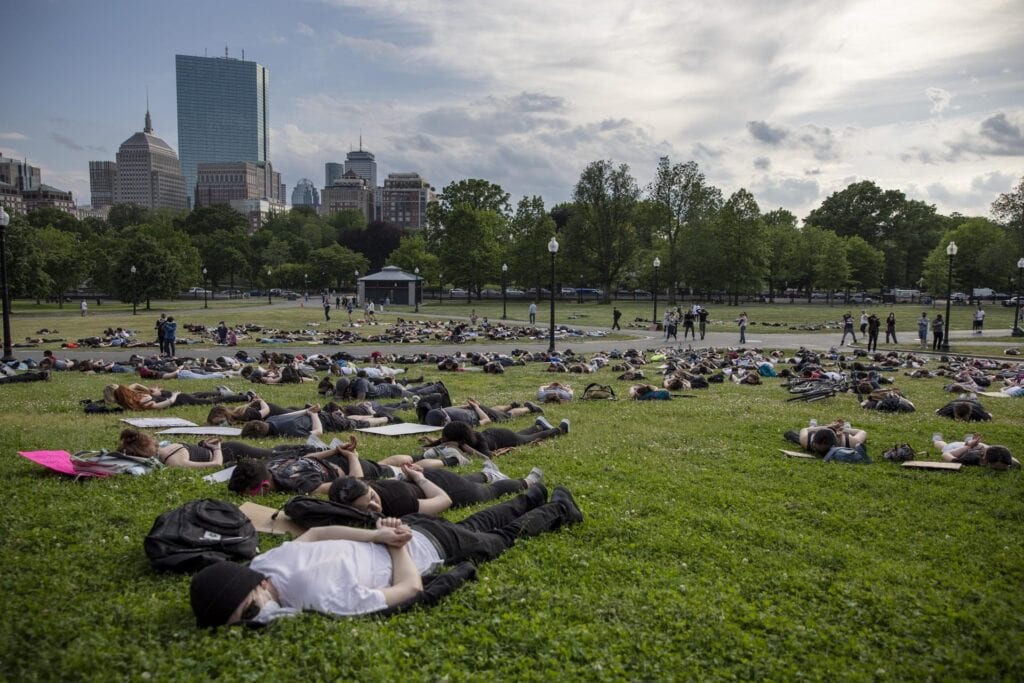 June 3 | To end another march for George Floyd, protesters lay on Boston Common as if handcuffed.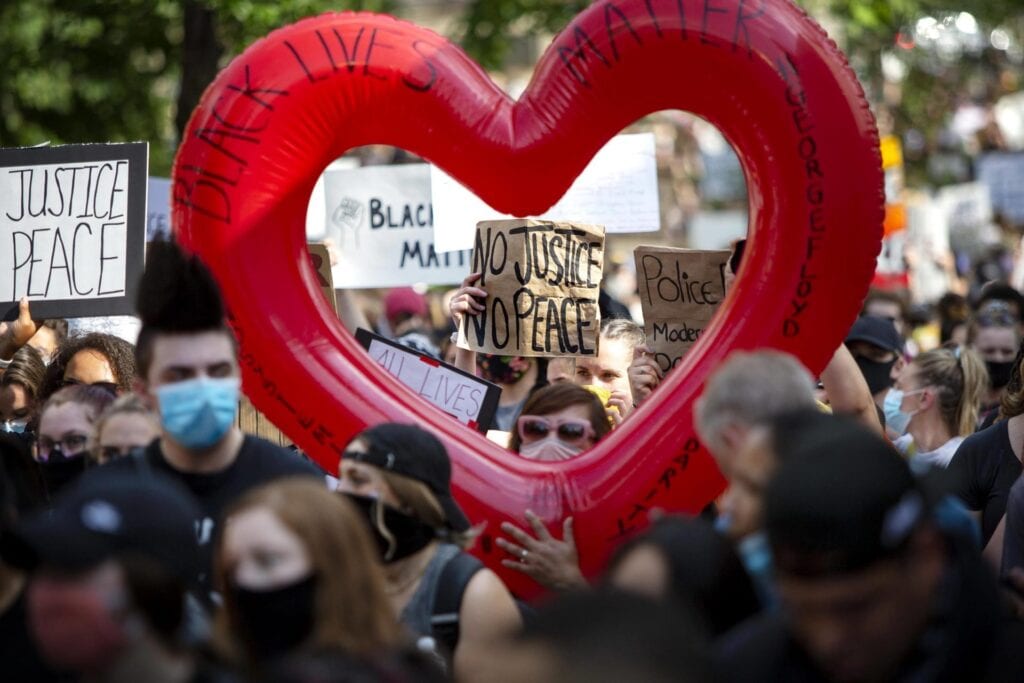 June 3 | A protester held up a heart shaped inflatable at a march for George Floyd.
June 4 | A woman held a sign at the Soldier's Memorial in Jamaica Plain where hundreds gathered for the Black Lives Matter rally.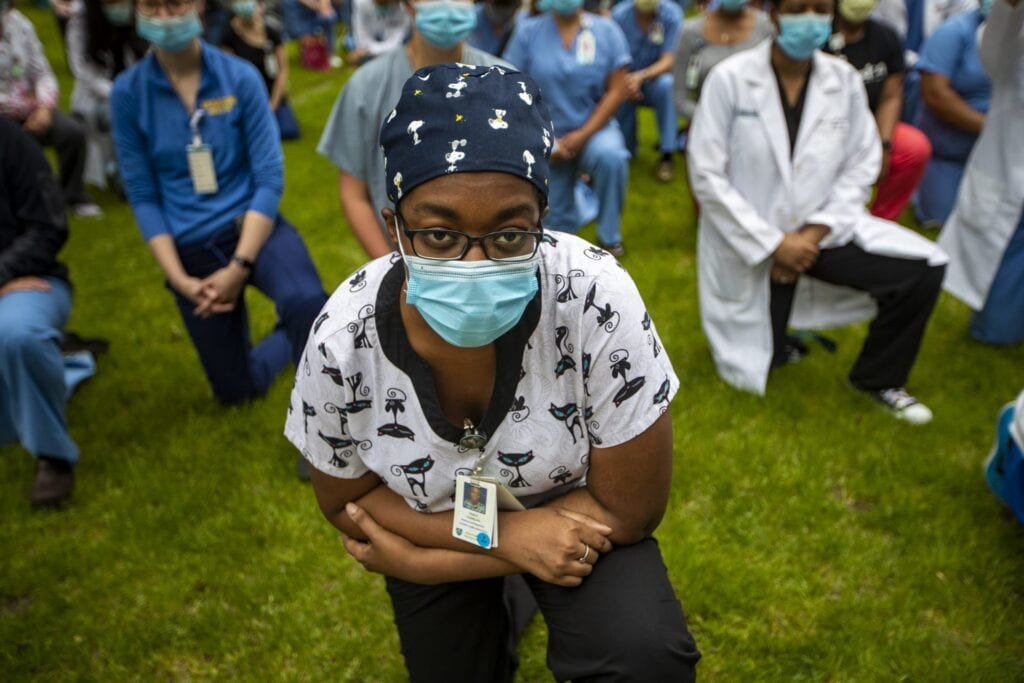 June 5 | Tracy Charles knelt with hundreds of her fellow staff on the Bulfinch Lawn outside the Wang entrance of Massachusetts General Hospital. The kneel-in was acknowledging the injustice of systemic and individual racism in the United States.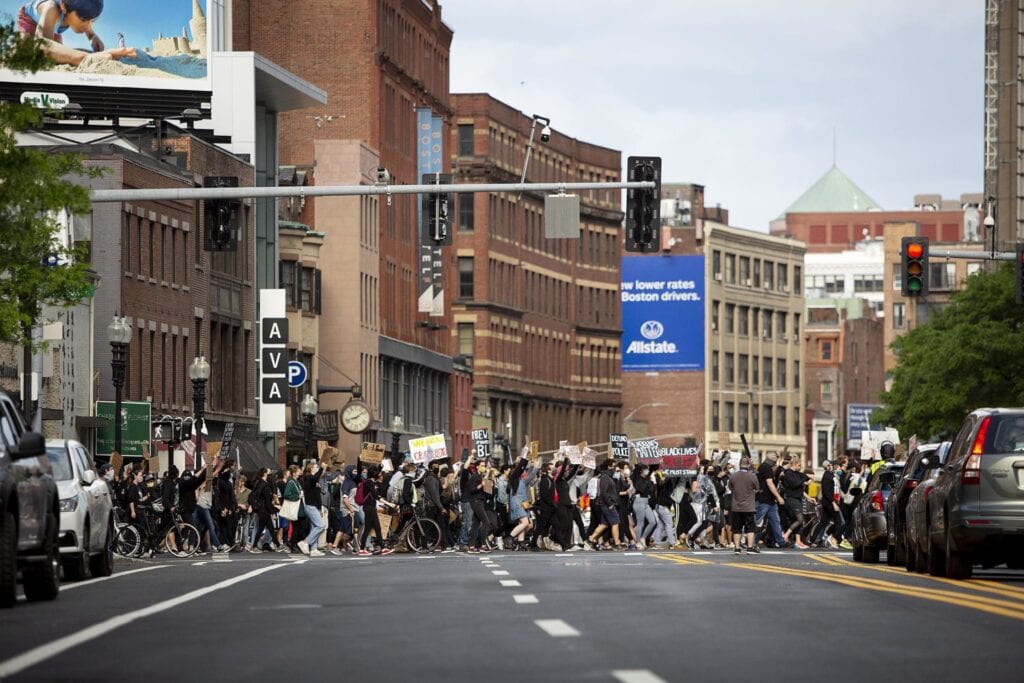 June 7 | Protesters in a march against police brutality crossed Stuart Street on their way from City Hall to Ruggles Station.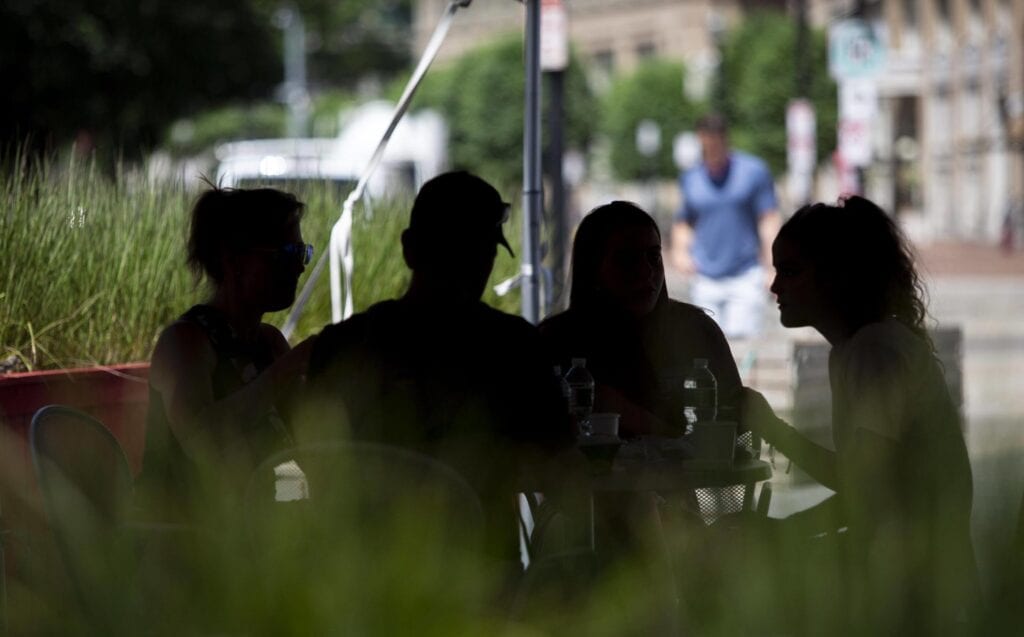 June 8 | On the first day restaurants reopened, guests ate in the shade outside James Hook & Co on Atlantic Avenue in Boston.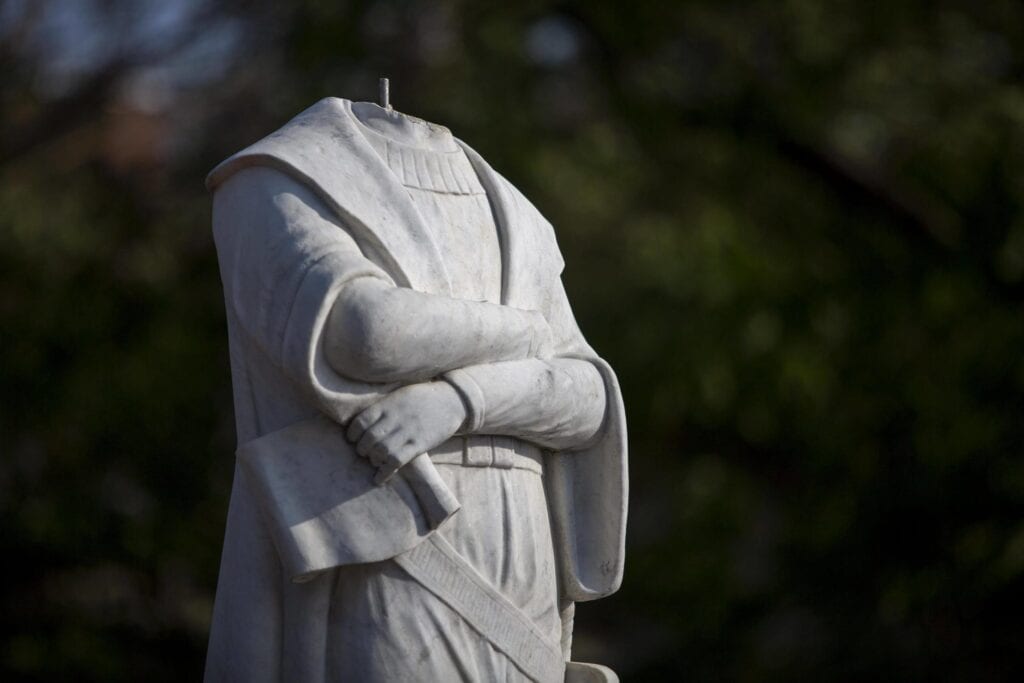 June 10 | The now-headless statue of Christopher Columbus in Columbus Waterfront Park in Boston. In October, Walsh announced the statue — with a head — would be relocated to the North End chapter of the Knights of Columbus.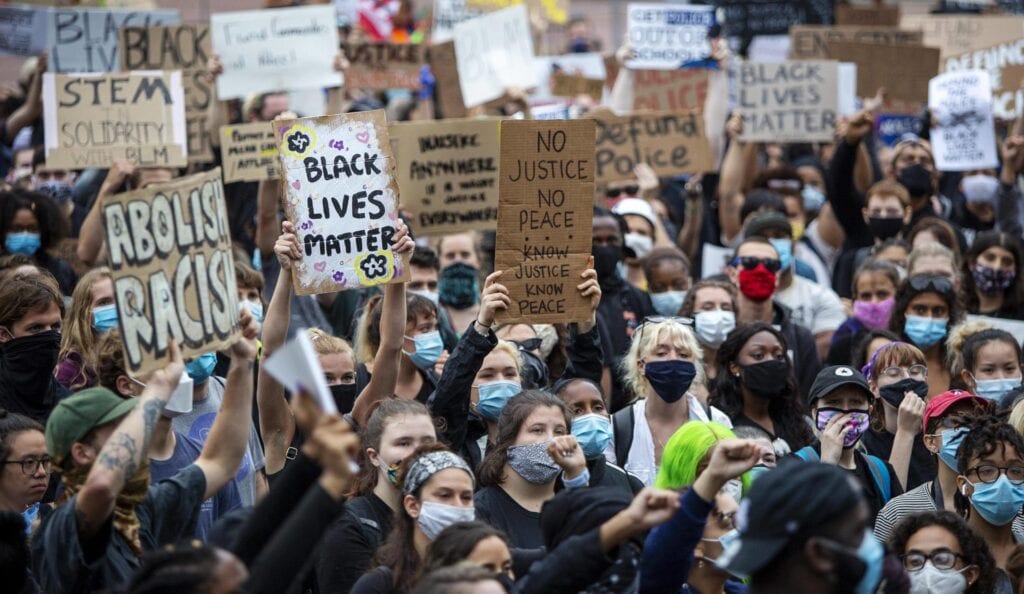 June 10 | Protesters at the For The People march raised signs in City Hall Plaza.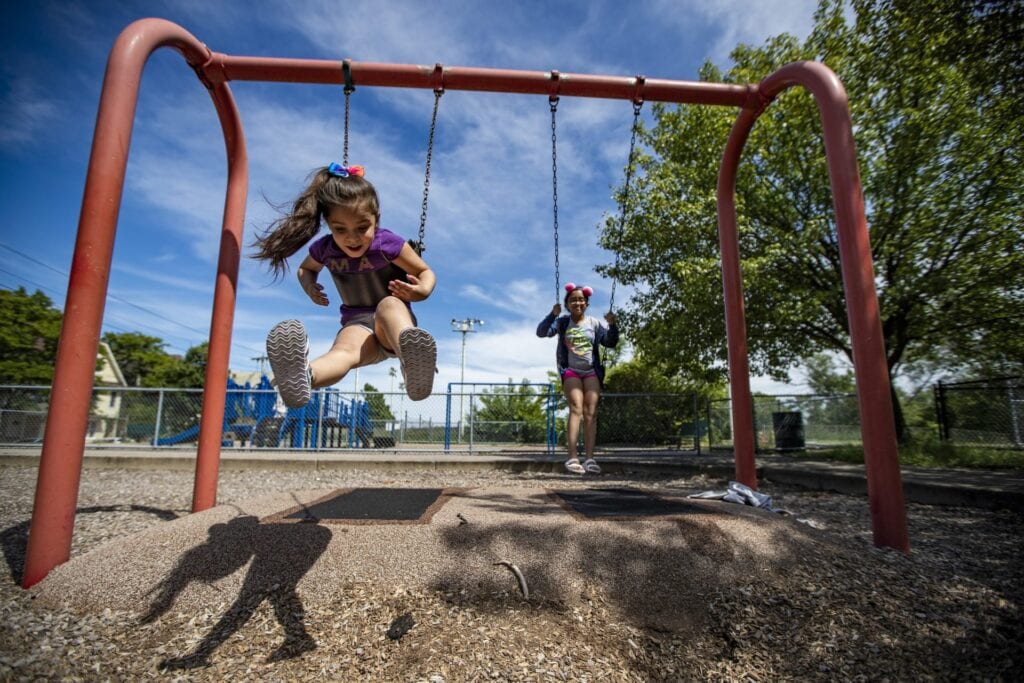 June 15 | Sisters Leylanise Santiago, 5, and Liseyda Santiago, 10, played on the swings at McLaughlin Park in Mission Hill on the first day playgrounds and parks were open to the public since being shut down for the COVID-19 pandemic.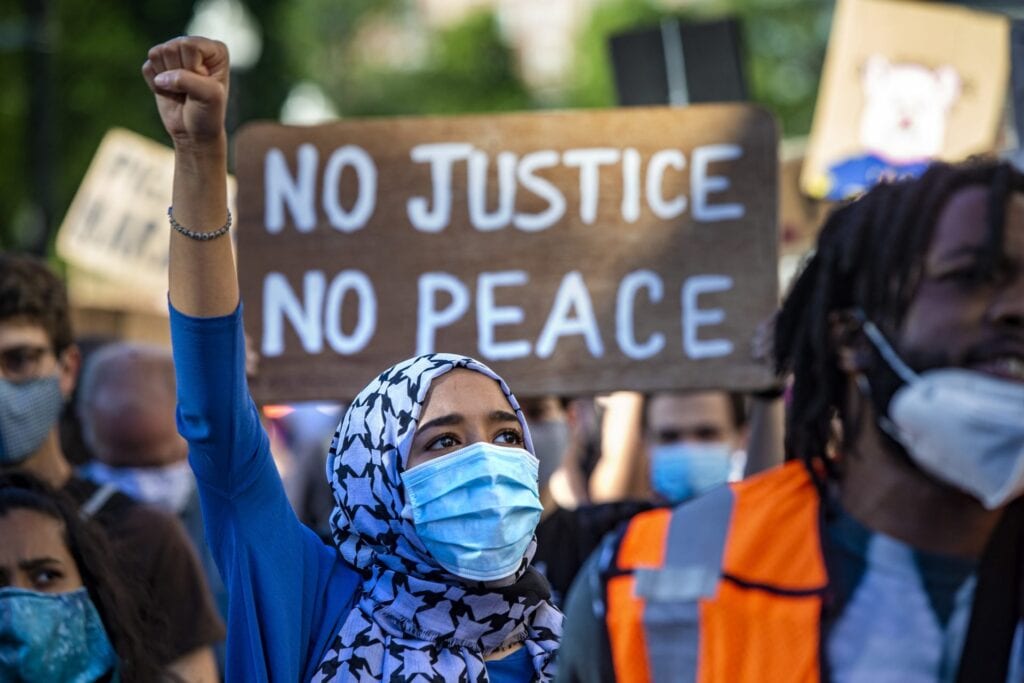 June 16 | About 200 protesters marched down Tremont Street during a rally demanding to reopen deadly force cases by Boston police.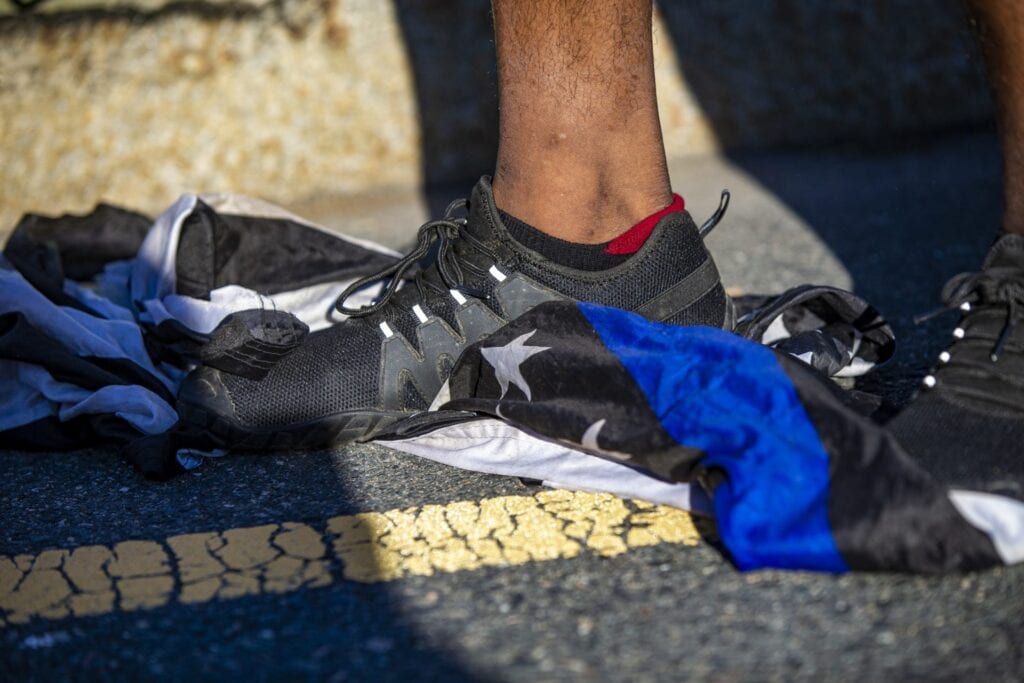 June 17 | A Black Lives Matter protester stepped on a "Blue Lives Matter" flag at two opposing rallies for Blue Lives Matter and Black Lives Matter in West Roxbury.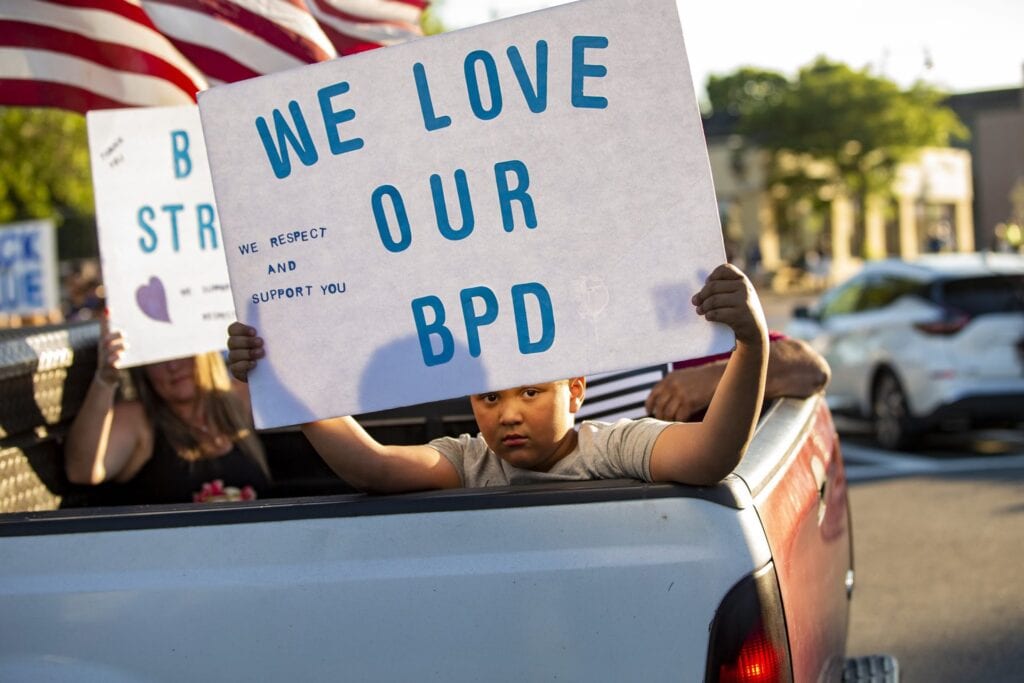 June 17 | A young boy in a truck driving around the rotary at Holy Name Parish held a sign supporting the Boston police.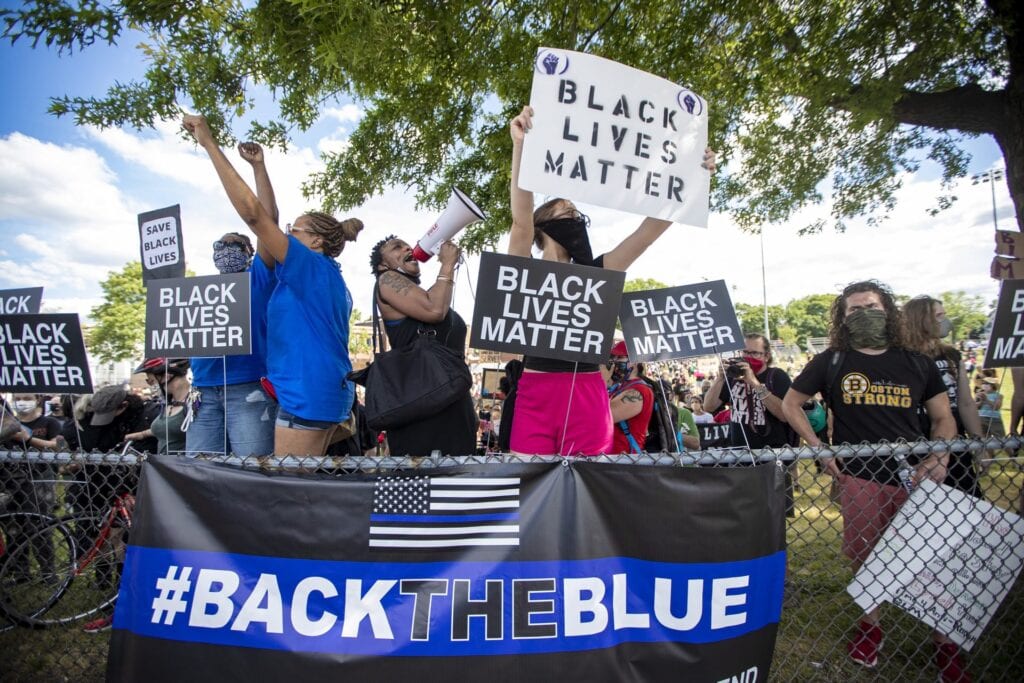 June 19 | Black Lives Matter rally participants chanted at Town Field in Dorchester on Juneteenth. Far smaller groups of Blue Lives Matter supporters came to hold signs and express solidarity with police in a counter-protest.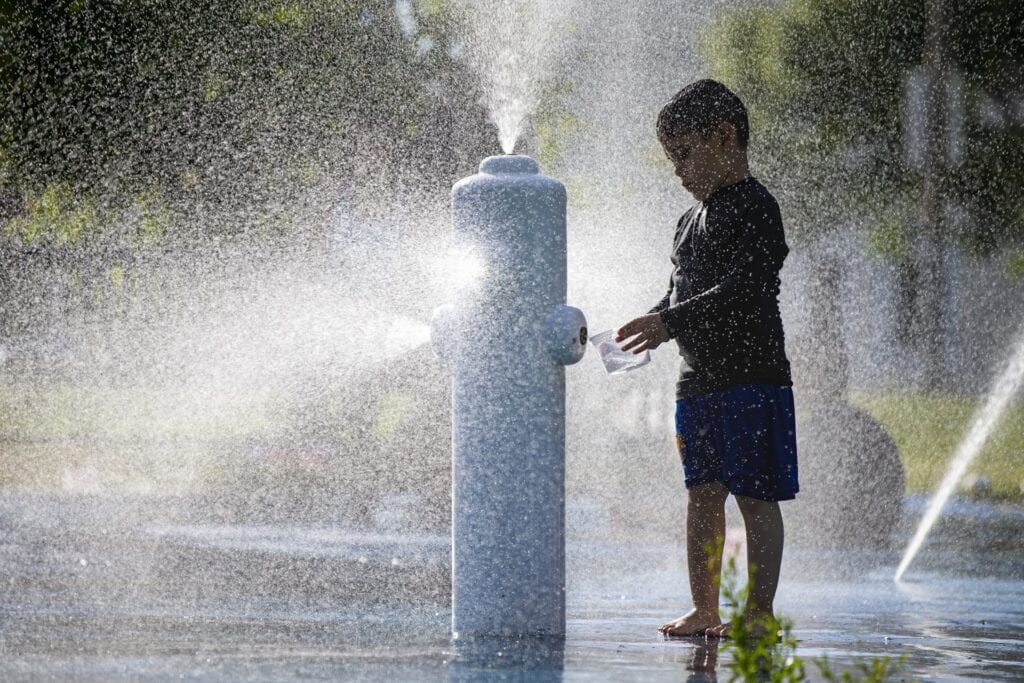 June 19 | During a hot day at Ronan Park in Dorchester, families attending a Juneteenth rally kept cool on the spray pad.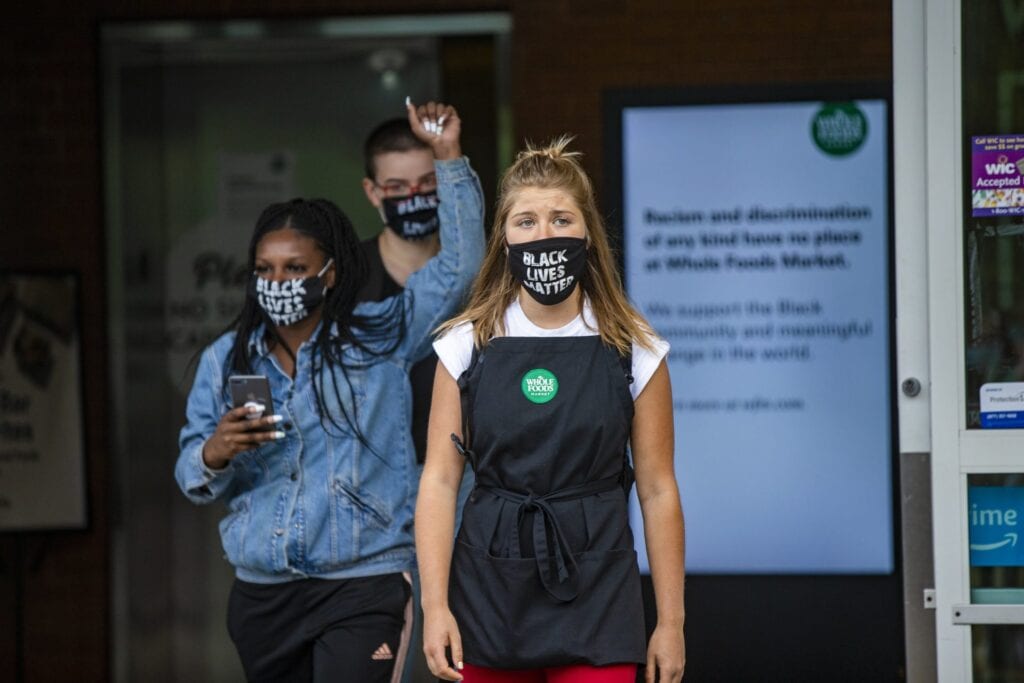 June 30 | Action organizer Savannah Kinzer walked out with a group of other employees dismissed by managers for wearing Black Lives Matter masks during their shifts at Whole Foods on River Street in Cambridge. A group of employees later sued the company over its restrictions on the masks.
---
July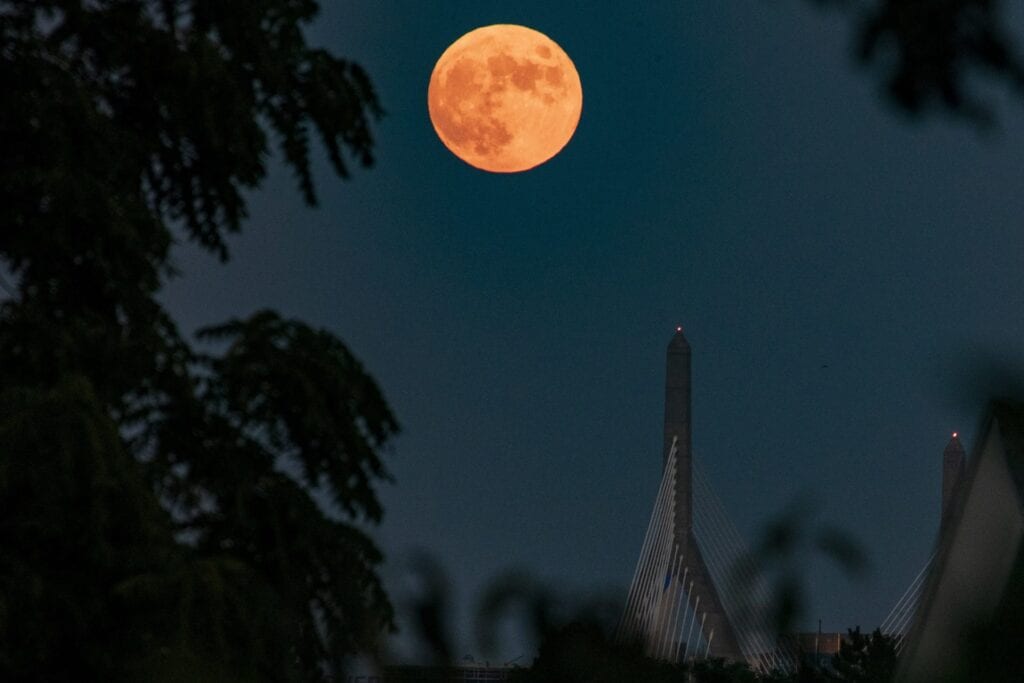 July 4 | A "buck moon" or "thunder moon" over the Zakim Bridge.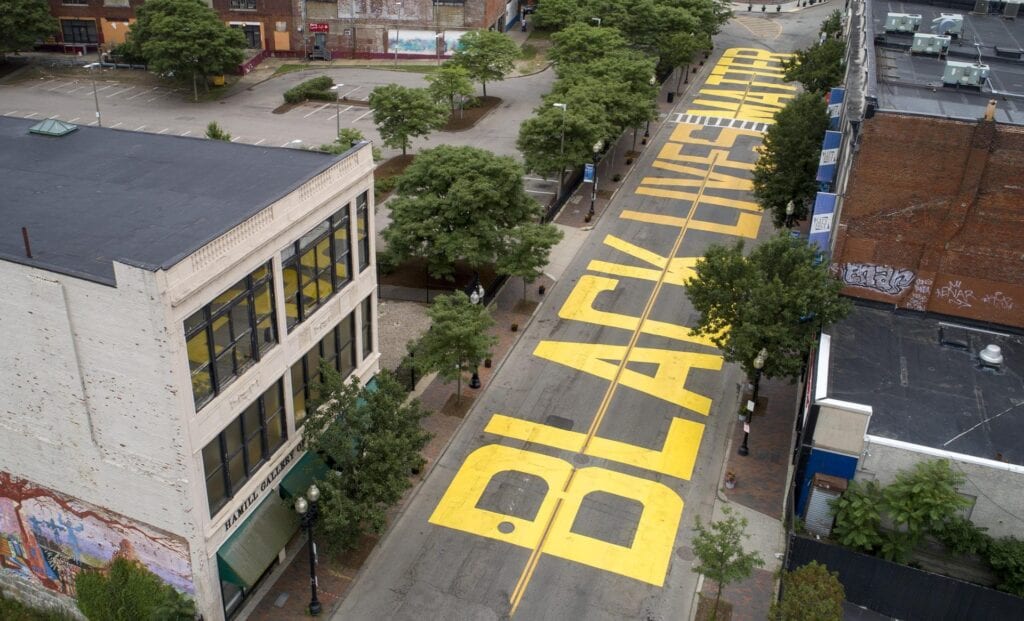 July 8 | "Black Lives Matter" painted across Washington Street between Eustis Street and Palmer Street in Nubian Square.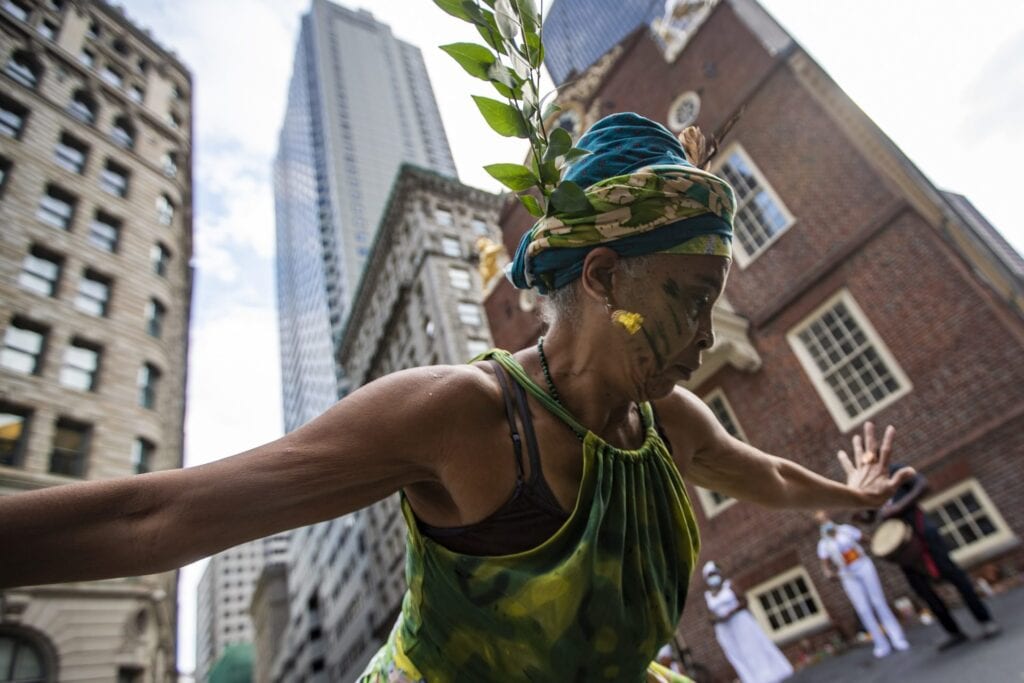 July 8 | Isaura Oliveira danced around the marker at the site of the Boston Massacre, in front of the Old State House, during the Dismantle Now! BIPOC Solidarity Against White Supremacy: March + Art Action.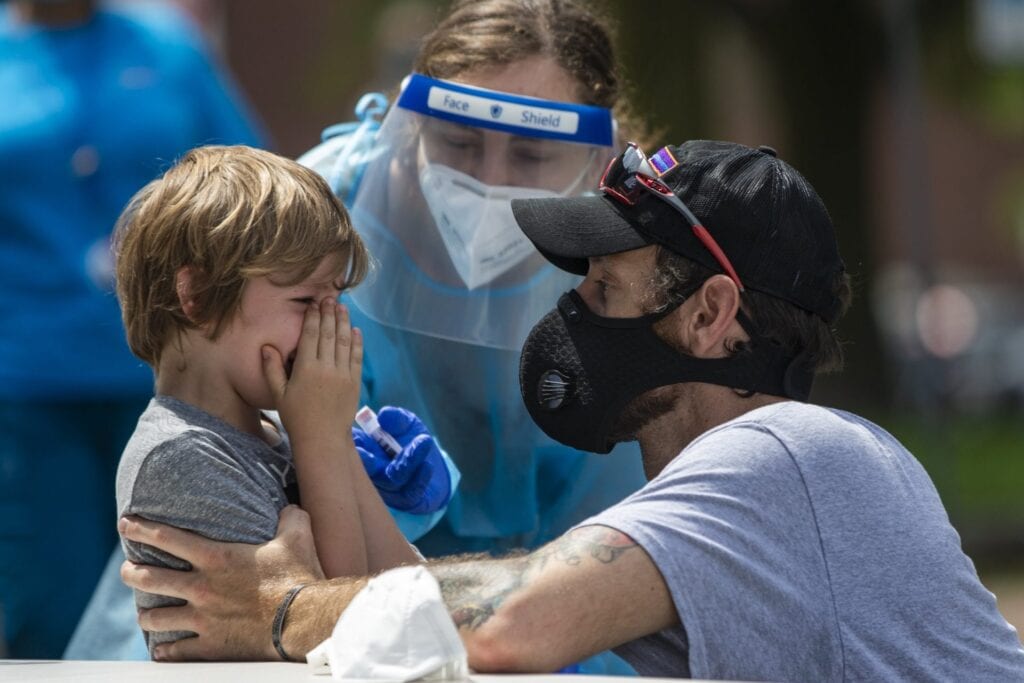 July 9 | A young boy cried to his father after a COVID-19 test at the free site offered by the state in Chelsea Square.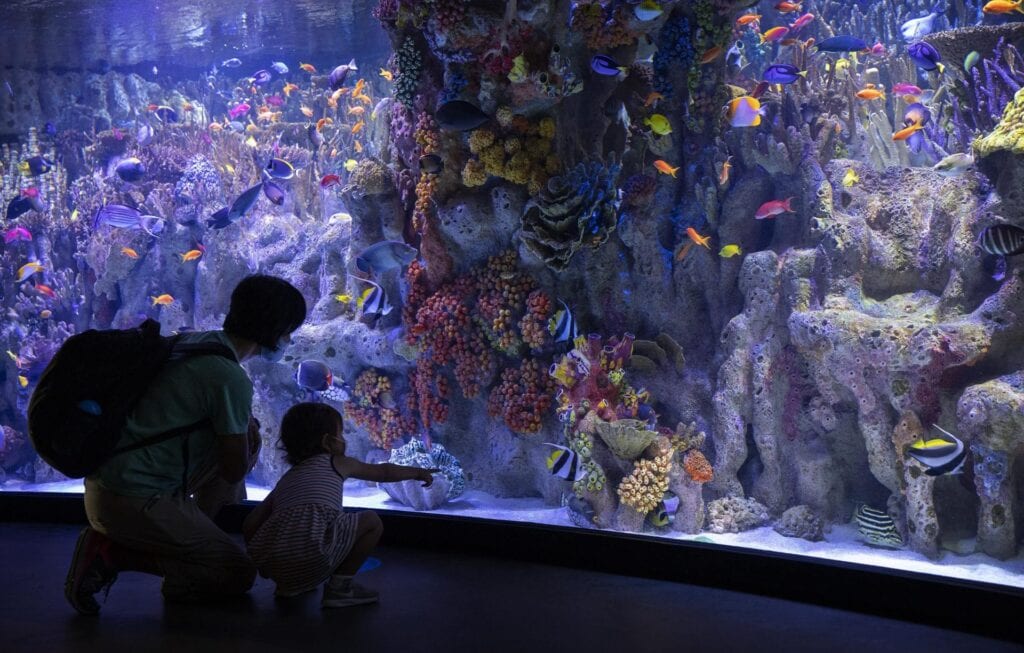 July 15 | As the New England Aquarium opened for the first time since March, visitors, wearing masks and following social distancing instructions, looked at fish in a tropical fish tank.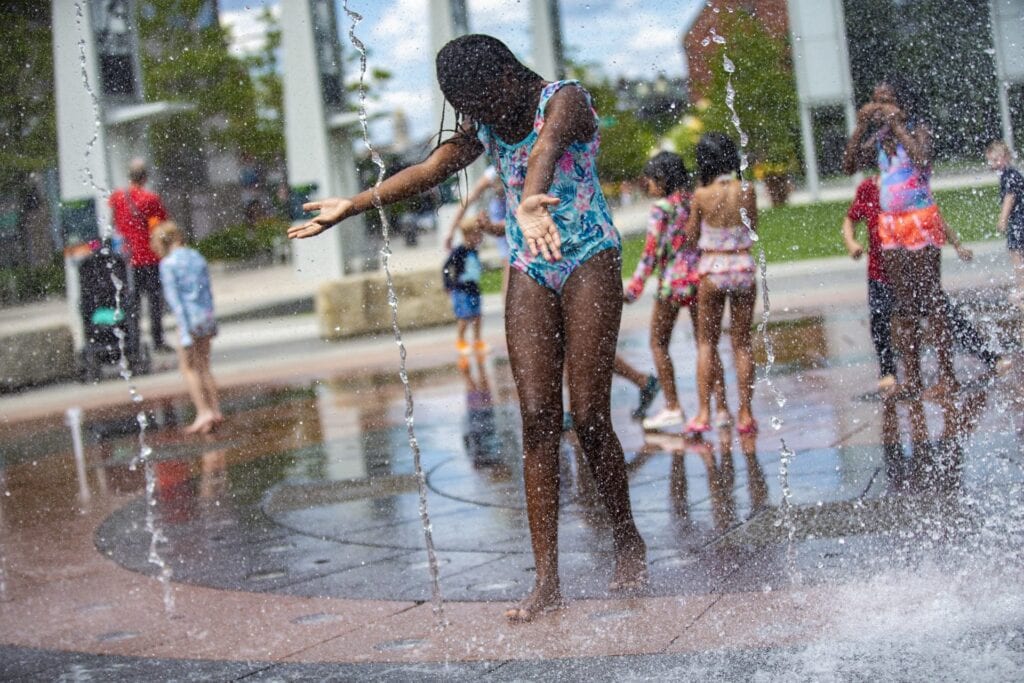 July 21 | Children played in the Rings Fountain at the Rose Kennedy Greenway during a hot afternoon.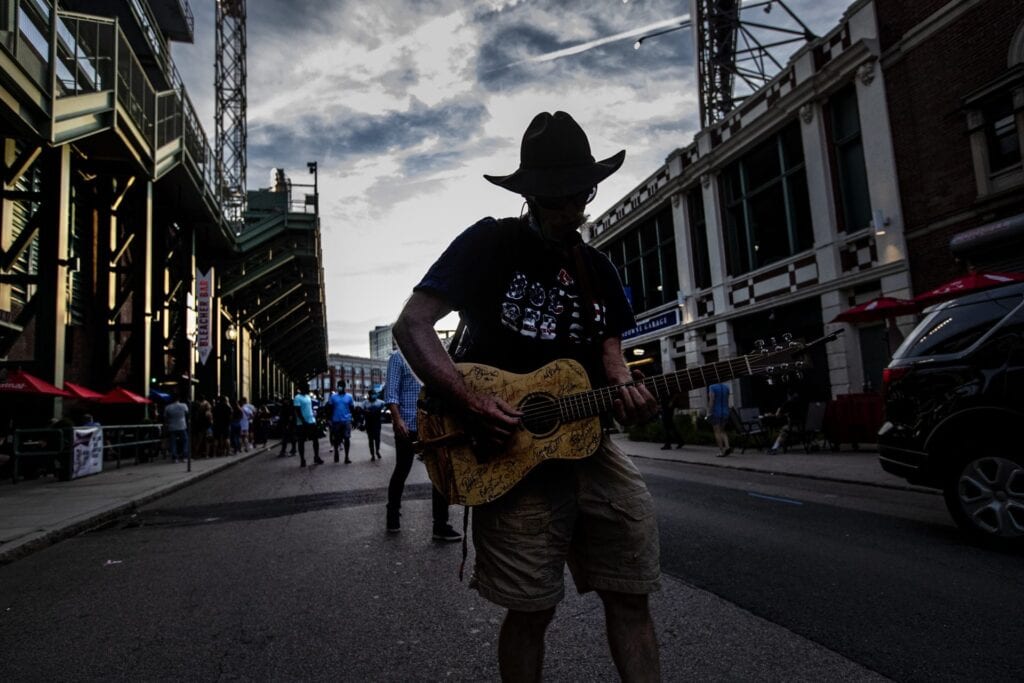 July 24 | A guitar player walked down Lansdowne Street playing the national anthem.
---
August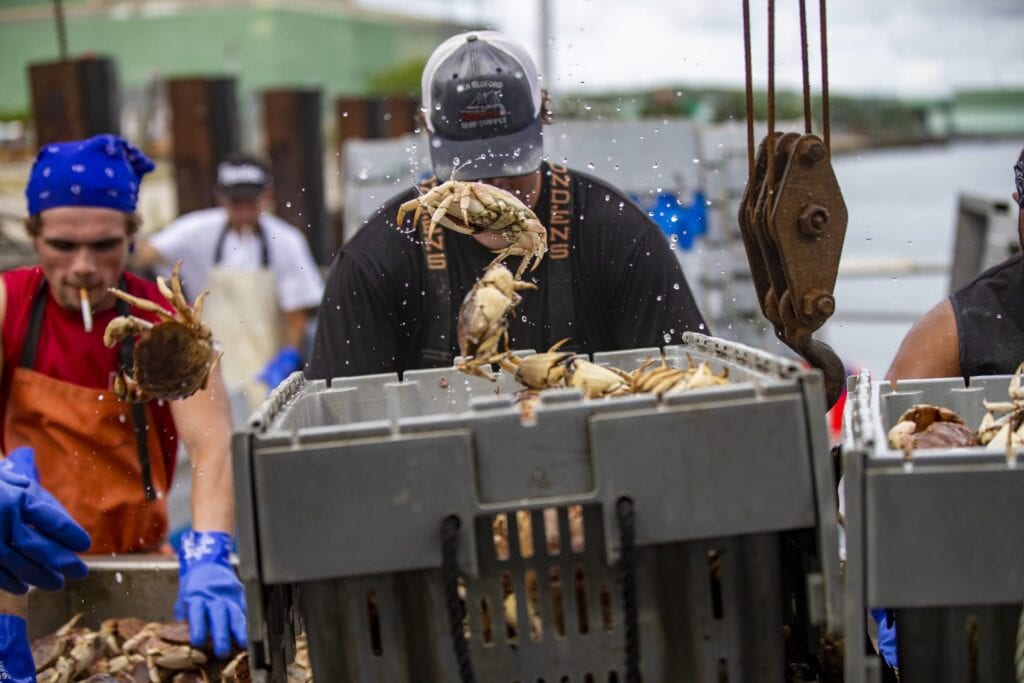 Aug. 4 | Fishermen on the Miss Julie tossed Jonah crab into shipping containers on the dock of Fisherman's View in Sandwich.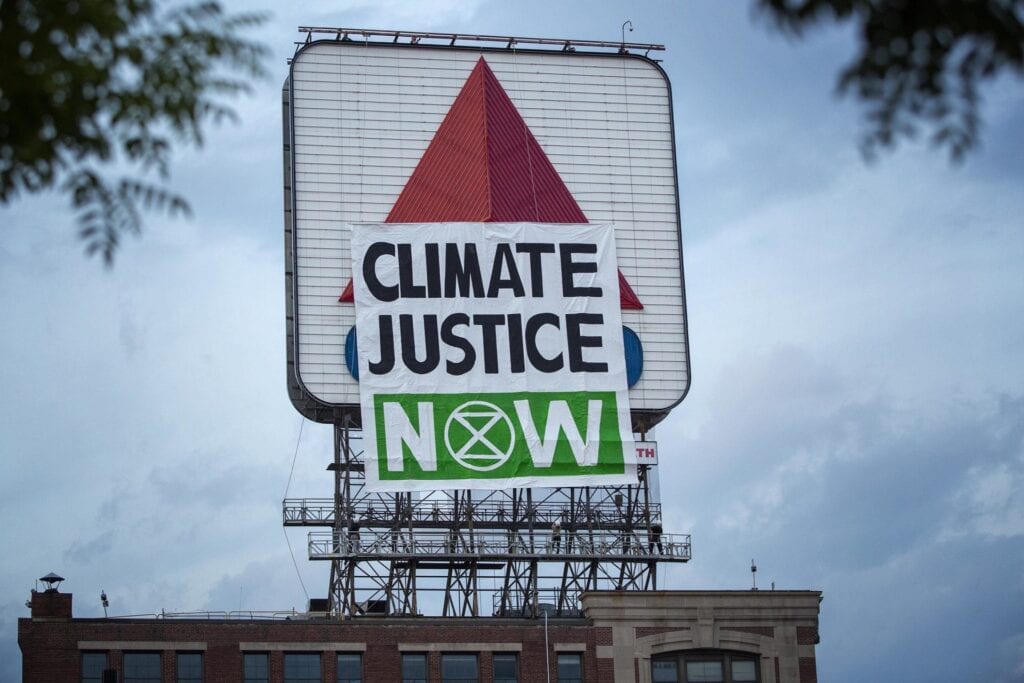 Aug. 10 | Activists from Extinction Rebellion raised a banner on the side of the Citgo sign facing Fenway Park which read "Climate Justice Now" on Monday evening. While the activists were still pulling up the sign the wind appeared to snap the bar holding the banner straight, causing it to collapse.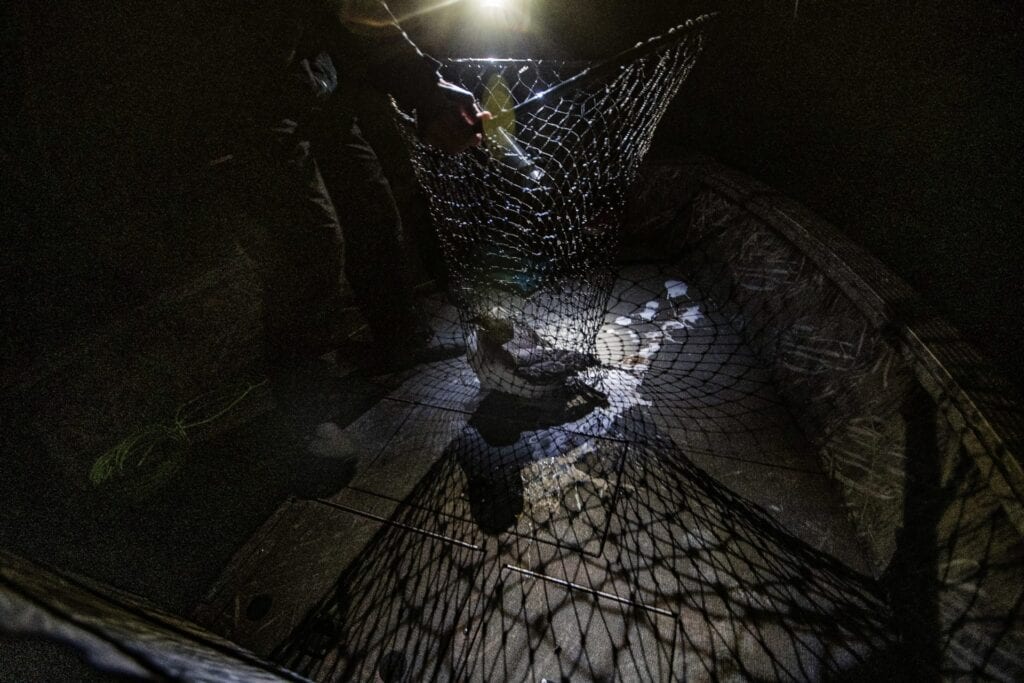 Aug. 17 | Chris Persico gently placed a loon chick on the bow of the boat in order to remove it from a net for a quick examination. The chick was transported to the Sebego Lake Station Landing for a more expansive veterinary exam as part of an effort to reintroduce loons to Massachusetts waters.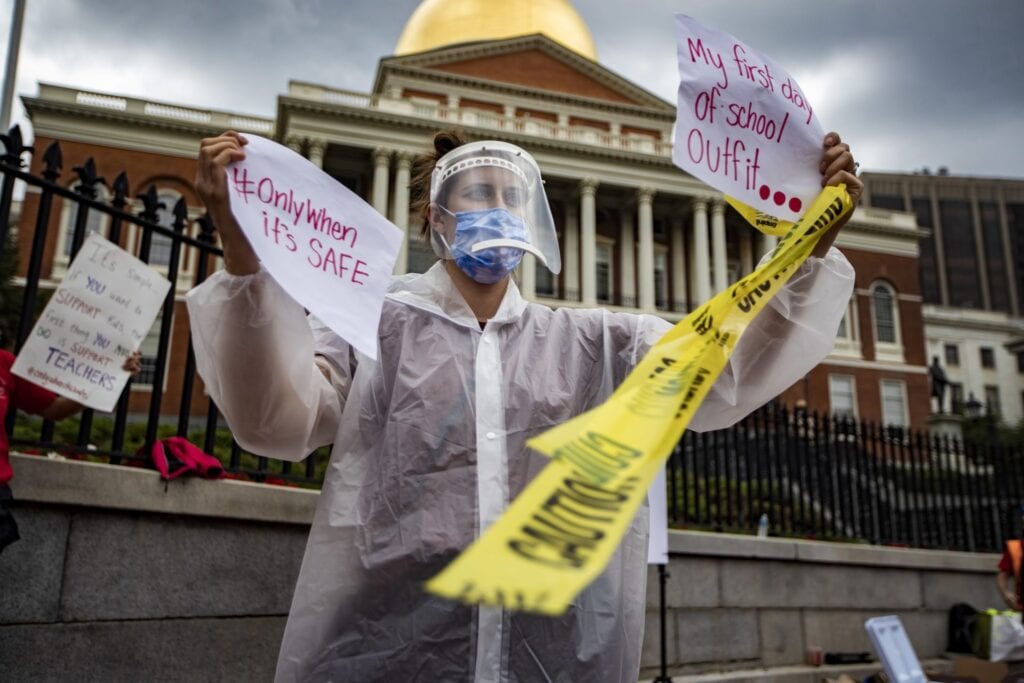 Aug. 19 | Hundreds of members of the Massachusetts Teachers Union attended a rally at the State House demanding Baker safely reopen schools.
---
September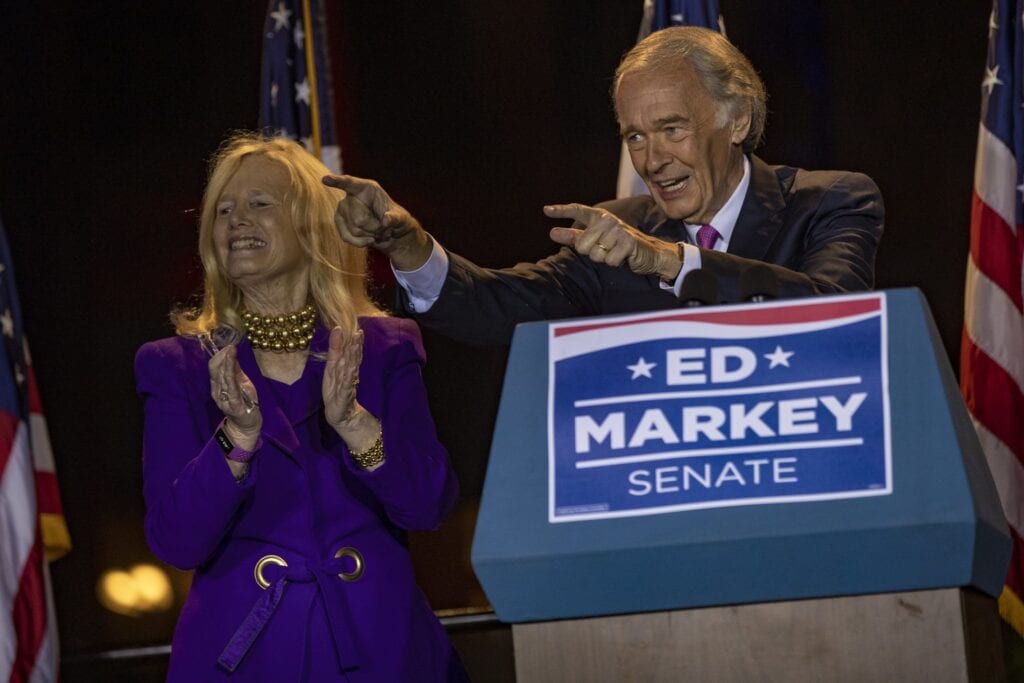 Sept. 1 | U.S. Sen. Edward Markey pointed at supporters as he climbed to the stage after winning the Democratic primary and defeating Joseph Kennedy III.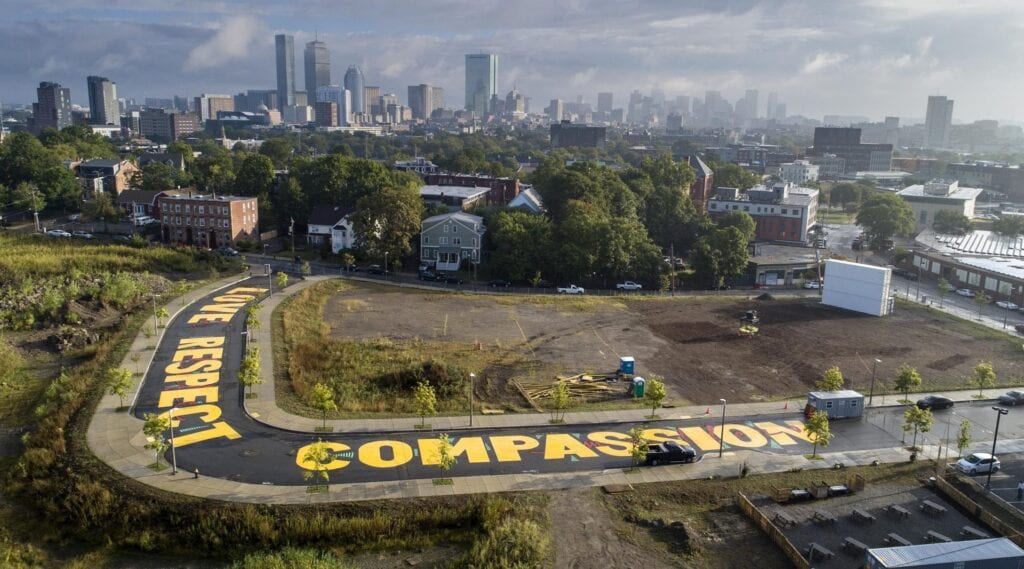 Sept. 3 | Artist Ricardo "Deme5" Gomez's street painting, "Rules of Engagement" on Bartlett Station Drive in Roxbury.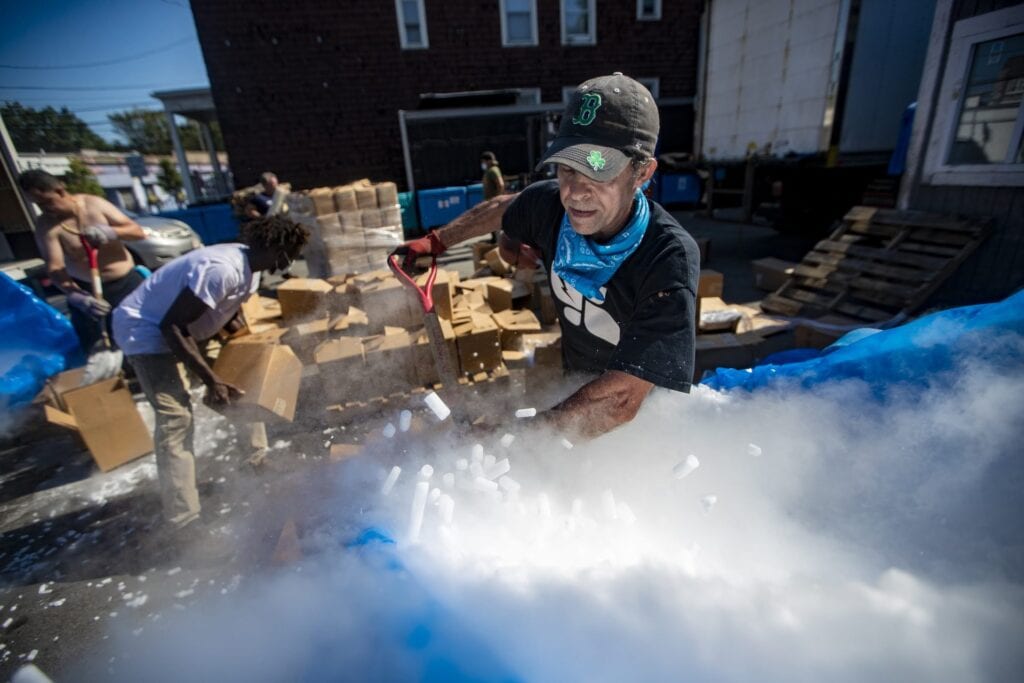 Sept. 4 | Workers at the Acme Ice Company in Cambridge loaded 50,000 pounds of dry ice into boxes to be shipped out to various pharmaceutical companies in the area for storing vaccine samples of COVID-19. Because of the pandemic, there is a national dry ice shortage, due to the ramping down of ethanol production, since not as many drivers are on the road and purchasing gasoline.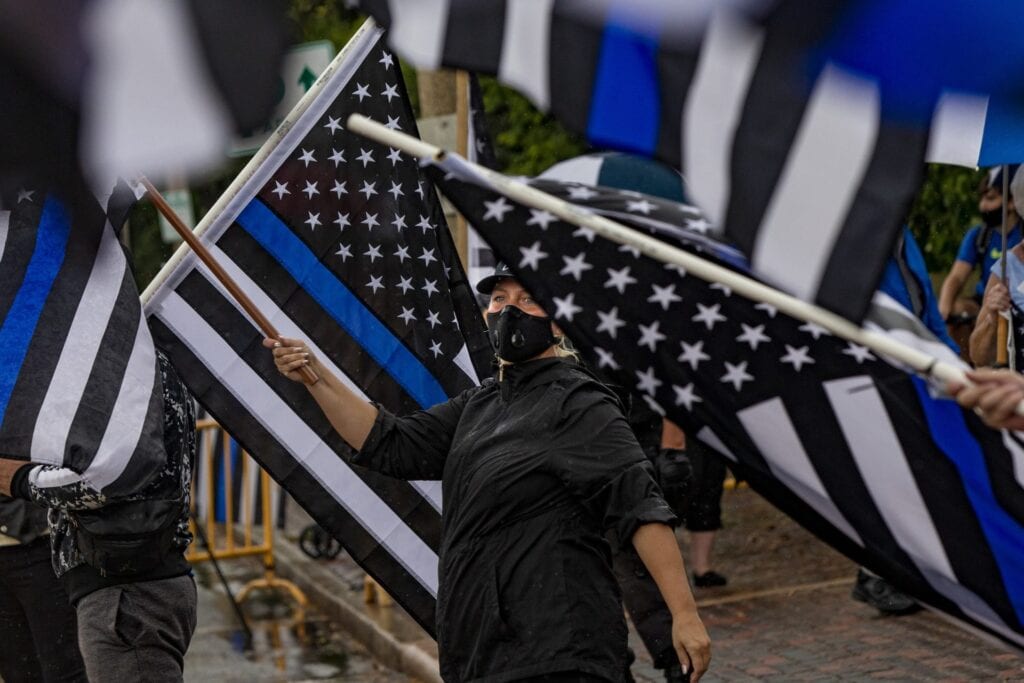 Sept. 10 | A Back the Blue supporter waves a flag in a sea of thin blue line flags during opposing rallies with Black Lives Matter counter-protesters in front of Arlington City Hall.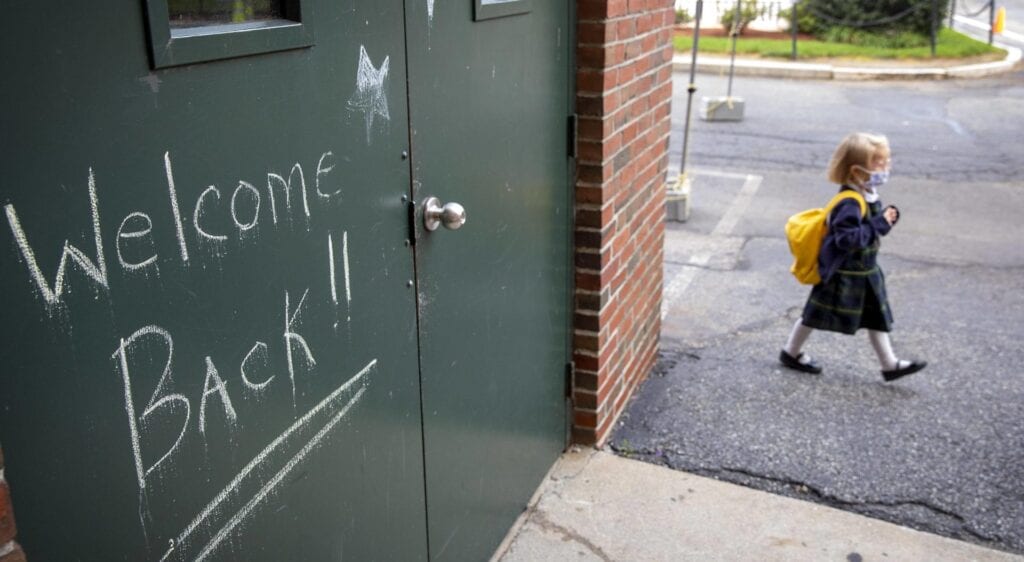 Sept. 17 | A chalk message, splattered by rain, welcomed students back to St. Peter School.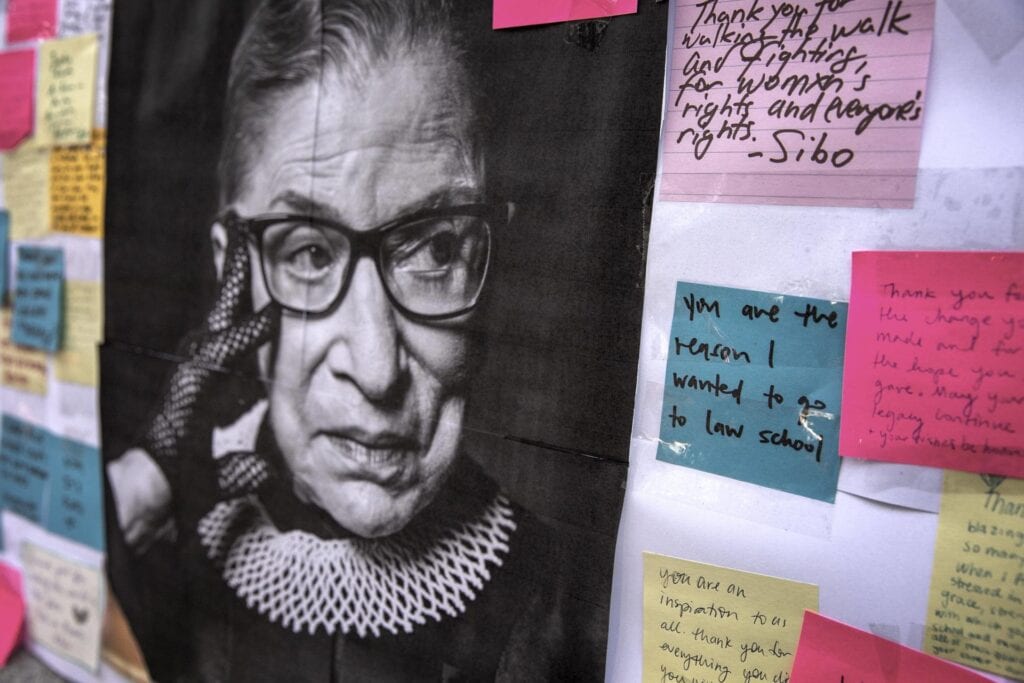 Sept. 21 | An impromptu memorial for Justice Ruth Bader Ginsburg at Harvard Law School Library. The justice died at age 87 from complications due to cancer.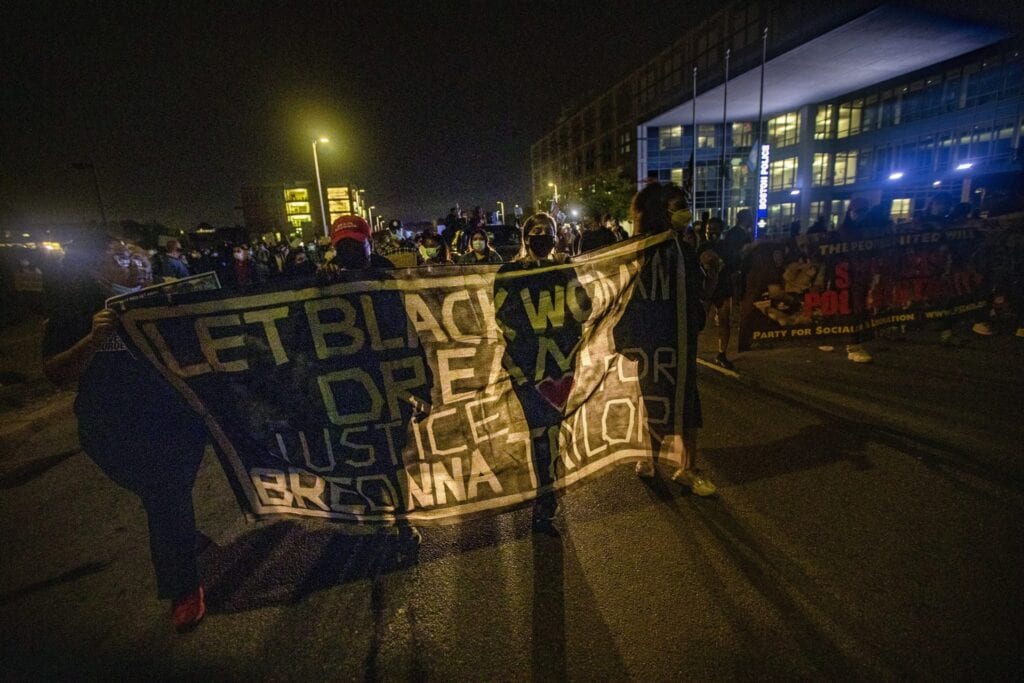 Sept. 25 | Protesters marched past Boston police headquarters during the Justice for Breonna Taylor rally.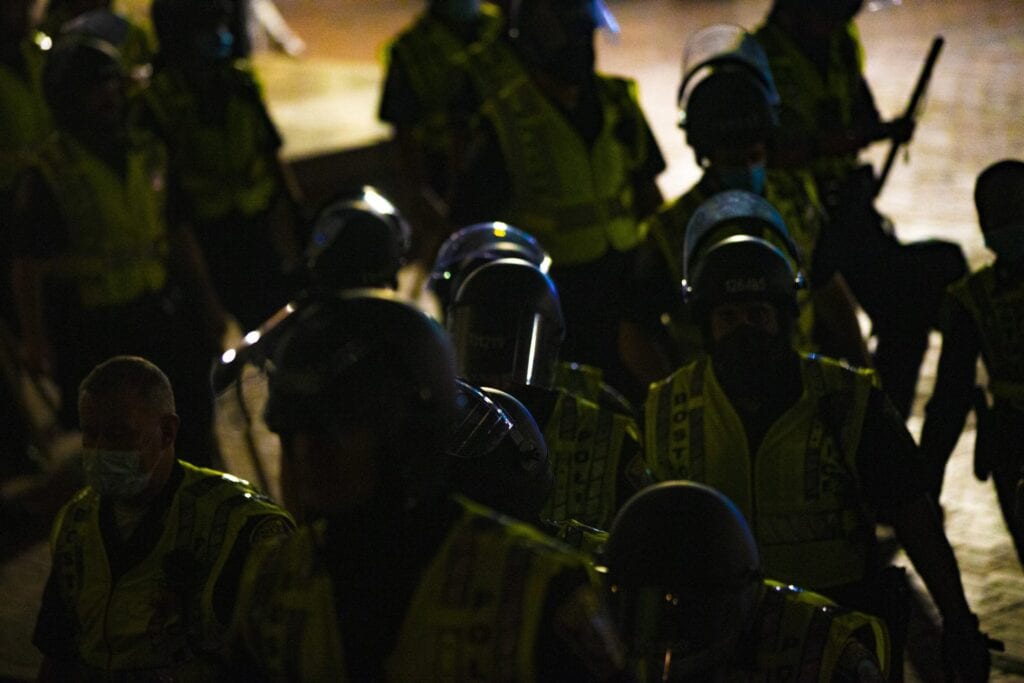 Sept. 25 | Boston police officers armed with batons and wearing riot gear climbed the stairs of City Hall Plaza on Congress Street as protesters gathered on Congress Street during the Justice for Breonna Taylor rally.
---
October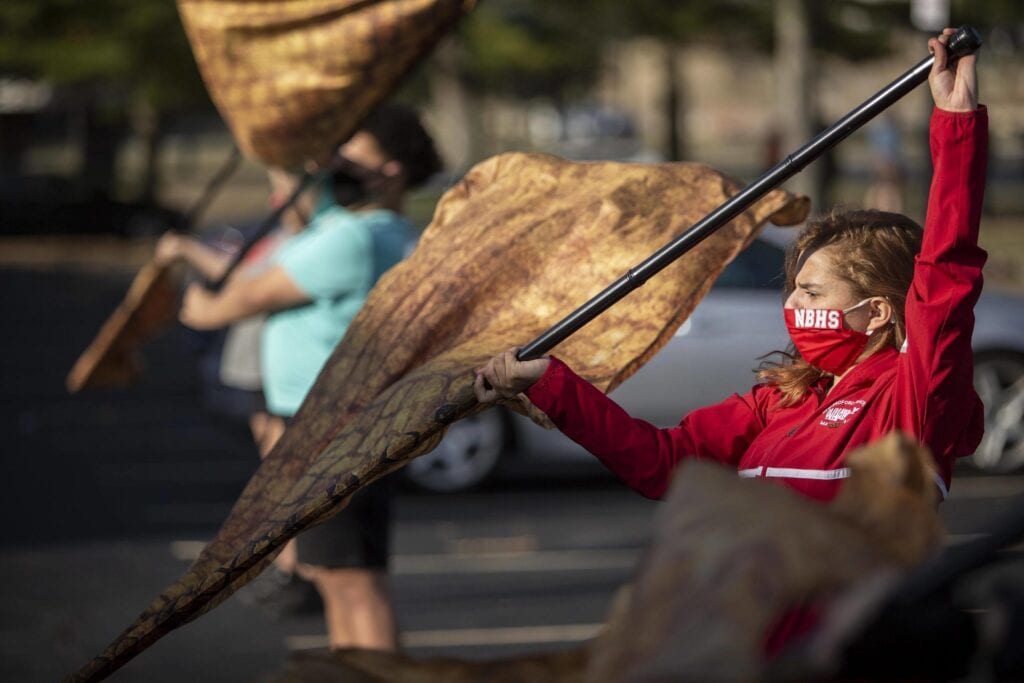 Oct. 1 | Madison Costa practices with the color guard at New Bedford High School.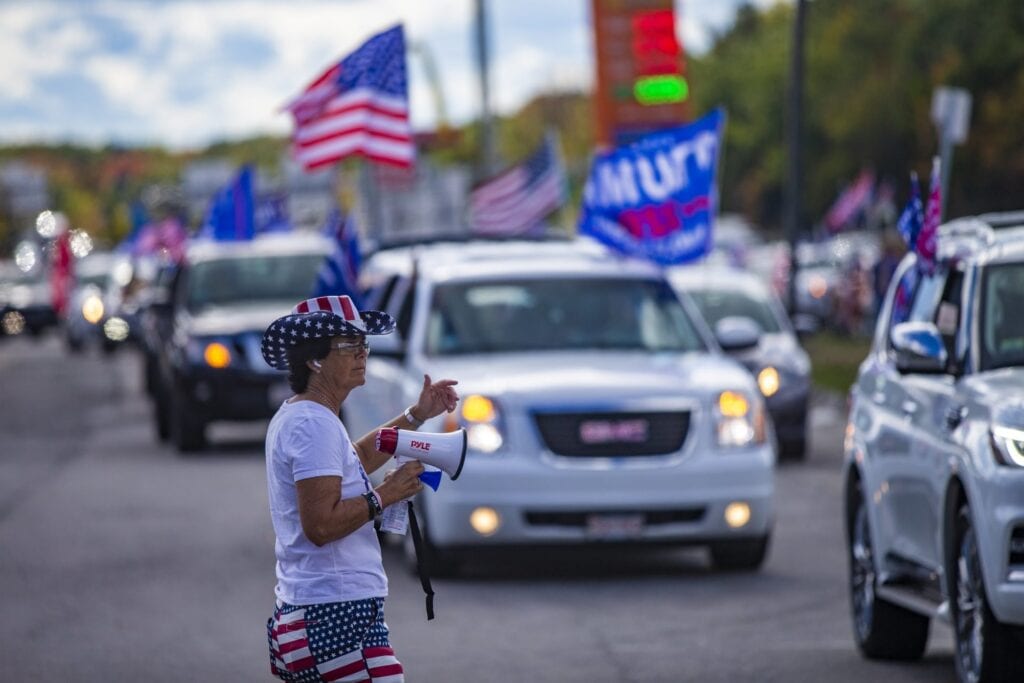 Oct. 3 | Lorraine Cambria waved at cars leaving the Lexington Service Center on Route 95, as they merged with the rest of the caravan to drive to a Trump rally in Londonderry, New Hampshire.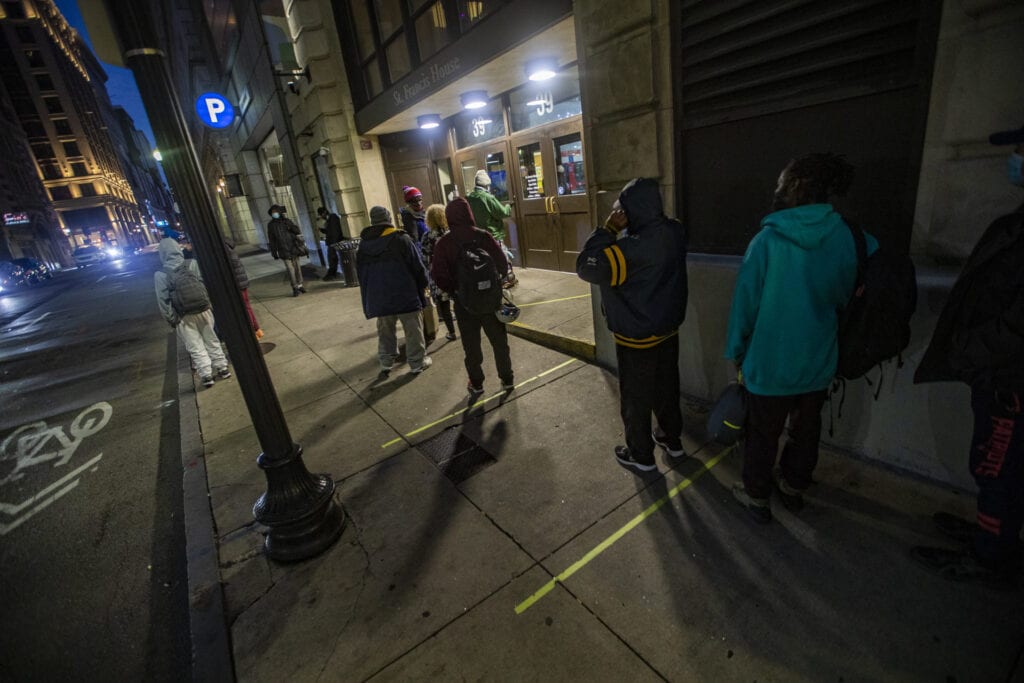 Oct. 8 | Some people experiencing homelessness stood in line outside of the front entrance of the St. Francis House waiting for the shelter to open in the early morning. Homeless service providers in Massachusetts are scrambling to make sure they have enough space as winter approaches amid the pandemic.
---
November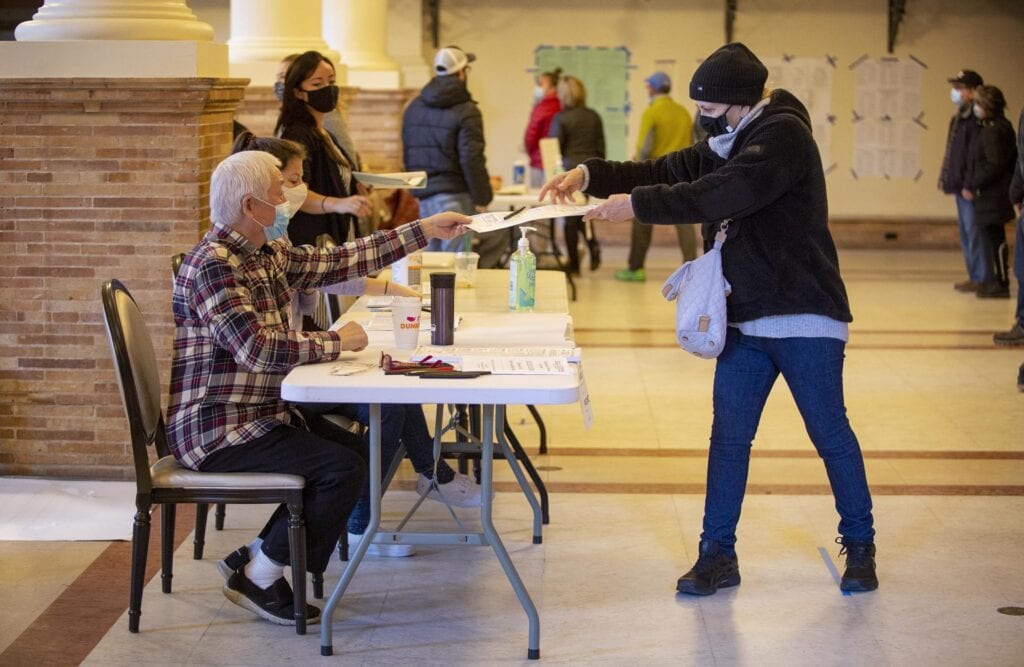 Nov. 3 | A voter kept social distancing in mind as she picked up her ballot at the Boston Public Library on Election Day.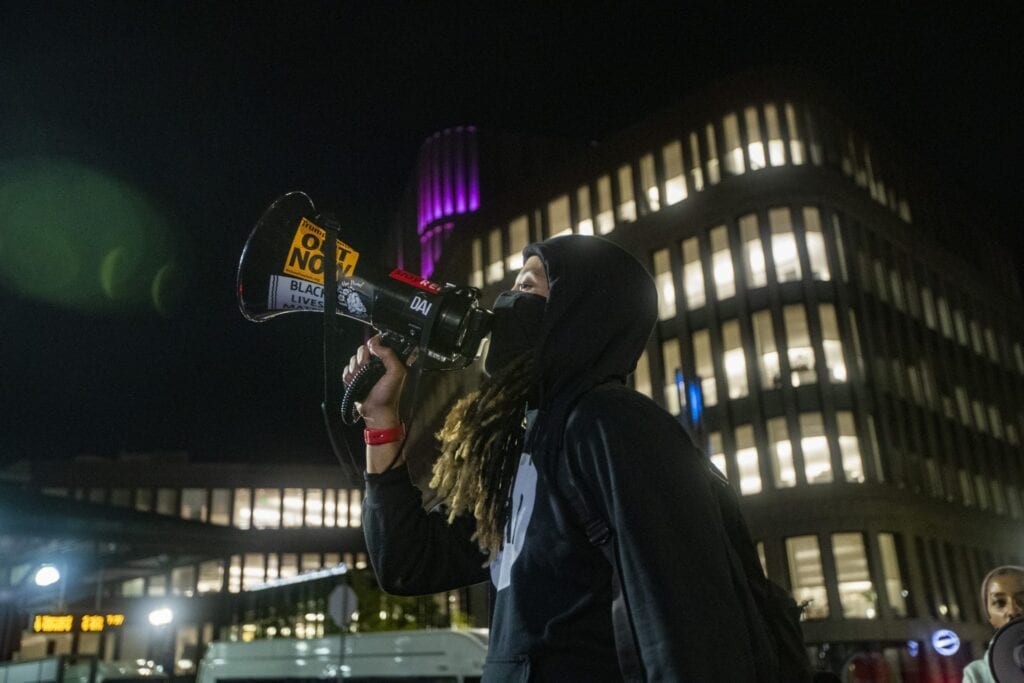 Nov. 4 | Protesters marched down Washington Street through Nubian Square during the Freedom Fighter Coalition protest.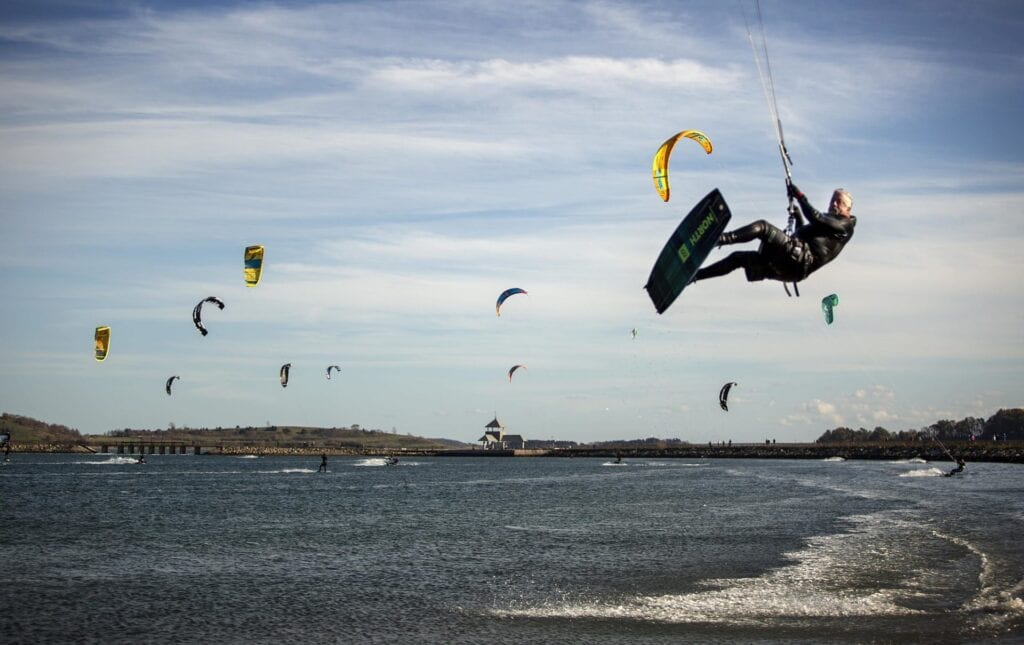 Nov. 5 | Kitesurfers enjoyed a sunny, windy November afternoon at Pleasure Bay, by Castle Island in South Boston.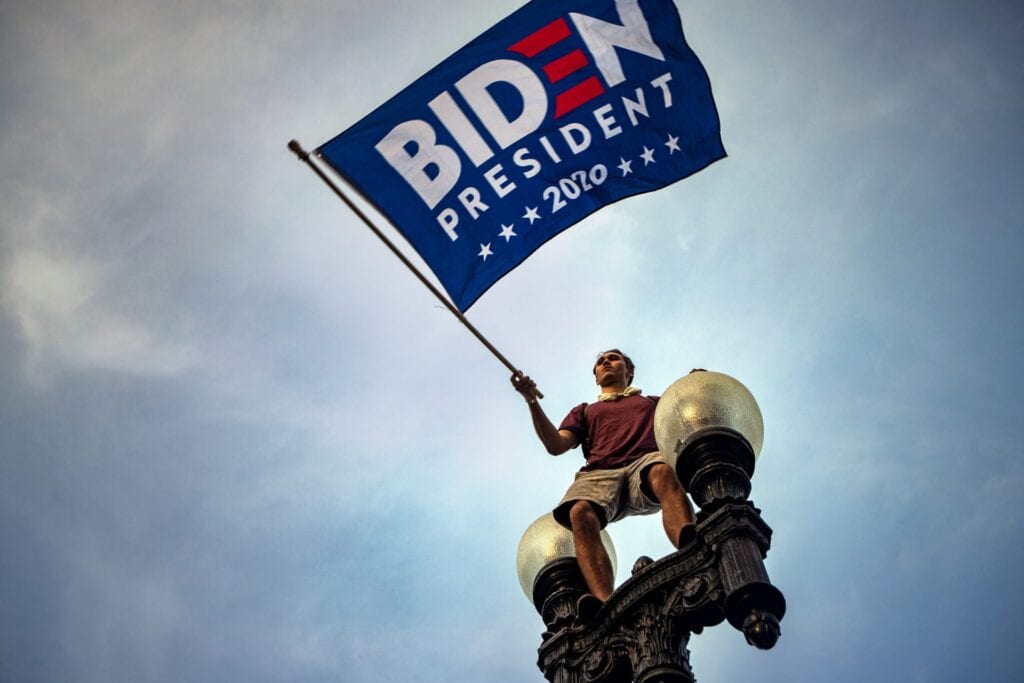 Nov. 7 | Tristan Homewood waved a Biden campaign flag as he stood on a street lamp on the corner of Boylston and Charles streets to celebrate Joe Biden's presidential victory.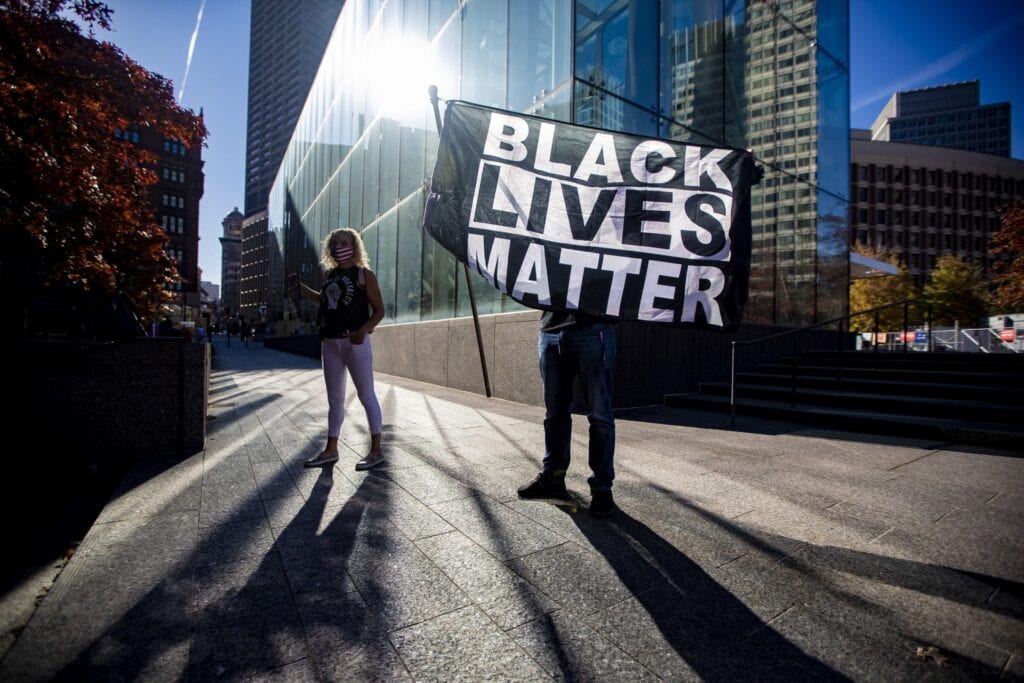 Nov. 8 | Two rally participants, one with a Black Lives Matter flag, watched the rally standing by the Government Center MBTA station.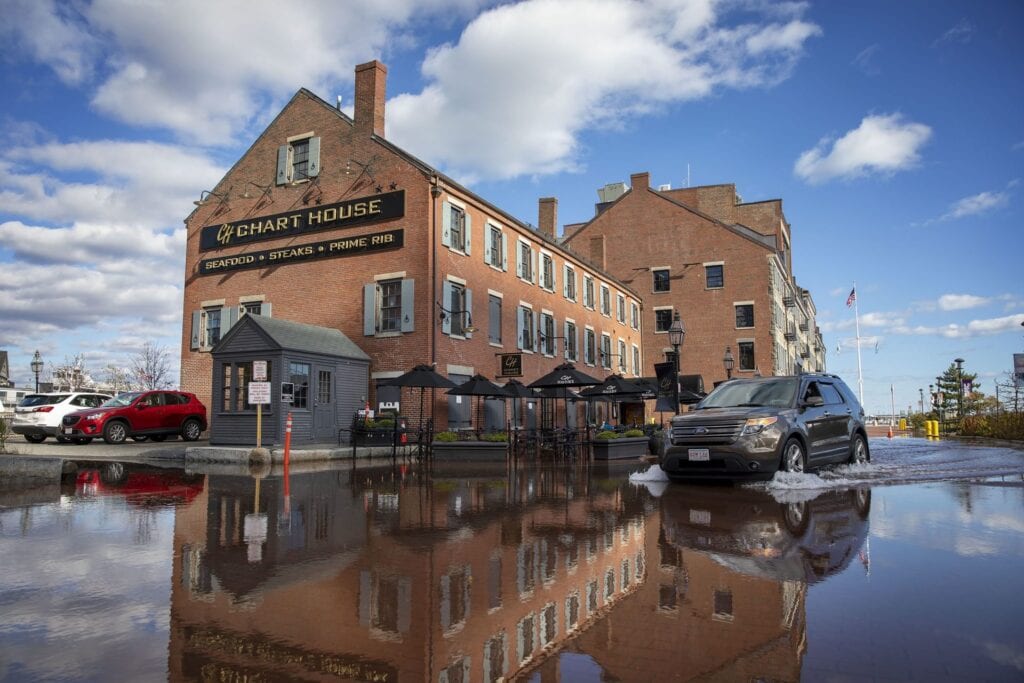 Nov. 16 | A car drove through flood water by the Chart House on Boston's Long Wharf during a November king tide.
---
December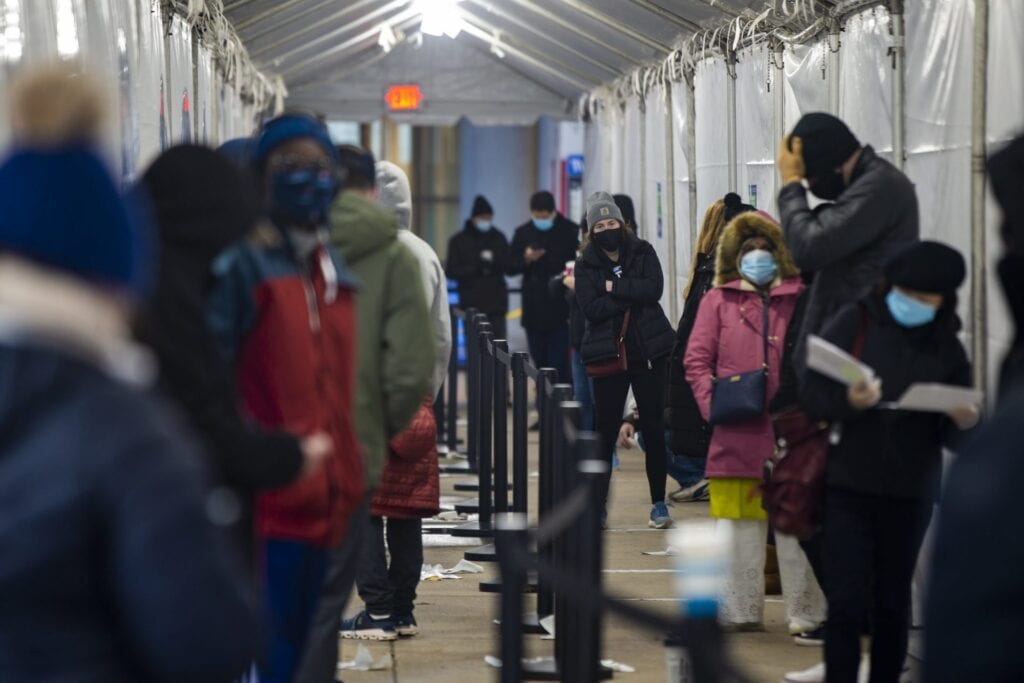 Dec. 2 | A woman looked toward the front of a long line of people waiting for coronavirus tests outside of the Tufts Medical COVID-19 Testing Center on Tremont Street. Testing facilities were inundated with people who planned to travel for Thanksgiving, and the lines stayed long even after the holiday.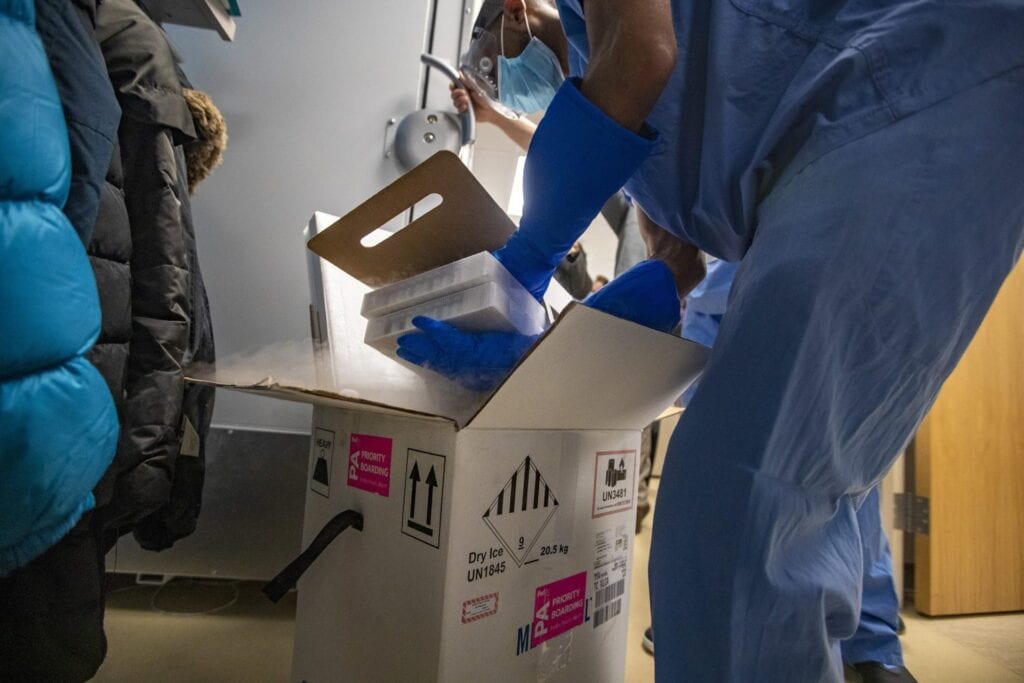 Dec. 14 | Boston Medical Center pharmacy technical worker William Senior removed two trays of Pfizer's COVID-19 vaccine, each containing 975 doses, from the box the vaccines arrived in that morning.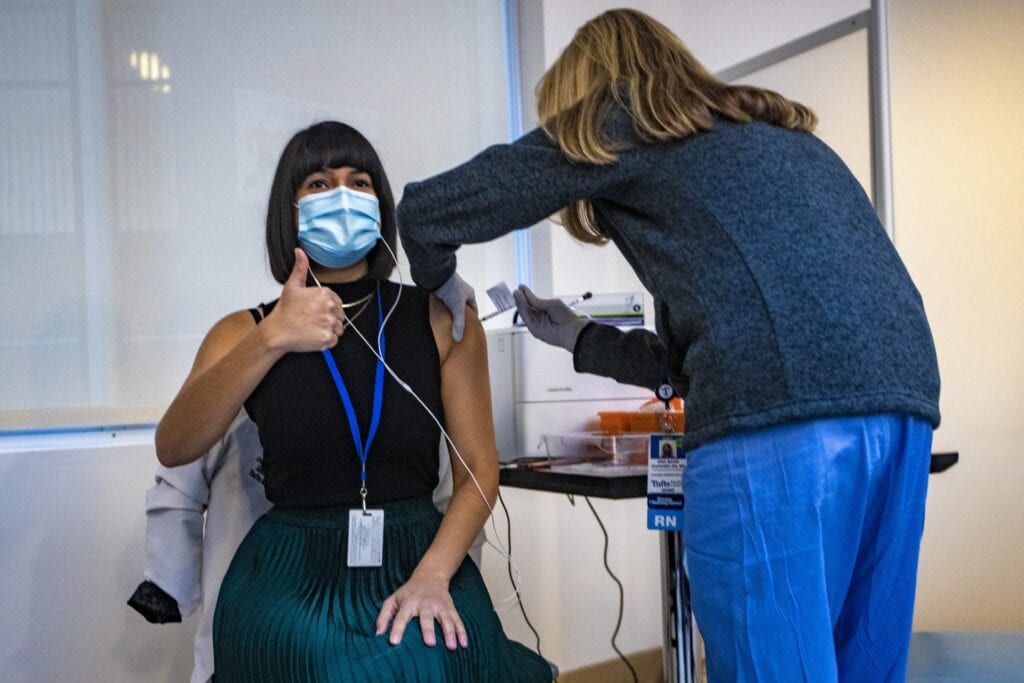 Dec. 15 | Dr. Gabriela Andujar Vazquez was the first Tufts Medical Center hospital employee to receive Pfizer's COVID-19 vaccine.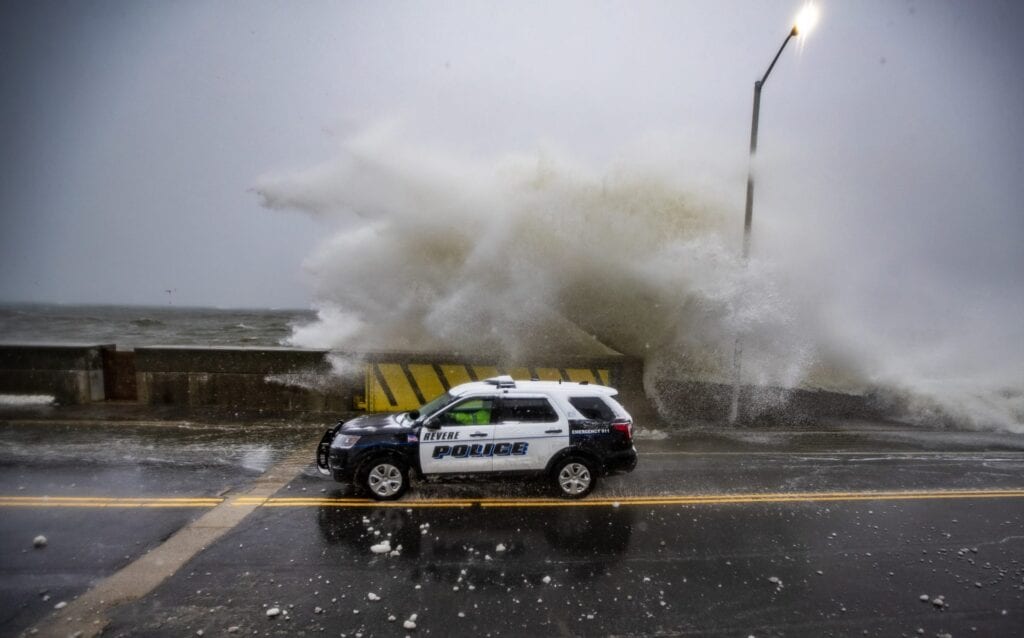 Dec. 17 | Waves crashed along the seawall in Revere at high tide during a nor'easter as a police car passed by.