Last year, the Singing Surgeons, Elvis Francois, MD (Orthopedics, BIDMC) and Dr. William Robinson released an EP of inspirational cover songs to raise money for COVID relief. Now, they have recorded new music to raise awareness for American Heart Month.
Forbes – February 5, 2021
The Singing Surgeons Are Making Music Again – This Time For Heart Health Awareness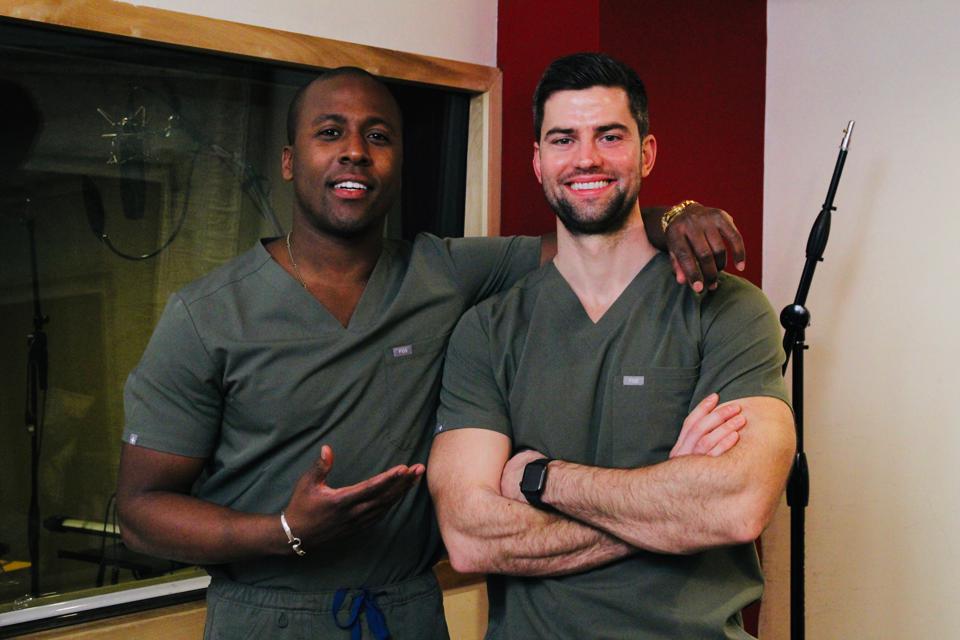 Last year, they released an EP of inspirational cover songs to raise money for COVID relief. Now, the Singing Surgeons, Dr. Elvis Francois and Dr. William Robinson, have recorded new music to raise awareness for American Heart Month.
"The songs all have the word 'heart' in the title and have upbeat, positive vibes," Dr. Robinson explains. "They are uplifting, peppy songs that we had a blast recording. And we're using them to promote a bigger message of simple things everyone can do to promote heart health."
The album includes "Put a Little Love in Your Heart" by Jackie DeShannon, "Listen to Your Heart" by Roxette," "You'll Be in My Heart" by Phil Collins, "and "Heartbeat Song" by Kelly Clarkson.
"These are generational songs spanning decades," says Dr. Elvis. "It's unique sounding music and we're happy to have been able to create and draft something so special."
Their EP is a joint effort with Lipton Tea, which is donating $50,000 to the American Heart Association AHA 0.0% with the music's release. The AMH reports heart disease is the No. 1 killer of Americans, and raising awareness takes on new importance this year, due to the impact of the coronavirus and potential harmful effects on the heart and vascular system. Healthy lifestyle tips include exercising regularly, getting adequate sleep, following a heart healthy diet, and drinking green and black tea.
The doctors have been working to use music for positive causes since they gained national attention after sitting down at a piano at the Mayo Clinic in Rochester, MN. Both, training to become spine surgeons, were on call that day and recorded a song just for fun. It ended up going viral.
They were invited to be guests on talk shows like Ellen, they performed"God Bless America" on an Indy 500 TV special to pay tribute to front-line workers, and last November, Dr. Elvis got the chance to appear on The Masked Singer.
"I've never performed on stage before," Dr. Elvis says. "I'm not a professional musician, I'm quite an amateur, but it was an incredible opportunity to step outside the hospital and find a different way of trying to share some joy."
In addition to stepping on a stage to sing for the first time, he had to do it in an 8-foot serpent costume. He admits it posed a few challenges.
"The best way I can describe it is, imagine if you walked into an oven and you turned it up to 110 degrees," Dr. Elvis says. "And then someone handed you a microphone and you couldn't really see to your left or to your right. And then they said, 'Hey, how about you perform this song, which is a difficult song to perform, in this 40-pound costume? And good luck!"
He and Dr. Robinson are both laughing as he describes the experience. Then, Dr. Elvis goes on to, again, express his gratitude for the opportunity.
Both were also grateful and somewhat surprised to the overwhelming response to their EP last April, featuring covers of songs like John Lennon's "Imagine," Bill Withers "Lean on Me," and others. The EP was aimed at highlighting healthcare workers, raising funds for COVID relief, and offering comfort in a difficult time, but it ended up putting two men on the Billboard Emerging Artists Chart.
"We're not professional musicians," notes Dr. Robinson, "so when we put that out there for everybody on iTunes and Billboard, and all of a sudden you see it kind of crawling up, I'm not going to lie to you, I was in awe. I was like, why is my name on the same screen as Taylor Swift and other people? They're global icons. It was a pinch yourself moment. Yeah, it was incredible."
Dr. Elvis says they never imagined their music would reach so many people.
"The coolest thing about all of this is the two of us literally sat down at a piano and shared music with the idea of making someone's day better. And you know the line, a small act of kindness can go a long way? Seeing a friend send that song to be played in Russia, or a video clip being played in Italy with the pandemic being as bad as it was there. To Alabama, to California…it's just a reminder that the good things you do may not end up on the Billboard charts, but they go further than you can ever expect, and we're a living testament to that."
The surgeons, who first got together at the Mayo Clinic in Minnesota, have now moved on to hospitals in other cities. Dr. Elvis is at Harvard Beth Israel Deaconess Medical Center in Boston, while Dr. Robinson is at Jefferson Hospital in Philadelphia. Still, even as they work on their medical careers, they plan to continue their musical partnership. And they hope to release some original music in the future.
"We're working on some original pieces," Dr. Elvis says, "and I'm hopeful we'll be able to release some original music, possibly this fall."
Both have become skilled at mastering their busy schedules to balance long days at the hospital, spending time with friends and family, and carving out time to make music.
"For me, it's trying to be as efficient as I can with my day," says Dr. Robinson. "We're both in spine surgery fellowships and I have a wife and two-year-old daughter, so family time is the most important thing in my life. So, I try not to spend too much time on my phone or watching TV. And I'm having so much fun with Elvis, recording music for these great causes to help raise awareness, it's allowed me to prioritize that in my life.
Dr. Elvis goes on to add, "I think 2020, for all of us, brought the realization that at any moment everything you have can be taken away. When you take care of patients on a daily basis you realize you have to make the most out of every day you have. I know it might come across as cheesy, but for me, when I wake up in the morning, it's with the motivation to share some music – if that's going to make someone's day a little better, focus on becoming a better spine surgeon, and make sure I'm a good person to the people I see every day. Because you don't know if this will be your last day or your last year. That's kind of how I've learned to look at it.
Put A Little Love In Your Heart is available on all streaming platforms.