Harold Burzstajn, MD (Psychiatry, BIDMC) discusses how the COVID-19 pandemic is impacting the mental health of healthcare workers.
'It Just Broke Me': Health Workers Struggle For Time To Grieve Patients Lost To COVID-19
WBUR – May 11, 2020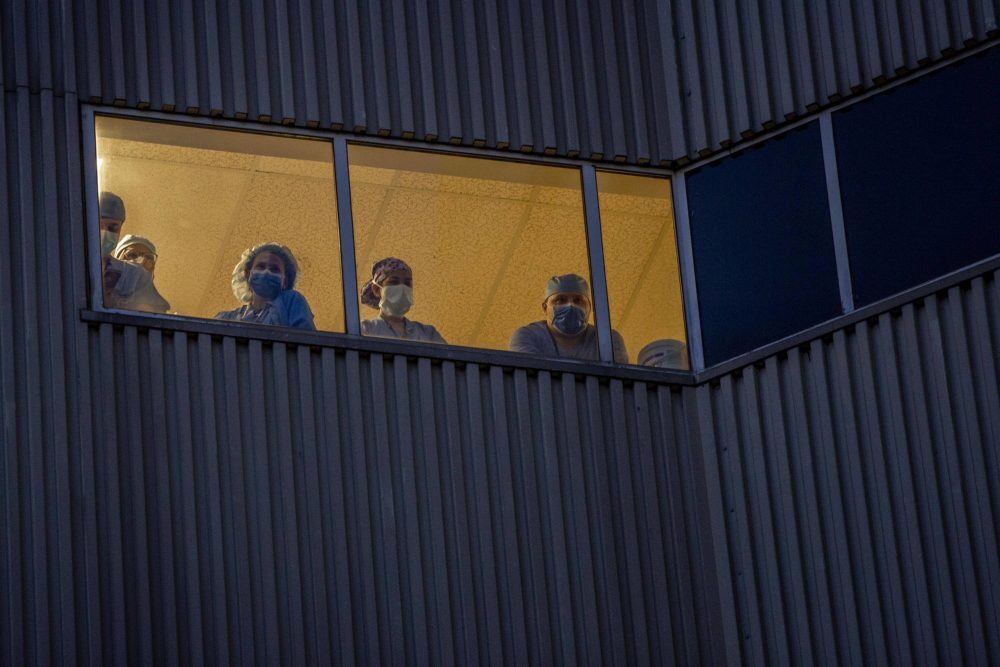 The first patient died right when Angela Scarpino started a night shift. An hour later, Scarpino's second patient died. Then in the morning, at the end of her shift, the last patient went, like the others, due to COVID-19.
Scarpino, who's from Greenfield, says that as a nurse, she's used to death. But not like this.
"I've never had three people die from the exact same thing [in a single night]," she says. "And it was just so emotionally draining for me and the nurses taking care of these patients, because we're trying everything we can do to help them."
Clinicians on the front lines of the coronavirus pandemic are seeing patients pass away at what can feel like an extreme rate. They have to handle the grief of those deaths while tending to other patients that still need their care. For many, it's a struggle to manage those emotions. For some health workers, it can have devastating consequences for their emotional health and well-being.
The third patient to die that night was the hardest for Scarpino to handle. She was a woman who had been in the hospital for a few weeks, Scarpino says.
"Some of the nurses had gotten to know her," she says. "Her oxygen just made a turn for the worse. We called the physician, and the patient didn't want to be intubated."
Without a ventilator to help her breathe, the patient knew she would die. Her goal was to be comfortable at the end of her life and be able to see her family for the last time. Scarpino and the other clinicians gave her morphine and then called her daughter.
"And her daughter, when she got there, was rushing to get the PPE on – to get in to see her mom before she went and didn't want her to go alone. And that's one of the hardest things. I stayed out in the hallway to give her whatever she needed," Scarpino says. "By 7:00 a.m., she was gone. But, just, by the third person, it just – broke me."
But she had to stay composed for the rest of her shift. There was still work to do and, as a senior nurse on the floor, she tries to set an example.
"If I can't hold it together, that scares [the younger nurses.] So, I held it together until I got into my car, and I just cried," she says. "And when I got home, I actually had a full-fledged panic attack, which I've never had before, because I was grieving for these patients. I felt so defeated."
Many clinicians may recognize that feeling, especially now. In a recent WBUR poll, one in five Massachusetts nurses said they feel low or somewhat low morale. As the coronavirus tore across the country in March and April, health workers working in this pandemic have been straining under the emotional toll of so much death and sickness.
"What's happening now with the pandemic is those stressors [in medicine] – physical, mental and emotional – have ratcheted up so intensely," says Dr. Jo Shapiro, a surgeon at Harvard Medical School who has run clinician peer support programs.
"What's happening now with the pandemic is those stressors [in medicine] – physical, mental and emotional – have ratcheted up so intensely"

Dr. Jo Shapiro, Surgeon at Harvard Medical School
The experience of caring for patients during the coronavirus pandemic is emotionally complex and, sometimes, overwhelming. Shapiro says health workers are confronted with their own fear of falling ill with COVID-19, the loss of life on the front lines, and frustration with a government that failed to prepare for the coronavirus.
"The emotions have ranged all the way from grief from so much death and isolation, fear, anger and then all the way towards gratitude when they see amazing teamwork and people stepping up," Shapiro says.
All of that is difficult to process, and people need time to deal with those emotions in a healthy way, says Dr. Harold Bursztajn, a psychiatrist at Beth Israel Deaconess Medical Center. He often provides mental health care to medical professionals and, lately, he says there's been a flood of clinicians reaching out to him for help.
"I have seen more frontline physicians in the past couple of months than I've seen in the past year," he says. "There's a sense of almost unspeakable fear and grief. When we lose a patient, we need to have time to grieve."
In Massachusetts, the pace of the coronavirus pandemic appears to be slowing. State officials are reporting slight reductions in the percentage of people requiring hospitalization and in the number of patients in intensive care units.
It could mean that social distancing measures are helping, an effect public health experts refer to as flattening the curve of the epidemic. That means the virus crests at a lower rate — before hospitals become overwhelmed — but it still means the epidemic extends over a period of time.
Many new infections are reported in Massachusetts each day, and thousands of patients remain in the hospital. With so much work to do, many health workers haven't been able to take the time to reflect and manage their emotions, Bursztajn says.
"If there is no time to grieve, then grief is like hell freezing over. It's a very, very lonely, painful place where we have to anesthetize a part of ourselves," he says. "At this point there is no relief. Patients continue to come in. There isn't a kind of day of relief from it. That's an unintended consequence with flattening the curve."
"If there is no time to grieve, then grief is like hell freezing over. It's a very, very lonely, painful place"

Dr. Harold Bursztajn, Psychiatrist at Beth israel Deaconess Medical Center
The stress of the pandemic bleeds into weekends and holidays, too, says Scarpino, the nurse from Greenfield. A close relative is seriously ill with the virus. "He's currently fighting for his life from COVID-19 and is intubated at the hospital," she says. "So, even when I'm not at work, it's hitting close to home."
This unrelenting burden can have serious consequences for both patients and clinicians' wellbeing, Harvard's Dr. Jo Shapiro says. The mental and emotional toll can lead to burnout, depression and post-traumatic stress disorder. In a highly publicized case, one emergency room doctor died by suicide in New York City after treating patients with COVID-19.
"It looks as if a trigger for her death was stressors in both taking care of patients with COVID and having COVID herself," Shapiro says.
Employers need to reach out to their clinicians and ask them if they need help, Shapiro says, and health workers should be proactive about supporting their co-workers too.
"We should not put the burden on the individual clinician to seek support. If someone does seek support, it should be there. We should have many options for them from therapy to peer support," she says. "But we really want to make sure we are reaching out and offering support."
Friends and family can help too, Shapiro adds, simply by being available for health workers to help them talk through their experiences.
"It's not fancy, you give them your loving presence that says, 'I am here to listen,' " she says.
Scarpino is still caring for COVID patients, but she says she's feeling better.
"It took me a day to physically function, but I was having issues sleeping. It wasn't until I reached out to someone and started talking to someone to actually get in a better spot," she says.
And she's finding the time for things that bring her joy – like a few hours of video games, or playing with her 3-year-old.
"We got a couple of new puppies, and my son is playing around. We're just trying to enjoy the weather, it's finally not raining and sunny," she says.
She worries about what might happen if social distancing measures end too soon, but Scarpino says things in her hospital are finally starting to slow down a little. She says that gives her some hope for the future.