Dan Barouch, MD, PhD (Center for Virology and Vaccine Research, BIDMC) weighs in on how researchers arrived at the effectiveness rate of both the Pfizer and Moderna vaccines and its significance bringing the pandemic under control. Barouch explains why these revolutionary vaccines offer so much promise in the battle against COVID-19.
Boston 25 News – November 25, 2020
BOSTON — The race to get a COVID vaccine across the finish line is in the final leg.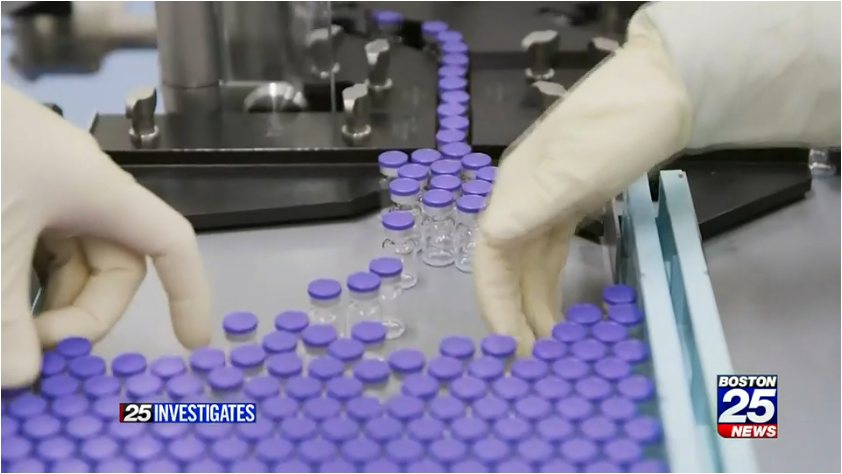 Leading vaccine developers Pfizer and Moderna each say their product has an efficacy rate of more than 90%, while Astra Zeneca says its vaccine is about 70% effective.
With so much riding on the effectiveness and safety of these vaccines, 25 Investigates wanted to know how researchers arrived at the effectiveness rate and its significance to bringing the pandemic under control. We asked two experts to weigh in.
Dr. Dan Barouch, director of the Center for Virology and Vaccine Research at Beth Israel Deaconess Medical Center, explains why these revolutionary vaccines offer so much promise in the battle against COVID19 and Dr. Jane Orient, executive director of the Association of American Physicians and Surgeons, explains the data behind the efficacy rate.
"We heard very recently about the stunning efficacy results from both the Pfizer and the Moderna vaccines. These are the first two efficacy trials to have yielded clinical data on safety and effectiveness in large populations," said Dr. Barouch. "And so it is likely in the United States that these will be the first two that are licensed for use. Probably first under an emergency use authorization, and then probably later for full approval. These are the first two, but there will likely be others as well in 2021."
More than 200 COVID vaccines using traditional or novel technologies are currently in development around the world, including 11 or 12 that are currently in phase three clinical trials, according to Dr. Barouch.
"Each vaccine will likely have pros and cons. Some vaccines might have more or fewer side effects. Some vaccines may be more or less effective. Some vaccines may be particularly good in certain groups. Some vaccines may be better in children," adds Barouch. "There's also the sheer scope of what's needed. We have over 300 million people in this country and over 7 billion people in the world. There is no single vaccine developer or supplier that could possibly serve the entire global market over the year 2021. So we not only want multiple vaccines, we actually need multiple vaccines to be successful to end this pandemic."
Unlike traditional vaccines, the Pfizer and Moderna COVID-19 vaccines rely on a novel genetic technology called messenger RNA or mRNA. Instead of injecting a tiny piece of the virus into your body, which is how most vaccines work, mRNA is injected into your arm via a tiny fat bubble that programs your body to recognize and fight off the coronavirus.
When the COVID-19 vaccine becomes available, healthcare workers will be among the first to receive it.
Katie Murphy is a nurse at the intensive care unit at a major Boston hospital who'll likely be offered the vaccine sooner than most, but that doesn't mean she'll be lining up to get it right away.
"We are working with COVID patients every single day," said Murphy, who is also the president of the Massachusetts Nurses Association, the union that represents more than 23,000 healthcare workers. "But we always want to see the evidence, we need to see the research behind this."
We were curious about the research too so we asked Dr. Jane Orient to break down the effectiveness of the Pfizer vaccine, which conducted a study with nearly 44,000 people.
As Dr. Orient explains it, half of the participants, or 22,000 people, were given the vaccine and the other half got a placebo or the "fake shot."
In the weeks that followed, 170 individuals in the study or "a very, very small percentage of the people got infected," with COVID while going about their daily lives. Of those who tested positive, Pfizer says eight received the vaccine and the other 162 were in the placebo group. Therefore, she says, "95% of those were in the vaccinated group and 5% were in the unvaccinated."
"Normally, we would be expecting a whole lot more individuals to have been exposed to the disease so we could see more results," she said.
Reported side effects with the Moderna vaccine include low rates of fever, fatigue, muscle pain, and headache. People in the Pfizer study complained mostly about fatigue and headaches. Longer-term side effects remain unknown because mRNA has never been used in vaccines.
So when these revolutionary vaccines are released, should people feel comfortable about getting them?
"I think that we have to have the regular process move forward. I think that the current data is very positive and there will be more data that comes in in the coming weeks or months," said Dr. Barouch, the vaccine researcher.
Meanwhile, Dr. Orient says time will be the best indicator of the vaccine's long-term efficacy and side effects.
The FDA's advisory committee is scheduled to meet on December 10 to discuss giving the vaccines emergency use authorization. If they green light one of these vaccine candidates, massive shipments could begin with 24 hours.
Both the Pfizer and Moderna vaccines require not one but two doses.