Dan Barouch, MD, PhD (Center for Virology and Vaccine Research, BIDMC) discusses the process of mass-producing vaccines.
WBUR – October 30, 2020
Moderna: 'We're Ready' To Ship 20 Million Coronavirus Vaccine Doses By The End Of 2020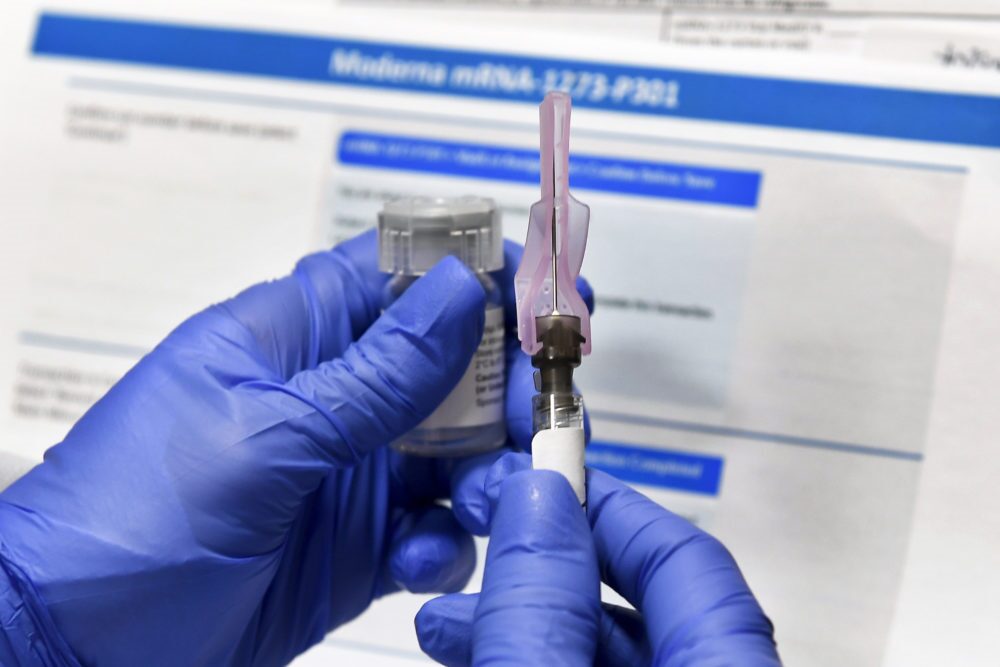 The third and final clinical trial for Moderna's coronavirus vaccine is still underway, but the company is already setting an aggressive schedule to manufacture and ship the vaccine immediately if the Food and Drug Administration approves it.
"By the end of this year, we expect to have approximately 20 million doses ready to ship in the U.S.," Moderna chief medical officer Dr. Tal Zaks said at an investor briefing on Thursday. "From a distribution standpoint, we're ready."
The company has also agreed to supply several other countries including Japan, Canada, Switzerland, Israel and Qatar with tens of millions of doses, Zaks said. By the end of 2021, the company hopes to supply the world with up to a billion doses – or 500 million full courses of the two-dose vaccine.
But that hinges on whether the FDA and the equivalent regulatory agencies of other countries approve Moderna's product, which is built on a new and untried vaccine technology. Moderna's vaccine uses RNA, a type of genetic code that also served as the inspiration for Moderna's name – a portmanteau of the words Mode and RNA. This genetic code instructs human cells to produce a coronavirus protein. The body's immune system then generates a defensive response to that protein.
The ongoing third clinical trial for the vaccine will determine if that immune response is enough to protect against coronavirus infection. Until the results of that trial are out, there's no saying if the vaccine will really work.
"The fact that developers are mass-producing their vaccines — and all of them are — doesn't mean the vaccine is going to work," said Dr. Dan Barouch, an immunologist at the Beth Israel Deaconess Medical Center who also worked on Johnson & Johnson's coronavirus vaccine candidate. "It just means they're taking a financial risk because of the severity of the pandemic, and they want to minimize the time required between approval and distribution."
According to the FDA, Zaks said, a final analysis of the clinical trial would need to show the vaccine is at least 50 percent effective for approval. But, he added, Moderna is setting a higher bar.
"In order to call it a success, we will need to show a vaccine efficacy of 74% or greater," Zaks said during the investor meeting.
Thirty thousand participants are enrolled in the trial. Researchers selected participants to reflect the ethnic and racial diversity of the United States, Moderna corporate affairs lead Ray Jordan said. Many participants were already at a higher risk for COVID complications due to age or pre-existing health conditions.
"We wanted to look at different communities of color because the severity of disease tends to be higher among those communities," Jordan said. "We ended up with about 6,000 participants who were Hispanic or Latinx and about 3,000 that were African American."
If the FDA approves Moderna's vaccine, each dose will cost between $32 and $37. In the United States, Zaks said, the first 100 million doses may work out to roughly $25 each when accounting for certain federal grants and other payments.