Healthcare Heroes ICU Special Campaign
Our New Inpatient Building will provide additional critical care space in a dedicated ICU floor, which has never been more urgently needed than it is today.
Healthcare Heroes ICU Special Campaign
Throughout the pandemic, our frontline staff have reminded us all what it means to be a hero. To commemorate their service, the Healthcare Heroes ICU Special Campaign pays tribute to their lifesaving work and will name the entire 6th floor of the building in their honor. The new floor will redefine how care at BIDMC is delivered, and will feature 30 ICU beds to provide essential flexible capacity for any future public health events requiring patient isolation, state-of-the-art infection control, and critical care measures.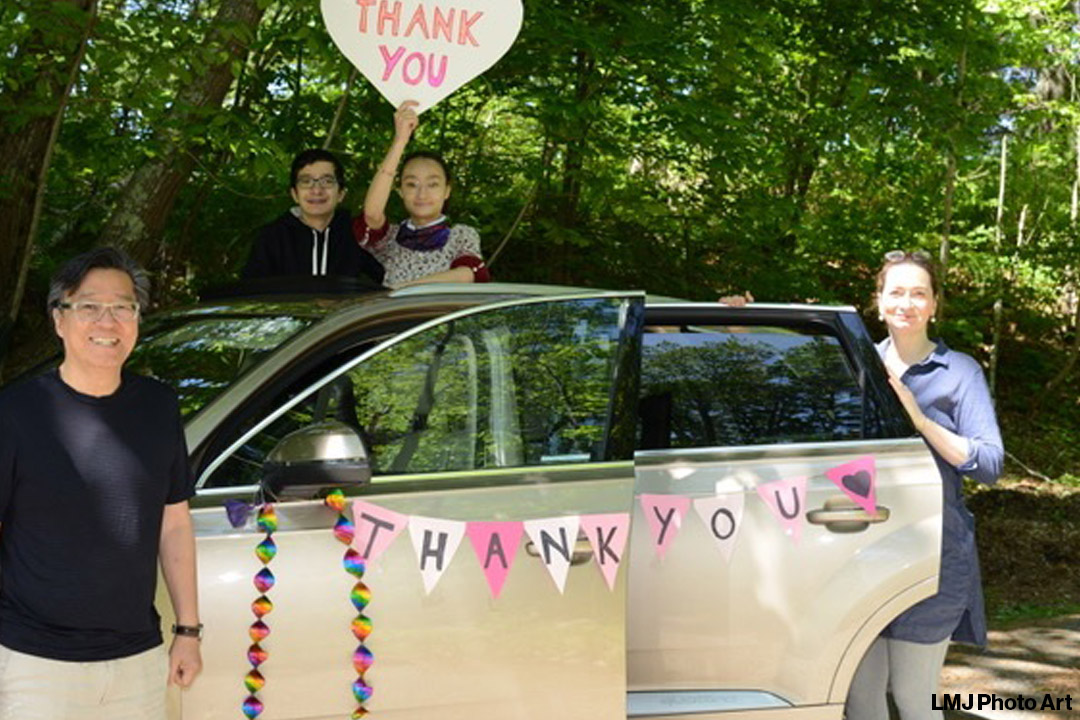 Anja Langbein-Park and Young Park
Everything the BIDMC staff accomplished during the COVID-19 pandemic is absolutely humbling. No one ran for the hills—even when their own lives were on the line. Instead, they ran straight into the fire and made countless sacrifices in order to put their patients first. To me, that selflessness is the very definition of heroism.
+ Read More
Why I Give
"We are happy to support the Healthcare Heroes ICU floor in BIDMC's New Inpatient Building. The new ICU floor will combine the latest technology and advanced design with the compassionate, patient-centered care that defines BIDMC's healthcare heroes."
-Cheryl LaFleur (BIDMC Trustee Advisory Board member) and William Kuncik
"BIDMC has been our family hospital my entire life; I was born there. My wife Donna and I have always received wonderful care at the medical center, and we have deep respect for BIDMC's healthcare heroes. It is our pleasure to support an institution that has given our family so much."
-Elliot Katzman
"COVID has highlighted the importance of having an ICU not only staffed by extraordinary professionals, but also possessing top-flight facilities. We are glad to help the Medical Center deliver the highest level of care at a time when patients need it most."
-Sheila R. and Irwin M. Heller
Donors
denotes matching donor to the campaign
| Last Name | Recognition Name | Matching |
| --- | --- | --- |
| Ain | Susan and Aron Ain | yes |
| Anonymous | Anonymous (2) | yes |
| Langbein-Park | Anja Langbein-Park and Young Park | yes |
| Stacks | Dr. Robert and Leslie Bornstein Stacks | yes |
| Bernon | Ashley K. Bernon and Kyle L. Miller | yes |
| Calmas | Ellen S. and Richard D. Calmas | yes |
| Reisman | Robin R. and Howard M. Reisman | yes |
| Clifford | Colette and Timothy T. Clifford | |
| Fowler | Mary and John Fowler | |
| Golob | Lucia Lovison-Golob, Ph.D. and Richard S. Golob | yes |
| Gottlieb | Beverly Gottlieb | yes |
| Grossman | Jamie Grossman | yes |
| Katzman | Donna M. and Elliot M. Katzman | yes |
| Krentzman | Amy and Scott D. Krentzman | yes |
| Ladd | Edward H. Ladd | yes |
| LaFleur | Cheryl A. LaFleur and William Kuncik | yes |
| Ludwig | Judy and Joe Ludwig | |
| Snider | The Snider Family | |
| Tsui | Leslie and Walter W. Tsui | yes |
| Healy | Linda and Peter J. Healy | yes |
| Levin | Renee Levin | |
| Hessan | Diane Hessan and Robert Stringer | yes |
| Becker | Christiane and Uli Becker | yes |
| Koster | Teresa Koster and Errin S. Siagel | yes |
| Lesser | Pamela S. Lesser and Steven N. Lesser | yes |
| Marguerite | Dana and James Marguerite | yes |
| Magovcevic-Liebisch | Ivana Magovcevic-Liebisch, Ph.D., J.D. and Lars Liebisch | yes |
| Elizondo | Margaret and Michael L. Elizondo | yes |
| Adelson | Rita and Leonard H. Adelson | |
| Heller | Sheila R. and Irwin M. Heller | yes |
| Robinson | Susan-Ellen and Wyley G. Robinson | |
| Swartz | Swartz Shalom Charitable Foundation | yes |
| Dunbrack | Mary F. Dunbrack | |
| Adamian | Dr. Gregory H. and Deborah M. Adamian | |
| Ladge | Johanna Kaplan and Jim Ladge | |
| Heyison | Lisa and Michael Heyison | |
| Holt | Jane and Thomas F. Holt, Jr | |
| Rubin | Elyse H. and Howard B. Rubin | yes |