Governor Baker and HHS Secretary Azar speak at BIDMC
Boston Globe – June 12, 2020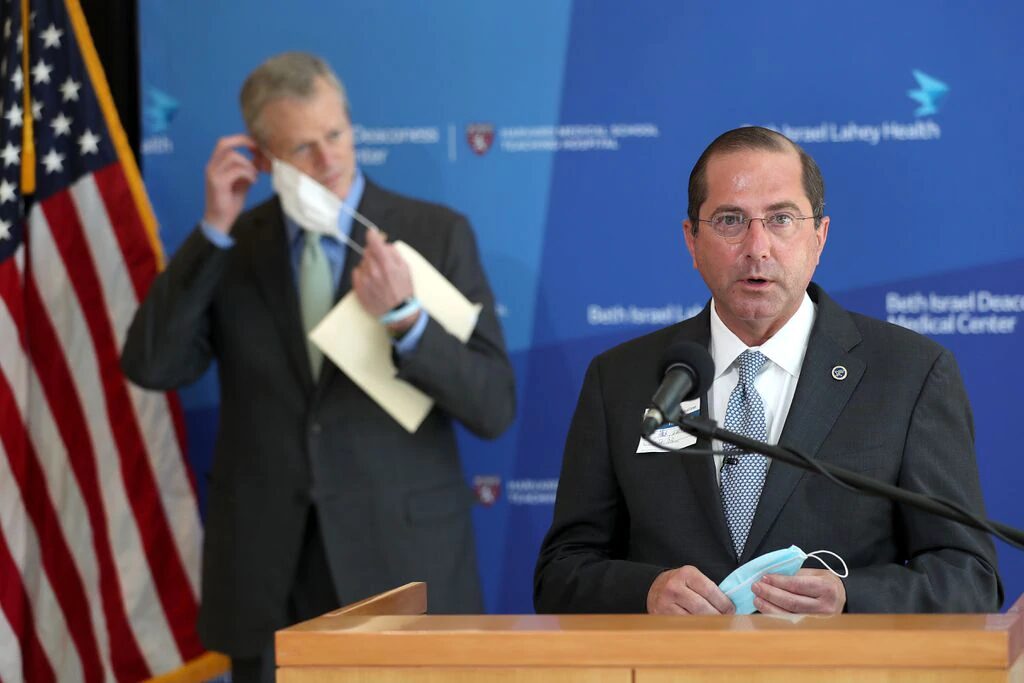 Gov. Baker: Federal government can put 'foot on the accelerator' with respect to treatments, vaccines
Governor Charlie Baker said Friday that he had spoken to US Health and Human Services Secretary Alex Azar about the importance of the federal government's support in speeding the development of vaccines and treatments for the deadly coronavirus.
Appearing with Azar at a news conference at Beth Israel Deaconess Medical Center, where researchers are working on a vaccine, Baker said he was grateful that federal officials were supporting those critical efforts.
"We've been saying for a while that the feds have more tools available to them to put the foot on the accelerator with respect to treatments and vaccines than anybody else," Baker said. "Not only do they oversee the approval processes, but they also have resources that are specifically oriented to be invested there."
Azar toured Beth Israel to learn about the hospital's work to care for patients during the pandemic, including its COVID-19 test kit assembly operation and research on a vaccine.
The visit took place as Baker announced the latest decline in coronavirus hospitalizations across the state — there were 1,334 COVID patients in Massachusetts hospitals on Friday, down from nearly 4,000 on April 21. The state also reported 392 new coronavirus cases and 46 new deaths, to 7,538 overall.Mass. health care system past surge
Governor Charlie Baker and Human Services Secretary Alex Azar spoke about how health care systems are fairing during the coronavirus pandemic. (Photo: Matt Stone/Pool, Video: Handout)
Baker also said he spoke to Azar about the distribution of coronavirus relief funds to health care providers. Baker said the US government had used "fairly traditional mechanisms" in distributing the money, "but they really need to come up with a strategy that delivers resources to those providers who serve the largest numbers of COVID populations — and that would be places like this and places like Massachusetts."
Azar said at the news conference that federal authorities have an "ambitious" goal of producing 300 million doses of a vaccine for Americans by early next year, while cautioning that "there's no guarantee" when it comes to drug development.
"What we're doing is deploying the entire power of the federal government, the financial resources of the federal government, and our incredible private sector … to advance all those [drug development] timelines, never compromising on safety or efficacy, but rather reducing inefficiency," he said.
The meeting between Baker and Azar came two months after Baker expressed frustration at the federal government for outbidding the state on personal protective equipment for healthcare workers. On Friday, Baker struck a more diplomatic tone, saying the state's PPE orders "mysteriously" disappeared — "and I accentuate the word 'mysterious.' "
Baker said he was confident the state would have enough equipment for the ongoing needs of the pandemic, citing his efforts to support in-state manufacturing of PPE. He visited a New Balance factory in Lawrence this week where the sneaker manufacturer is now making face masks.
"I want to make sure we are growing a lot of our own PPE here in the Commonwealth," Baker said Friday. "One of the big lessons we learned from this is that we do need to be able to touch and feel big parts of our supply chain."
The Baker administration says about 450 companies in Massachusetts have approached its Manufacturing Emergency Response Team about branching out into PPE. About 50 have the capacity to pivot quickly to do so, and 15 have received a total of $9.5 million so far in training and equipment grants to make the shift. To date, companies working through the state program have made more than 4 million pieces of PPE.
Despite such efforts, nurses on the front lines say the response is inadequate. They must reuse N95 masks that before the pandemic were not considered safely reusable, said David Schildmeier, a spokesman for the Massachusetts Nurses Association, and many report nausea after being forced to re-wear chemically treated masks.
Public health authorities and hospitals "only said it's OK to reuse them when the supply chain never came through," Schildmeier said. "The federal government has let them down, and the state government has let them down."
Azar told reporters there are currently about 60 counties nationwide that are COVID-19 "hotspots," with most outbreaks occurring in facilities such as nursing homes, prisons, and meatpacking plants.
Turning to the reopening of the economy occurring in Massachusetts and across the country, Azar said officials "do believe that we have the tools now to avoid" another shutdown, "certainly on a national level." At times, Azar said, state and local governments may have to take "mitigation steps" to address flareups of the virus.
Asked whether he agreed with Mayor Martin J. Walsh's declaration earlier Friday that racism is a public health emergency, Azar said race issues are paramount.
"Obviously, racism is a critical issue for our country," Azar said. "We have all witnessed the grotesque death of George Floyd," a Black 46-year-old man who died when a white Minneapolis police officer pinned his knee to Floyd's neck for nearly nine minutes, sparking protests across the United States and the world.
Azar said his agency is working to combat inequity, noting that on Friday it delivered $10 billion to hospitals that focus on caring for underserved communities.
He said the federal government has also delivered more than 800,000 test kits to community health centers, which primarily serve people of color, and is now requiring that demographic data be collected during COVID-19 testing to help researchers better treat vulnerable groups.
Baker was also asked about Walsh's announcement, which included a plan to move millions from the Boston police overtime budget to other programs. The governor said he couldn't commit to doing the same with State Police overtime funds.Baker address defunding police
He said he's not "a big believer, at the end of the day, that the right way to solve a number of problems is to so-called 'defund' the police."
Baker, however, said he does believe there must be more transparency and accountability in law enforcement. And to that end, he said, his office will soon file legislation that would for the first time create a system to certify officers in Massachusetts.
Additional Coverage:
NBC Boston – US Health Secretary visits Boston ahead of Baker's coronavirus update
Boston 25 – HHS Secretary Alex Azar touring Boston hospital Friday
WCVB – Secretary of Health and Human Services to visit Boston hospital
WHDH – Health and Human Services Secretary Azar to visit Beth Israel Deaconess Medical Center
WBZ – Top White House Official To Join Baker In Boston For Beth Israel Tour
Boston Herald – Top White House health czar to tour Boston hospital Friday
MassLive – Health and Human Services Secretary Alex Azar to visit Beth Israel Deaconess Medical Center in Boston as hospital works to develop coronavirus vaccine